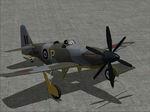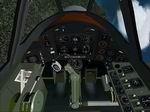 6.64Mb (7058 downloads)
FS2004 Martin-Baker MB.5. AlphaSim is releasing some older FS2004 models as freeware. Includes three models, five textures sets, two panels, and sounds. Complete cockpit with 2D panel/gauges and VC.
Posted Nov 9, 2008 02:00 by Alphasim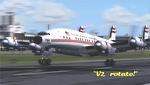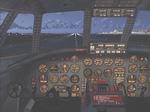 10.85Mb (11638 downloads)
Lockheed L-1649A Starliner, Version 2.0 Last and most illustrious in the series of Constellation designs, the Starliner was designed to fly Los Angeles-London and Paris-Tokyo in 20-plus hours non-stop. Providing accommodation for ninety-two tourist-class or twenty-six first-class and forty-five tourist-class passengers, the Starliner entered service with TWA in May 1957. Other major operators were Air France and Lufthansa. Model, textures, and VC by Manfred Jahn, panels and gauges by Hansjoerg Naegele, effects and flight dynamics by Roland Berger, documentation by Howard Sodja. Special features in version 2.0 include wing views, "inclined wheels" nose-wheel steering, simplified reversing procedure, clickable sunshades, backlit VC gauges, new flight dynamics, detailed reference and checklist documents, period-style cockpit voices, and an early TWA texture. Also included is the "squeaking brakes" effect created by Diego S. Barreto.
Posted Oct 29, 2008 05:07 by Manfred Jahn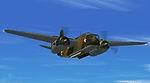 5.43Mb (9872 downloads)
FS2004 Douglas Boston III. Alphasim is releasing some of their classic titles as freeware. The first of the A-20 series produced from the start to British specifications, the Boston Mk.III entered service in the spring of 1941 and became the first of the series to operate in its intended light bomber role. The Boston fought in every theater of the war and its combination of performance, excellent handling and armament made it one of the most popular and effective light bombers of the war.
Posted Oct 29, 2008 05:05 by Alphasim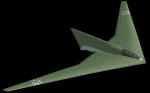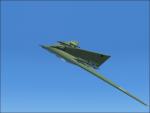 7.38Mb (9279 downloads)
Horten Ho XVIII C "Amerika Bomber" The Horten HO XVIII was designed as a bomber to carry out attacks on USA during WW2. The Flying Wing, would carry bombs over the Atlantic Ocean, where they are then dropped in New York, even later on Washington. Equipped with 6 jet engines, the aircraft was designed to come close to Mach 1 and quickly transit the Atlantic. The range should be 12000 km. With V1 missiles 10000 km.
Posted Oct 27, 2008 19:52 by Christian Drawz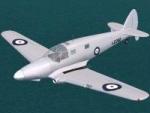 8.60Mb (3518 downloads)
FS2004. De Havilland DH93 'Don' A multi-role, three-seat trainer which, after trials at Martlesham Heath, was relegated for use as a Communications aircraft mainly by No. 24 Sqdn." First flight in June 1937. Artificial Horizon pitch axis bug fixed. Ver.0.2, By Edward Cook
Posted Oct 26, 2008 03:32 by Edward Cook

13.29Mb (11228 downloads)
FS2004 Tupolev Tu-16 Badger. Alphasim is releasing some of their classic titles as freeware. Three panel styles with gauges are included. Five models and three textures. The aircraft that ultimately evolved into the Tu-16 'Badger' was based upon the Soviet Tu-4, an unlicensed counterfeit of the American B-29 Superfortress. The fuselage and essential systems from the Tu-4 'Bull' were mated to a swept wing and twin jet engines, resulting in the Type 88 prototype. This aircraft first took to the air on April 27, 1952. It fell far short of expectations but was rushed into production anyway. Its performance was eclipsed by the B-47 Stratojet, the USAF counterpart of the time, but the Tu-16 ultimately proved to be a durable airframe and was produced through the 1990's, the final versions being license-built in China.
Posted Oct 24, 2008 05:02 by Alphasim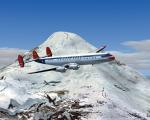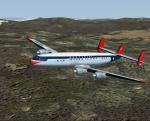 3.96Mb (1747 downloads)
FS9 Northwest Orient Airlines textures only for Alphasim Super C Constellation. NWA operated four Super G Constellations for about 2 years. These were sold to LAV Venezula and replaced with a fleet of seventeen DC-7Cs Textures by Gary Harper. These textures depict N5172V about 1955. Requires the Connie (above)
Posted Oct 18, 2008 19:11 by Gary Harper

34.91Mb (11213 downloads)
FS2004 Lockheed Constellation. AlphaSim Constellation Set. Alpha Simulations is releasing some of their classic titles as freeware. Panel, gauges, and sounds are included. Features six models and six textures. The Constellation was designed in 1939 at the request of TWA. The prototype flew early in 1943. Only 22 C-69's, as they were then known, reached the USAAF before the end of WW2. The more powerful post-war variants were also militarised and these saw service as the C-121 up to the end of 1960's, including AEW use in the Vietnam conflict.
Posted Oct 17, 2008 06:34 by Alphasim

11.93Mb (5121 downloads)
FS2004 AlphaSim Bristol Beaufort. Alpha Simulations is releasing some of the classic titles as freeware. Panel and gauges are included. Two models and four textures. The Bristol Beaufort, a classic twin-engine bomber of the WWII era, had its beginnings with the design of the Type 142 Blenheim and Type 149 Bolingbroke. These were conceived as early as 1934, with the initial specification for the Beaufort coming about in late 1935. Known as the Type 152, the Beaufort was intended as a torpedo bomber and general reconnaissance aircraft. The first contracts were placed in 1936, however, the prototype did not fly until 1938 and squadrons were not equipped with the type until 1940. The Royal Australian Air Force built the type beginning in 1940, opting to use the more powerful Pratt and Whitney R-1830 in place of the Bristol Taurus with which the British version was fitted. 700 of the Australian versions were produced, while over 1,200 of the British variants were manufactured. The type served well until 1943, when the far superior Type 156 Beaufighter took over its duties.
Posted Oct 16, 2008 06:22 by Alphasim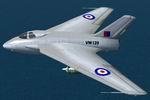 2.40Mb (4093 downloads)
FS2002/FS2004 DeHavilland DH.108 Swallow. This was a British experimental aircraft designed by John Carver Meadows Frost in October 1945. The DH 108 featured a tailless, swept wing with a single vertical stabilizer, closely resembling the layout of the wartime German Messerschmitt Me 163 Komet rocket-powered point-defense interceptor. Initially designed to evaluate swept wing handling characteristics at low and high subsonic speeds for the proposed early tailless design of the Comet airliner, three examples of the DH 108 were built to the Air Ministry specifications E.1/45 and E.11/45. With the adoption of a conventional tail for the Comet, the aircraft were used instead to investigate swept wing handling up to supersonic speeds. All three prototypes were lost in fatal crashes. Two kinds of models(clean / with virtual weapon set) are included. by Kazunori Ito.
Posted Oct 16, 2008 06:19 by Kazunori Ito