13.29Mb (11190 downloads)
FS2004 Tupolev Tu-16 Badger. Alphasim is releasing some of their classic titles as freeware. Three panel styles with gauges are included. Five models and three textures. The aircraft that ultimately evolved into the Tu-16 'Badger' was based upon the Soviet Tu-4, an unlicensed counterfeit of the American B-29 Superfortress. The fuselage and essential systems from the Tu-4 'Bull' were mated to a swept wing and twin jet engines, resulting in the Type 88 prototype. This aircraft first took to the air on April 27, 1952. It fell far short of expectations but was rushed into production anyway. Its performance was eclipsed by the B-47 Stratojet, the USAF counterpart of the time, but the Tu-16 ultimately proved to be a durable airframe and was produced through the 1990's, the final versions being license-built in China.
Posted Oct 24, 2008 05:02 by Alphasim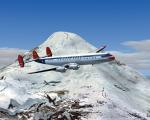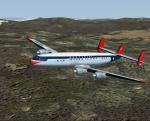 3.96Mb (1729 downloads)
FS9 Northwest Orient Airlines textures only for Alphasim Super C Constellation. NWA operated four Super G Constellations for about 2 years. These were sold to LAV Venezula and replaced with a fleet of seventeen DC-7Cs Textures by Gary Harper. These textures depict N5172V about 1955. Requires the Connie (above)
Posted Oct 18, 2008 19:11 by Gary Harper

34.91Mb (11144 downloads)
FS2004 Lockheed Constellation. AlphaSim Constellation Set. Alpha Simulations is releasing some of their classic titles as freeware. Panel, gauges, and sounds are included. Features six models and six textures. The Constellation was designed in 1939 at the request of TWA. The prototype flew early in 1943. Only 22 C-69's, as they were then known, reached the USAAF before the end of WW2. The more powerful post-war variants were also militarised and these saw service as the C-121 up to the end of 1960's, including AEW use in the Vietnam conflict.
Posted Oct 17, 2008 06:34 by Alphasim

11.93Mb (5071 downloads)
FS2004 AlphaSim Bristol Beaufort. Alpha Simulations is releasing some of the classic titles as freeware. Panel and gauges are included. Two models and four textures. The Bristol Beaufort, a classic twin-engine bomber of the WWII era, had its beginnings with the design of the Type 142 Blenheim and Type 149 Bolingbroke. These were conceived as early as 1934, with the initial specification for the Beaufort coming about in late 1935. Known as the Type 152, the Beaufort was intended as a torpedo bomber and general reconnaissance aircraft. The first contracts were placed in 1936, however, the prototype did not fly until 1938 and squadrons were not equipped with the type until 1940. The Royal Australian Air Force built the type beginning in 1940, opting to use the more powerful Pratt and Whitney R-1830 in place of the Bristol Taurus with which the British version was fitted. 700 of the Australian versions were produced, while over 1,200 of the British variants were manufactured. The type served well until 1943, when the far superior Type 156 Beaufighter took over its duties.
Posted Oct 16, 2008 06:22 by Alphasim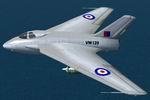 2.40Mb (4051 downloads)
FS2002/FS2004 DeHavilland DH.108 Swallow. This was a British experimental aircraft designed by John Carver Meadows Frost in October 1945. The DH 108 featured a tailless, swept wing with a single vertical stabilizer, closely resembling the layout of the wartime German Messerschmitt Me 163 Komet rocket-powered point-defense interceptor. Initially designed to evaluate swept wing handling characteristics at low and high subsonic speeds for the proposed early tailless design of the Comet airliner, three examples of the DH 108 were built to the Air Ministry specifications E.1/45 and E.11/45. With the adoption of a conventional tail for the Comet, the aircraft were used instead to investigate swept wing handling up to supersonic speeds. All three prototypes were lost in fatal crashes. Two kinds of models(clean / with virtual weapon set) are included. by Kazunori Ito.
Posted Oct 16, 2008 06:19 by Kazunori Ito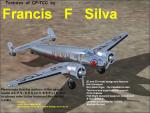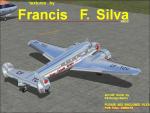 9.54Mb (2635 downloads)
Name of project: "Postcard from Canada"rnAn L-Electra L-10 - ID CF-TCC (cn 1116) Operated by Air rnCanada in the title of TCA. Built in Burbank in 1938, this a/c was rescued in the US and brought back to Canada where she was given a total rebuild prior to Expo 86 in Vancouver. Displayed in the WCAM.
Posted Oct 15, 2008 18:44 by Francis F Silva of RSDG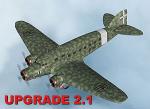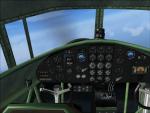 14.25Mb (2639 downloads)
This is the 2.1 upgrade package for the Savoia Marchetti S.73. You need to have already installed the "S73_v20.zip". Main changes are: 1) New gauges, more realistic than previous. 2) Some details of exteriors and V.C. controls are revised on all SM73 variants. 3) A bug with FSX fixed. 4) Sounds retouched 5) A new livery of the Regia Aeronautica added.
Posted Oct 9, 2008 17:38 by Stefano Meneghini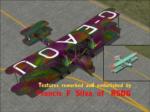 10.29Mb (793 downloads)
The idea behind these two textures is simple.Those of you who, like me, like Microsoft's Amy Vickers but are tired of the original (and boring) paint jobs, can now continue to enjoy the aircraft but fly nicer looking paint jobs. Why not replace the original aircraft with these two. You will be flying the Amy in its original form, same unchanged dynamics. Only the exterior has been altered. Francis F. Silva of RSDG (Rooks Silva Design Group)
Posted Oct 7, 2008 20:14 by Francis F Silva of RSDG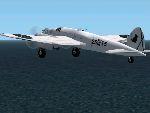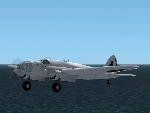 4.81Mb (7004 downloads)
FS2002/2004 Heinkel 111B2-Spanish Civil War First flight 30 october 1936 Four or five seat medium bomber, torpedo bomber, glider tug and missile launcher . 57 He111B2 served with the Legion Condor supporting Franco in the Spanish Civil War. Vcockpit fully moving and lighted Model, Texture, Panel,Vcockpit by F. Giuli Gauges by H. Keitel;sound by Pegasus
Posted Oct 7, 2008 11:06 by FRANCESCO GIULI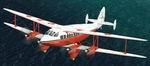 3.28Mb (21285 downloads)
FS2002/FS2004 DE Havilland DH.86 Express. This was a four engined development of the D.H.84 Dragon, developed in 1933 to meet an order by the Australian QANTAS for an airliner to fly the Singapore to Australia route. A number were operated by various military services. A total of 62 were built. The DH 86 had a busy career until eight were impressed into RAAF service from late 1939. Three kind of paint examples(IMPERIAL AIRWAYS / Qantas Airlines / for Military) are included. by Kazunori Ito.
Posted Oct 4, 2008 10:06 by Kazunori Ito