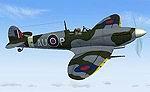 6.76Mb (24813 downloads)
FS2004 Supermarine Spitfire Mk.VIII and Mk.IX Package. A complete aircraft with panel, gauges, VC and Merlin sounds. Includes two models and four textures. Freeware from Alphasim.
Posted Jul 5, 2008 09:51 by archive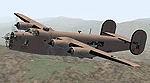 3.62Mb (14201 downloads)
FS2002/FS2004 Consolidated B-24J Liberator, v1.2. To celebrate AlphaSim's 9th birthday they are releasing some of their classic titles for free. Includes both B-24 D and J models. Panel and gauges are included; uses default sounds. By AlphaSim.
Posted Jul 4, 2008 05:44 by archive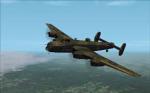 13.76Mb (8939 downloads)
Handley-Page Halifax for FS2004. Handley-Page Halifax was the second entry into the mighty triumvirate of four-engined bombers employed by the RAF to carry out its offensive bombing campaign against Germany. A highly capable aircraft, it was overshadowed as a bomber by the outstanding Lancaster, even though it had none of the shortcomings of the Short Stirling. Unlike the Lancaster, the Halifax was as at home in the roles of air ambulance, freighter, glider tug, personnel transport, and maritime reconnaissance as it was in its primary role as a heavy night bomber. Powered by the potent Hercules XVI, the Halifax owns a distinguished place in the history of the four-engined bomber. Model by Alphasim
Posted Jun 26, 2008 15:49 by archive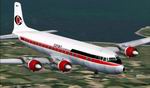 2.43Mb (4329 downloads)
FS2004 Conair of Scandinavia DC-7. The Danish charter airline Conair started its operations in 1964 with five DC-7's. Repaint by Jens B Kristensen of original GMAX model by Greg Pepper and Tom Gibson, flight dynamics by FS Aviator, modified for FS2004 by Tom Gibson. 2.5MB
Posted Jun 23, 2008 14:24 by archive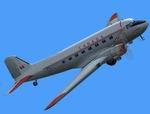 1.63Mb (879 downloads)
FS2004 DC-3 Royal Canadian Air Force Textures only. Repaint. Repaint of default DC-3 representing a CC-129 of the Royal Canadian Air Force Repaint by Steve Piper. 1.7MB
Posted Jun 23, 2008 14:24 by archive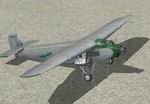 2.88Mb (902 downloads)
FS2004 Evergreen International VAC Ford Tri Motor 1 - The Ford Tri Motor repainted for Evergreen International VAC Livery. Repainted by Tom Dennis. 2.9MB
Posted Jun 23, 2008 14:24 by archive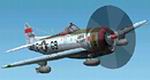 1.71Mb (4132 downloads)
FS2004/2 Republic P-47D Thunderbolt 30 - 509th Fighter Squadron. P-47D-30 from the 509th Fighter Squadron, 405th Fighter Group during the spring of 1945. Designed in FSDS2 by J R Lucariny. 1.1MB
Posted Jun 23, 2008 14:24 by archive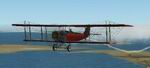 0.12Mb (2235 downloads)
FS2004 Curtiss Jenny Upgrade. New .CFG files make Curtiss Jenny fly right, spew smoke The Century of Flight FS9 Jenny, now has climb/decent rate controlled by throttle (trim neutral), a realistic altitude of ~ 14,000 feet, and realistic take-off and landing roll of under 650 feet thanks to this new Aircraft.cfg file. Smoke now spews from the plane when "\" is pressed or the toggle is clicked on any of the .bmp instrument panels is clicked. (CoF switch from the Extra 300 was used, so no additional guages are needed). Original FS9 files modified by John H. Murphy. 124K
Posted Jun 23, 2008 14:24 by archive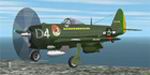 1.07Mb (2141 downloads)
FS2004/2 Republic P-47D Thunderbolt Brazilian Fighter Squadron . P-47D-25 assigned to the 1st Grupo de Caça, Força Aerea Brasileira, and attached to the 350th Fighter Group in Italy during 1944. Designed in FSDS2 by J R Lucariny. 1.1MB
Posted Jun 23, 2008 14:24 by archive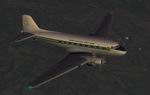 1.20Mb (594 downloads)
FS2004 Douglas DC-3 Air Viet Nam XV-NIA Textures. This is a repaint for the default FS2004 DC-3 based on the DC3PAINT.ZIP (previous page) paint package of Mark "Dark Moment" Beaumont. Some flight plans that Mark originally put together for his FS2002 version of this aircraft are also added as a bonus, covering routes that used to be flown by XV-NIA. Painted by Tuan Ngo-Anh from photographs taken by Mel Lawrence in 1961. File name: DC3AV04.ZIP. 1.2MB
Posted Jun 23, 2008 14:24 by archive