0.72Mb (1780 downloads)
Textures only for the FS2002-2004 SBD-5 Dauntless FSDS V2 model by J R Lucariny. This aircraft is the flagship of the Dixie Wing.
Posted Jul 21, 2009 18:27 by Enrique Medal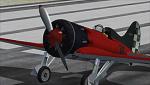 105.04Mb (7268 downloads)
Cr-1 RATA Package. This is add-on started out as simTECH Flight Design project of interest back in 2002. Then it went on the shelf until Feb 2009. I since sold SimTECH Flight Design Ltd but retained rights to all older simTECH models as well as models under development. Hence this great little model…Months later here we are with a full release Rata. The model is a Rhino 3d model which I later exported the model into a custom made compiler so it could be accepted in Fs9. This is a very old model so some of the newer features That the newer FS9 and FSX flight Sims support are not in this add-on. It took a lot of reverse programming to get this model to the point that is now. This model is set up specifically for Fs9 and will not work well in fs2002 or FSX. It will work in FSX AND Fs2002 but some additional modifications will have to be made, but it is possible to do so And I give any crafty designer the permission to do so as long as the Cr-1-Software LTD. trade mark and copy write is left intact. Tom Woods/ SimTech
Posted Jul 21, 2009 09:53 by Tom Woods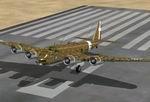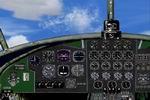 3.07Mb (3520 downloads)
Piaggio P-108B. Designed by Ing. Giovanni Casiraghi, the Piaggio P-108B was an Italian four-engined heavy bomber used by the Regia Aeronautica during World War II. A prototype of this aircraft first flew in 1939 and it entered service in 1942. This model reproduces the aircraft on which Capt. Bruno Mussolini lost his life during a test flight on August 1941 in Pisa airport.Two liveries are provided, one Camo and one Dark Green paint. This model features reflective metallic skin and full animations. Capt. I. D'Attomo Capt. G.Quai
Posted Jul 17, 2009 09:44 by D'Attomo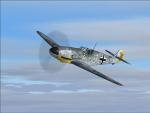 19.53Mb (10720 downloads)
This BF-109F has been released as freeware courtesy of SkyUnlimited Productions. www.skyunlimited.net Included are over 20 paint schemes, tropical variants, accurate flight dynamics, viewable engine details, custom sounds, working machine gun effects, historical information, and an actual Bf-109F checklist. The main installer will install international friendly repaints without swastikas, but an additional installer is included that will install historical swastikas for those users that prefer accuracy. In addition, a repaint kit is also included. Enjoy Jesse Lambert of SkyUnlimited Productions
Posted Jul 8, 2009 02:55 by Jesse Lambert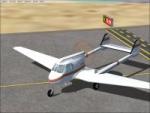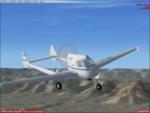 8.01Mb (2773 downloads)
FS9/2004 1936 Stearman Hammond Y-1s by Rarewings.com: Designed with FSDS3.5.1 and FSDSTweak . It has full working virtual cockpit with back-lite gauges. Limited 2-D panel, custom sounds. The plane has reflective glass and metal textures. This install package comes with three Paint textures.Model Y designed by Dean B. Hammond for Bureau of Air Commerce safe airplane competition in 1934. Declared winner of contest in Nov, and Bureau contracted to purchase 25 aircraft at $3,190 each. Original design goal was for an airplane cost of $700--they cost $7150 later! First airplane not acceptable to the Bureau, and Lloyd Stearman was asked to re- engineer plane to improve performance and general workmanship. Resulting aircraft, Model Y, delivered Apr 1936. Another Free download from www.rarewings.com.
Posted Jun 28, 2009 18:33 by Patrick D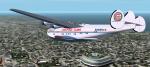 0.25Mb (577 downloads)
Let's go Cubbies! A salute to my hometown team for use with the Boeing Clipper by Mike Stone. Textures only, you will need Mr Stone's model to use. Repaint by Don Brynelsen
Posted Jun 25, 2009 11:59 by Don Brynelsen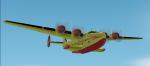 0.16Mb (1036 downloads)
Inspired by Disney's "Talespin" here are some new textures to use with the Boeing Clipper by Mike Stone. Repaint by Don Brynelsen.
Posted Jun 25, 2009 11:55 by Don Brynelsen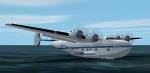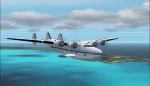 9.73Mb (6898 downloads)
Suppose a few of the legendary Boeing Clippers had survived to our time, and you were lucky to own one? The result might be the Island Queen, the ultimate in a Parrothead aircraft for the true Jimmy Buffet Fan. Original aircraft by Mike stone with repaint textures by Don Brynelsen inspired by Mr Buffet's Hemisphere Dancer. Panel is by Brian Horsey, Petros Protopass, and Stephen Grille.
Posted Jun 23, 2009 11:55 by Don Brynelsen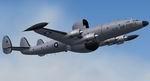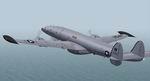 8.24Mb (5082 downloads)
FS2004 Lockheed EC-121 Super Constellation Members of the Warning Star family, EC-121s served as special search and airborne early warning (AEW) platforms. Models in this package include Air Defense Command EC-121D 53-3410 and AFRES EC-121T 52-3412. A working installation of our G and H Super Constellation packs is required. By Team 1049 - Roland Berger, Volker Boehme, Manfred Jahn, Luis Pallas, Bill Tyne, and Stefan Werner.
Posted Jun 16, 2009 08:26 by Uploader

21.86Mb (4645 downloads)
IL-14 INTERFLUG and DEUTSCHE LUFTHANSA. Full aircarft ioncluded in this package. Custom panel and sounds but No VC. The Ilyushin Il-14 (NATO reporting name "Crate") was a Soviet twin-engine commercial and military personnel and cargo transport aircraft that first flew in 1950 and entered service in 1954. Il-14 was also manufactured in East Germany by VVB Flugzeugbau, in Czechoslovakia as the Avia 14, and in China under the Chinese designation Y-6. The Ilyushin Il-14 was eventually replaced by the Antonov An-24 and Yakovlev Yak-40.
Posted Jun 13, 2009 10:29 by admin