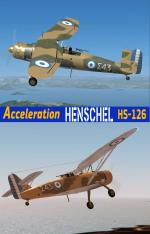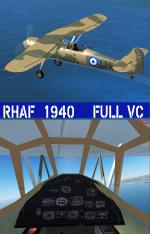 37.41Mb (1389 downloads)
FSX Acceleration Henschel HS-126 RHAF package. Royal Hellenic Air force Reg ID# S35 & S43. The HS-126 was Introduced in Greece at December of 1939 and served until 1941.It was used as a reconnaissance and light bomber.This is the new fine model of A.F.Scrub featuring full VC, 2D panel, effects and sound. There are two repaint variations of the aircraft with light blue markings (1939)and mid blue(1940). I have done some minor changes in the 2D panel configuration so the Main panel now appears in Acceleration and changed the prodisk texture so it does not look solid in FSX. Historical info from the RHAF records and photos are included in the package. Modifications and Repaint by Hellenic Aircraft/Yiannis Katehis Tsetsas.
Posted Dec 15, 2012 02:43 by YIANNIS KATEHIS TSETSAS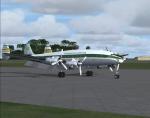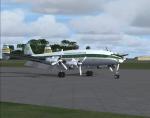 5.85Mb (595 downloads)
FSX/FS9 Panair Do Brasil L-149 textures for Manfred Jahn's outstanding Lockheed L-1049 Super G Constellation.
Posted Dec 14, 2012 21:36 by Gary Harper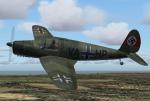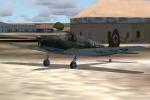 8.18Mb (1782 downloads)
FSX/FS2004 Arado Ar 79 Back in more successful pre-war times, the Ar 79 had represented the company's attempt to design a cheap & cheerful modern light aircraft that would lend itself well to common, non-utility tasks. Unusually, despite it being 1938, it was designed for the civil market only and very few were actually used in military service. Its clean lines and retractable main gear gave it a respectable performance. GMAX mdl by A.F.Scrub.
Posted Dec 14, 2012 09:55 by A.F.Scrub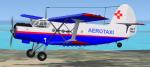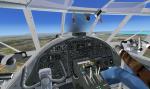 24.49Mb (6791 downloads)
FSX Aerotaxi Antonov AN-2 with virtual cockpit (VC). Aerotaxi is a Cuban charter airline that operates several AN-2's (and DC-3's) on tourist/scenic flights as well as mail/cargo deliveries. This package includes the entire aircraft. Excellent model by V. Zhyhulskiy. Aerotaxi repaint by kilocharlie1.
Posted Dec 12, 2012 08:56 by kilocharlie1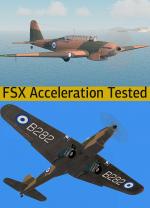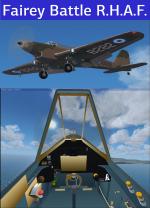 16.26Mb (1714 downloads)
FSX Acceleration Fairey Battle MK I RHAF package.The Hellenic Royal Air Force Received 11 Fairey Battle at March of 1940 that where enlisted at the 33rd Bomber Sq. and took part in the Greek-Italian War. They had roundels on the under side of the wing and on the fuseladge. All of them where destroyed in mid air or on the ground during the conflict. In Greece they had a crew of three. The credit for the excellent model goes to Edward Cook. There was a problem with the gauges call in FSX and its now fixed. Full VC, two different panels to choose from, effects, sound, historical info and photos. Modifications and repaint for the Hellenic colors by Hellenic Aircraft/Yiannis Katehis Tsetsas.
Posted Dec 8, 2012 22:42 by YIANNIS KATEHIS TSETSAS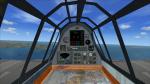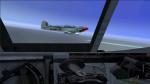 1.85Mb (457 downloads)
FSX/FS2004 panel features for the Fairey Firefly from A.F.Scrub. My features provides an original Firefly Flightstick, a VC navigators seat with map and gauges and wingmen at the left and right side. My panel features works in a different way in FSX and also in FS2004 with only one Panel.cfg.
Posted Dec 6, 2012 13:09 by Erwin Welker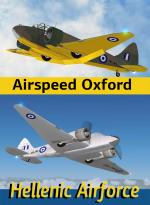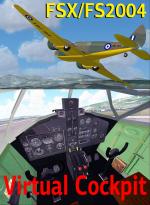 22.78Mb (1967 downloads)
FSX/FS2004 Airspeed Oxford Royal Hellenic Airforce complete package featuring two liveries of Camo and all metal, representing the actual Oxfords MKI/MKII that served with RHAF. Their presence is firstly traced during August of 1945.In September 9th 1947, 13 Oxford were enlisted, while a number of them were equipped with bomb rails. Two of the Oxfords had photographic equipment for photo reconnaissance. The fine model is a creation of Keith Hackett and has all animated parts, full VC and 2D panel. Also includes custom sound and historical info and photos. I have changed the prodisks to work better in FSX Acceleration and made some more minor changes. Modifications and repaint by Hellenic Aircraft /Yiannis Katehis Tsetsas.
Posted Dec 5, 2012 23:55 by YIANNIS KATEHIS TSETSAS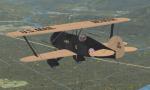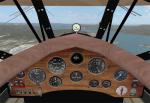 44.86Mb (2418 downloads)
The package includes the Golden Age Simulations CTO models represented as the Northwest Airways WACO fleet being operated as an airmail service in 1929-1936. The staff consists of a historical fleet (in two configurations - with or without engine jacket and landing gear pants), powered by 330 hp Wright R-975E engine and a pack of two airworthy survivors with 365 hp R-975E-1. Apart the original models and basic texture the package also includes all necessary liveries and two new VC panels. Paints and modifications by Vladimir Gonchar
Posted Nov 26, 2012 22:06 by Vladimir Gonchar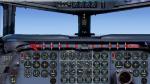 6.57Mb (5286 downloads)
The Douglas DC-7C is one of the last piston engine transport aircraft built before the Boeing 707 and Douglas DC-8. First flight in 1953, 338 aircrafts have been built until 1958. Original model by Tom Gibson and Harry Follas. Adaptation to FSX and wide screen 2d panel by Philippe Wallaert. (No VC). See instructions for installation in the readme.txt file. Credits: Tom Gibson and Harry Follas for the original model. Nice flights!
Posted Nov 25, 2012 05:32 by Philippe Wallaert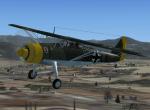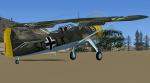 4.05Mb (2333 downloads)
FSX/FS2004 Henschel HS126 The Henschel Hs 126 was a German two-seat reconnaissance and observation aircraft of World War II.The Hs 126 was well received for its good short takeoff and low-speed characteristics which were needed at the time. It was one of the most important aircraft in the early years of the war as a short-range reconnaissance aircraft, but was soon superseded by the general-purpose, STOL Fieseler Fi 156 Storch and the medium-range Focke-Wulf Fw 189. GMAX mdl by A.F.Scrub
Posted Nov 24, 2012 10:55 by A.F.Scrub