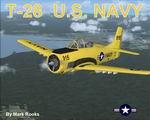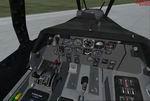 26.62Mb (5482 downloads)
This is Tim Conrad's FS9 T-28 Trojan Modified For FSX. The T-28 was the primary trainer for many Air Force and Navy pilots. This model is painted in High Visibility Navy Yellow. The T-28As were built from 1950 - 1953 and used as trainers by the Navy and Air Force. The T-28A was powered by an 800 hp. Wright R-1300 with a 2blade constant speed propeller. Modifications and textures by Mark Rooks of RDG Aircraft. Aircraft has a 2D and VC updated to work in FSX by Ted T. Includes Pictures and History of the T-28 Trojan
Posted Jun 8, 2009 04:29 by Mark Rooks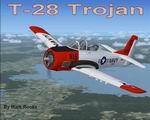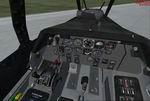 26.21Mb (10861 downloads)
This is Tim Conrad's FS9 T-28 Trojan Modified For FSX. The T-28 was the primary trainer for many Air Force and Navy pilots. This model is painted in colors of the United States Navy. T-28As were built from 1950 - 1953 and used as trainers by the Navy and Air Force. The T-28A was powered by an 800 hp. Wright R-1300 with a 2blade constant speed propeller. Modifications and textures by Mark Rooks of RDG Aircraft. Aircraft has a 2D and 3D panel (VC) updated by Ted T. Includes Pictures and History of the T-28 Trojan
Posted Jun 6, 2009 06:44 by Mark Rooks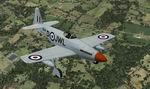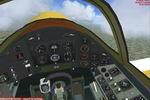 7.93Mb (4127 downloads)
Martin-Baker MB.5. Comes in 3 military variants and 2 modern racer models. This is the Alphasim Martin Baker MB5 which is updated to work in fSX without the warnings & with all gauge showing. There are still 2 problem in the FS2004 model file which mean the canopy in the racer models is partly non transparent from the outside view. But if you can live with this you will enjoy this aircraft. Martin-Baker MB 5 was the ultimate development of a series of prototype fighter aircraft built during the Second World War. Neither the MB 5 nor its predecessors ever entered production despite what test pilots described as excellent performance. Updated for FSX by Danny Garnier.
Posted Jun 4, 2009 08:59 by GARNIER D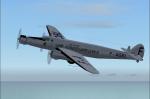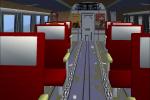 7.65Mb (6817 downloads)
FSX SP2 / FSX / FS 2004 Dewoitine D.338, complete package. This is a FSX SP2 version of my Dewoitine D.338, slightly modified from the previous one (FS2004/FSX) to be fully compatible with FSX SP2 Acceleration Pack. The Dewoitine D.338 was the legendary French liner used during the thirties, mainly by Air France on the intercontinental lines. The model in this package represents an aircraft used by Air France in 1938 on Far East lines (from Paris to Singapore, Bangkok, Saigon, ...), with a typical 12 seat lay-out. Full moving parts and animations (control surfaces, gears, door, ...) + a custom panel made from a real picture and a "passenger point of view" virtual cockpit. Compatible with FS2004, FSX, and now FSX SP2 Acceleration. Designed by Patrice Grange, modified June 2009.
Posted Jun 1, 2009 09:31 by Patrice Grange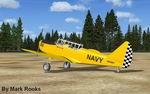 12.18Mb (3630 downloads)
This is J.E. Narcizo FS9 Fairchild PT-26 Modified For FSX. The PT-26 was the primary trainer for many WWII pilots. This model is painted in colors of the United States Navy. A total of more than 1,700 PT-26s were produced in the United States by Fairchild and in Canada by Fleet Aircraft, Ltd. The PT-26 used a Ranger air-cooled, in-line engine. Modifications and textures by Mark Rooks of RDG Aircraft. Aircraft has a 2D panel only. VC does not work. Includes Pictures and History of the PT-26 (no VC)
Posted May 28, 2009 10:38 by Mark Rooks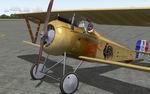 16.80Mb (12993 downloads)
FS2004/FSX Nieuport 17. Single seat, single rotary engine, biplane fighter of WWI, made with Gmax. Two models, one with the Lewis machine gun and one with the Vickers; six liveries: Billy Bishop, Guynemer, Rene Dorme, Paul Tarascon, Lufbery, and the German replica Siemens Schukert D1. With VC, no 2D panel. Flight dynamics: Benoit Dube (alpha bleu ciel), XML code: Christian Cdab, technical advice: Huub Vink, Model 3D and texture: Michel Migaud.
Posted May 27, 2009 03:58 by Michel Migaud.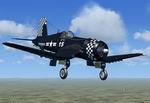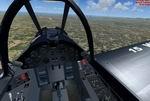 12.56Mb (22951 downloads)
Vought F4U-7 Corsair Repackaged and assembled for FSX use. This is the ALPHA BLEU CIEL F4U1A Corsair with repaints by Mark Rooks, assembled to easy use in FSX. Pack contains 3 textures by Mark Rooks: MARINES VMF-312, VMA-312 and USN Black Sheep. Virtual Cockpit updates by Ted. Assembled for FSX by Danny Garnier.
Posted May 20, 2009 08:02 by GARNIER D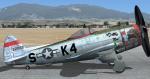 0.00Mb (1331 downloads)
P-47D FLIGHT DYNAMICS UPDATE. The P-47D engine has a maximum speed around 428 mph at 30,000 feet. Adjusted aircraft.cfg specs for the excellent J R Lucariny prop at 30,000 feet to reach that goal (instrument 235 knots, true speed 377 knots, or 428+ mph) as delineated in specifications. I have included an aircraft.cfg file for the P-47D to reach that goal for those desiring to a feel of the real as possible. The excellent P-47D (p47dus.zip) by J R Lucariny is needed and may be obtained here
Posted May 9, 2009 15:10 by Dana Eng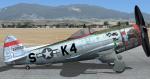 0.57Mb (1218 downloads)
Install fixes: 2/Lt. Henry G.Mohr jr. 405th FG 511th FS was on a "presence patrol" with another P-47D pilot one day before VE-Day to brighten the prisoners in a nearby POW camp by buzzing by to let them know that Allied troops were at the outskirts. On the return, 2/Lt. Mohr flew too low and clipped the lake with his propeller causing him to dump the plane. He was captured and put in the same POW camp but, was freed by the Allied Troops a few days later. His plane was recovered from the Austrian Lake in 2005 and is being restored at the Chino CA Planes of Fame Museum. 2/Lt. Henry Mohr is said to be still alive and may well be reunited once more with his plane. The excellent P-47D freeware of J R Lucariny's p47us.zip "is required" and is available at: http://www.simviation.com/simviation/static.php?ID=88&page=2
Posted May 8, 2009 03:23 by Dana Eng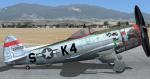 0.57Mb (1123 downloads)
2/Lt. Henry G.Mohr jr. 405th FG 511th FS was on a "presence patrol" with another P-47D pilot one day before VE-Day to brighten the prisoners in a nearby POW camp by buzzing by to let them know that Allied troops were at the outskirts. On the return, 2/Lt. Mohr flew too low and clipped the lake with his propeller causing him to dump the plane. He was captured and put in the same POW camp but, was freed by the Allied Troops a few days later. His plane was recovered from the Austrian Lake in 2005 and is being restored at the Chino CA Planes of Fame Museum. 2/Lt. Henry Mohr is said to be still alive and may well be reunited once more with his plane. The excellent P-47D freeware of J R Lucariny's p47us.zip is required
Posted May 7, 2009 21:16 by Dana Eng