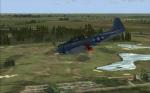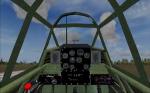 17.76Mb (4608 downloads)
Douglas SBD-5 Dauntless, another great Fightertown Design Group CFS2 aircraft, now updated for FSX. Full working VC, all necessary gauges and effects included. I updated the mdl.- and air.-files and put in some gun effects for fun. No folding wings, but working tailhook and cowlflaps. Gunner's cockpit opens when wheels are retracted. Its quite some work to get her in the air: put on the handbrake, give 2 clicks of flaps, give full throttle and wait till the engine is at full power, give hard rudder to the right, push the stick forward, loosen the brakes and let her go. Watch out when the tail comes up that she will not end on her nose, pull the stick sloooowly backwards and after a long ride she finally will fly. As in real: slowly but deadly. Trim her out and let her climb at ease, she'll bring you everywhere you want. All credits of this plane go to the FDG-boys, thank you guys for a great model. I would suggest that you would use Chris Sykes great FSX weapons pack (also downloadable from Simviation), when you follow his instructions, you can also drop bombs. More fun!
Posted Apr 28, 2012 11:16 by Erik Hertzberger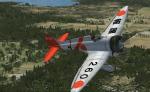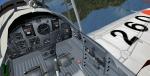 10.35Mb (3229 downloads)
Mitsubishi A5M4 Claude with great working VC for FSX-Acceleration. Fixed to include VC gauges. All credits for the making of this great model are for Kazunori Ito, I only made it fly in FSX and put in some gun-effects for fun.
Posted Apr 26, 2012 10:06 by Erik Hertzberger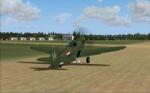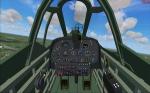 8.59Mb (862 downloads)
"Snafu", Curtiss P-40N Warhawk of the KNIL (Royal Netherlands Indonesian Army) 1944. Updated to now include gauges. Great Krzysztof Malinowski CFS2-plane, now flyable in FSX with nice VC and gun-effects. Also great Allison engine-sound by Troy Raszka, so together it is a great performance and fun to fly, so do so in honour of all the brave men of the KNIL. The aircraft is flying very well in my version of FSX-Acceleration, but is not tested by me in SP1 or SP2. This file should not harm your computer, but I accept no responsibility when it does, so try it at your own risk.
Posted Apr 26, 2012 09:41 by Erik Hertzberger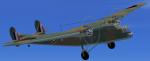 23.37Mb (1780 downloads)
The Bristol Bombay was designed to serve both as a bomber and a troop transport. It first flew in 1935. It was too obsolete to use as a bomber in Western Europe when the war broke out but served admirably in the Middle East. This is a native FSX Acceleration model. It is painted for service in the Middle East desert. The Pegasus sound file is by Gary Jones. The VC has animated flight controls, working gauges and is based on photo's of similar aircraft of the same era. By Paul Clawson
Posted Apr 25, 2012 01:26 by Paul Clawson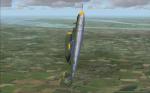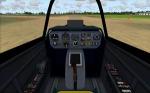 10.90Mb (3157 downloads)
(Salamander). German single-engine, jet-powered fighter aircraft fielded by the Luftwaffe in World War II. Originally a great CFS2-model by ALPHASIM, now updated for FSX with full working VC (gauges included). Gun- and smoke-effects added for fun. Updated by Erik Hertzberger. Enjoy!
Posted Apr 23, 2012 07:59 by Erik Hertzberger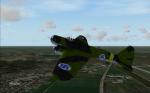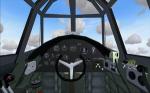 9.99Mb (900 downloads)
Ilyushin DB-3S with USSR and Finnish textures included. Another one of Thicko's great CFS2-planes, now flyable in FSX, with acceptable VC. Comes with 2 textures, one Finnish and one USSR. See original readme for control-keys.
Posted Apr 23, 2012 07:55 by Erik Hertzberger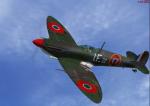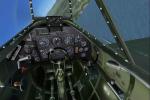 26.12Mb (25195 downloads)
Supermarine Seafire Package whole Package. Panel fixed. I leave gauges in 2d panel. Now fixed. The Supermarine Seafire was a naval version of the Supermarine Spitfire specially adapted for operation from aircraft carriers. The name Seafire was arrived at by collapsing the longer name Sea Spitfire. This is the Aeroplane Heaven Seafire released as freeware for FS9 modified and now with FSX XML gauges so it can now be used in FSX without problem. Includes VC and 5 liveries NN460 HMS Indefatigable, Ceylon 1944, NN300 HMS Hunter, Singapore 1945, NN212 HMS Indefatigable, Pacific 1944, NN510 HMS Implacable, 1947 and Aeronavale. Modified for FSX by Danny Garnier. Danny Garnier
Posted Apr 19, 2012 12:25 by GARNIER Danny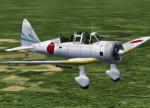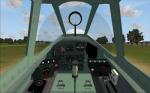 8.85Mb (2236 downloads)
Tachikawa Ki-36 type98 (Ida), Japanese WW2 trainer and reconnaissance aircraft, originally made for CFS2 by Thicko, now flyable in FSX with acceptable VC. Thanks again Thicko for your great work! Unfortunately the opening and closing of the reargunner's cockpit and him getting in position doesn't work in my version of FSX Acceleration, though I have made settings for the Concorde's nose visor extend and retract control keys. In FS9 it works fine. If anybody knows a solution for it I would be happy to know. The aircraft is flying very well in my versions of FSX-Acceleration and FS9, but is not tested by me in SP1 or SP2. This file should not harm your computer, but I accept no responsibility when it does, so try it at your own risk. Remarks and hints are welcome. Have fun!
Posted Apr 17, 2012 09:21 by Erik Hertzberger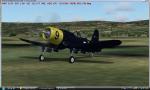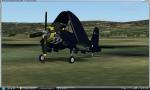 8.63Mb (2935 downloads)
FSX/FS2004 Goodyear F2G Super Corsair The Super Corsair was based around the powerful Pratt & Whitney R-4360 Wasp Major engine, which was capable of providing 3000 hp, a big increase on the 2000 hp engine used in the original Corsair. In addition, an all-round vision bubble-type canopy was installed. The new aircraft was technically a great success. It could reach a speed of over 450 mph, fast enough to intercept the Japanese kamikaze aircraft at a safer distance from the carriers. Both the F2G-1 and F2G-2 models are included. GMAX newmdls by A.F.Scrub
Posted Apr 16, 2012 06:50 by A.F.Scrub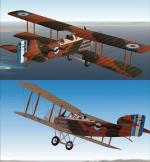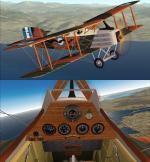 16.91Mb (2657 downloads)
FSX/FS2004 Breguet 14 A2/B2 complete package With Full V/C 2D panel animated parts and sound.This plaine was in Service with The Hellenic Army Air Service from1914 and up to 1930 as a recognizer. 30 Aircraft of type A2/B2 based after the war in Sedes Air base (Thessaloniki) then used as trainers. During WWI #532 & 534 found in the Hellenic/French Squadrons.Also the Breguets served during the Asia Minor Campain.Model by Emmanuel Geffroy.Repaint by Hellenic Aircraft /Yiannis Katehis Tsetsas.
Posted Apr 11, 2012 17:12 by YIANNIS KATEHIS TSETSAS