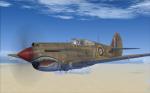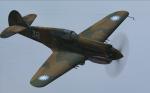 27.21Mb (4571 downloads)
FS2004/FSX Curtiss P40 Tomahawk The Curtiss P-40 was undoubtedly one of the most controversial fighters to serve in quantity during the Second World War. It was praised and abused, lauded and vilified, but the fact remains that, as the first American single-seat fighter to be manufactured on a mass-production basis, it bore much of the brunt of the air warfare over several battle fronts. Its performance was inferior to the performances of the majority of its antagonists, but this shortcoming was partly compensated for by its tractability and its sturdiness which enabled it to withstand a considerable amount of punishment. It was amenable to adaptation and it was available when most sorely needed. GMAX model by A.F.Scrub
Posted Jun 3, 2012 06:33 by A.F.Scrub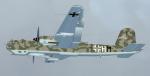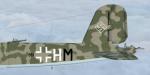 2.13Mb (1212 downloads)
I updated the He-177 Greif textures for FSX and added some additional detailing based on historical photo archives. All credit goes to Kazunori Ito for his historical rendition of WW2 Germany's enigmatic bomber.
Posted May 29, 2012 23:50 by KiltinSA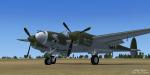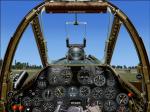 13.93Mb (10588 downloads)
This is David C. Copley's P-38 Lightning Updated for Microsoft Flight Simulator X . This Aircraft Carries The Grim Reaper into Battle " Fear The Reaper " . This aircraft includes a 2D panel by Mel Mutter. VC/3D panel edited by RDG Aircraft works in FSX. Also included is War Emergency power effect. Updates and Textures By Mark " Fireball " Rooks of RDG Aircraft.
Posted May 20, 2012 18:07 by Mark Fireball Rooks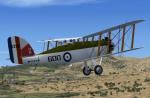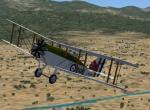 4.76Mb (1384 downloads)
The Westland Wapiti In 1926 the Air Ministry looked for a replacement for the long serving D.H 9A to fill the role of general-perpose aircraft for the RAF. Westland, who had been producing the D.H 9A on a sub-contract basis decided to offer a plane using parts of the D.H 9 . Although the fuselage was an entirely new design, the wings and interplane struts were from the old 9A. This design was named the Wapiti . At the outbreak of WWII several machine were still serving in the Middle East and saw limited active service . GMAX model by A.F.Scrub
Posted May 19, 2012 04:19 by A.F.Scrub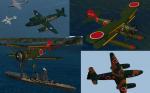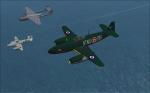 6.15Mb (276 downloads)
A repaint pack for Ryukichi's FSX native Nakajima Kikka jet fighter and FSX native K5Y1 & K5Y2 Akatombo (Willow) Land and float planes. A couple of really nice FSX native IJN models with VC's that have gone in right under the radar. Avalable here: http://homepage3.nifty.com/ryukichi/index.html Great with the new Chichijima and Iwojima FSX scenery projects Textures by Lazarus For FSX only.
Posted May 12, 2012 02:14 by Lazarus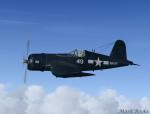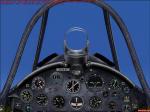 14.40Mb (6033 downloads)
This is a Repaint of Guy Hulin's Corsair Updated For Flight Simulator x. This aircraft is the Corsair flown by The United States Navy during WW2 shown here with battle worn texture. This Aircraft has a 2D and 3D Cockpit New Textures, War Emergency Power, Exhaust Flames, Exhaust plume, Folding wings, Tail hook, and FSX updates by Mark Rooks of RDG Aircraft. History and pictures included in this PKG.
Posted May 10, 2012 23:48 by Mark Fireball Rooks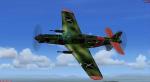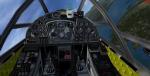 10.14Mb (2203 downloads)
Dornier Do-335 Escuadriila updated for FSX. This is the Simtech Do-335 from FS2004 updated to work in FSX. The Do-335 has an unusual inline tandem engine arrangement and was designed to be a bomber/intercepter with a top speed of 474 mph. Orignal by Tom Wood. Updated by Danny Garnier.
Posted May 10, 2012 13:49 by Garnier D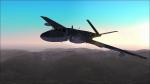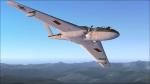 20.34Mb (3235 downloads)
Heinkel P-1079, a new twin-jet fighter project of the Heinkel Aircraft Construction Corp. was designed in five variations, all under the same designation. The first of these advanced designs, the Heinkel P-1078A was basically developed as a two-seated nightfighter. The pilot and the gunner/navigator were sitting in tandem position. The wings were swept back 35 degrees, mounted to mid-fuselage. The tail had a V-shaped rudder. The armament were three Rheinmetall-Borsig MK 108 30mm cannons in the nose and 24 R4-M 'Orkan' high explosive rockets on two racks mounted under the wings. Another feature of armament was the so-called 'schraege musik' with four upward-firing 20 mm Mauser MG 151/20 autocannons, mounted in the back of the aircraft. Therefore, the nightfighter had to approach and attack bombers from below, guided into position by commands from the navigator. The aircraft should be equipped with the new FUG 228 radar unit. This sophisticated radar would have empowered the aircraft with an almost all-weather ability. The engines were located in the wing roots. This version should be fitted with two Junkers Jumo 004D turbojet engines with two-stage fuel injector, each with 8.8 kN of power. The max. speed was about Mach 0.89 = 950kph The Range 1079.22nm = 1241.9 sm = 2000 km The max. Service Ceiling was up to 51,000 ft = 15,545m
Posted May 7, 2012 16:54 by Andreas Becker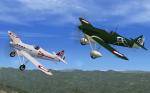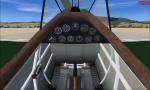 9.58Mb (1590 downloads)
FSX/FS2004 "Dewoitine 501 and 510" The Dewoitine D.501 and D.510 were the latest of the D.500 series of all-metal open cockpit fixed-undercarriage monoplane fighters used by the Armée de l'Air in the 1930's. The initial D.500, designed by Emile Dewoitine , was based on specifications issued in 1930 by the air ministry, and was to be a replacement for the Nieuport 62 . The prototype first flew on June 18, 1932. D.501 and D.510 mdls included. Upgrade to FS2004/FSX by A.F.Scrub
Posted May 2, 2012 12:16 by A.F.Scrub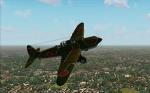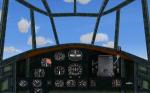 10.15Mb (1612 downloads)
Kawasaki Ki-32 Mary with acceptable working VC for FSX-Acceleration. Reuploaded to include gauges. All credits for the making of this great model are for Thicko and the others named in the origreadme. Gun effects for fun added. Enjoy!
Posted Apr 30, 2012 05:39 by Erik Hertzberger