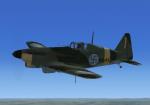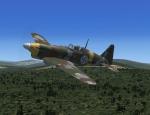 6.39Mb (5048 downloads)
FS2004/FSX Morko Morane WW2 Fighter. The increasing obsolescence of the M.S.406 led the Finnish Air Force to order, on 22 October 1942, the installation of a Klimov M-105P in an M.S.406 airframe. The M-105P engine, derived from the HS 12Y, afforded 1,100hp for take-off, the prototype conversion was flown on 4 February 1943 as the Mörkö (Ghost) or Mörkö-Moraani. Successful trials resulted in the decision to bring all surviving M.S.406 and M.S.410 fighters to Mörkö standard. Two versions included. GMAX model by A.F.Scrub.
Posted Jan 4, 2009 10:34 by A.F.Scrub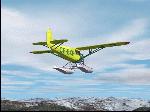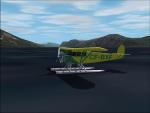 10.28Mb (1352 downloads)
Update for the Early Fairchild Series; please see readme file for details. Original gmax model by James Hefner, with some parts and textures from the Microsoft FS2004 SDK. 2-D Panel bitmap by Mick Morrissey.
Posted Jan 3, 2009 22:36 by James Hefner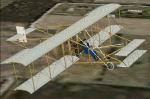 2.62Mb (6964 downloads)
Kruse-Curtiss Flyer. This model was designed from pictures of my Great-Uncle Frank Kruse's plane combined with plans of other Curtiss planes of the time. I'm estimating that the plane was built in 1910 or 1911 from Curtiss plans published in 'Popular Mechanics'. The Curtiss museum is not aware of any Curtiss designs that used this style aileron, however the rest of the plane is obviously Curtiss. We don't know what Uncle Frank was thinking, maybe this style aileron was easier to rig. He flew the plane in the Chicago and central Illinois area and didn't die in the plane. Other than the pictures and my Grandmothers stories of some of Frank's other exploits not much is known of what became of his plane. And yes, that is Frank in the plane - at least the best I could do with the pictures available.
Posted Jan 2, 2009 03:39 by Tom Eads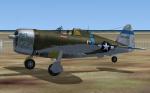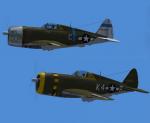 5.02Mb (8119 downloads)
FS2004/FSX P47 Razorback. When, in January 1943, the USAAF's 56th Fighter Group arrived in the United Kingdom with its massive Republic P-47 Thunderbolts, RAF Spitfire fighter pilots jokingly suggested that their American colleagues would be able to take evasive action, when attacked, by undoing their harnesses and dodging about the fuselages of their huge mounts. The Thunderbolt was certainly big, making it the largest and heaviest WWII single engined single-seat fighter ever built. Original mdl by K.Malinowski, upgraded to FS2004/FSX by A.F.Scrub
Posted Dec 26, 2008 11:04 by A.F.Scrub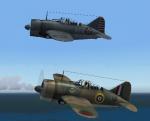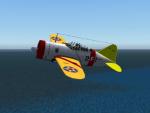 7.88Mb (4811 downloads)
FS2004/FSX Brewster Buffalo F2a3 shipboard fighter In 1939, the F2A became the first monoplane fighter aircraft used by the US Navy. Later versions had a more powerful Wright R-1820-40 Cyclone engine of 1,200 hp (895 kw), a better propeller, and integral flotation gear, but still lacked pilot armor and self-sealing fuel tanks. Both the F2A-2 and the F2A-3 variants of the Brewster were liked by early Navy and Marine pilots, including Pappy Boyington, who praised the good turning and manoeuvring abilities of the aircraft. Original model by Thicko. Three versions included. Upgraded for FS2004/FSX by A.F.Scrub
Posted Dec 22, 2008 06:23 by A.F.Scrub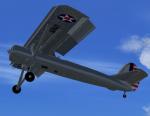 1.04Mb (2265 downloads)
The YO-51 was a prewar USAAC attempt to create a STOL aircraft. This is a native FSX-Acceleration project. It has the usual animations plus drooping ailerons, animated cowl flaps and leading edge slats. The reflective textures are in .dds format. The VC has working gauges and animated flight controls. There is a minimal 2D panel. By Paul Clawson
Posted Dec 21, 2008 18:57 by Paul Clawson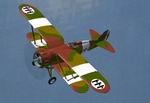 1.48Mb (2919 downloads)
FSX RO-41 Early Military Trainer. The I.M.A.M, Romeo RO-41 was a Royal Italian Air Force single and dual seater military trainer in service from 1934 to early 40's. The RO-41 was similar to the Boeing Stearman. The throttle movement was opposite (throttle back = full thrust). The propeller rotates opposite as usual nowadays. It is modeled here as the spoked wheel single seater version used in Capua flying school, said to be much more manuevrable than the dual seater. This model features reflective skin and full animations. The panel background has been created entirely from scratch, based on photographic material found on the net and some old black and white photos from the historical archive. Some gauges are default gauges, the others have been created by the authors. Included in this model there is also a simple virtual cockpit, with working essential flight instruments and animated flight controls. By Giovanni Quai and Italo D'Attomo
Posted Dec 20, 2008 12:21 by Italo D'Attomo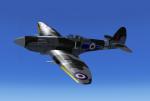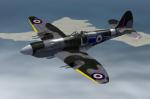 4.85Mb (15983 downloads)
FS2004/FSX Spitfire Mk 22: The Mk22/24 series were the final developments of the Spitfire. They had a rear view fuselage with a redesigned hood. Later models had Spiteful type fins and larger tailplanes and more obvious differences. They were powered by a Rolls-Royce Griffon 61 driving a five-bladed constant-speed Rotol.Although not declared obsolete until May 1955, it was little used after 1952, by which time most surviving examples, some 80, were in storage. GMAX model by A.F.Scrub
Posted Dec 15, 2008 08:17 by A.F.Scrub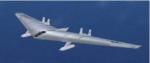 0.41Mb (2147 downloads)
This is an update for FSX acceleration of the YRB-49 Flying Wing, version 2, by J. Higgs. I have updated the flight dynamics, changed the 2D panel background, and changed or added gauges to both the 2D and 3D panels. You need the original aircraft for this update to work. Bob Chicilo.
Posted Dec 11, 2008 06:30 by Bob Chicilo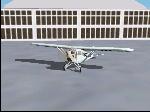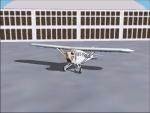 7.21Mb (1130 downloads)
Part 6 of the Early Fairchild Series. Original gmax model by James Hefner, with some parts and textures from the Microsoft FS2004 SDK. Sound package by Jim Douglass, using Microsoft sounds. Flight dynamics, effects, and panel design by Jim Douglass, using Microsoft gauges. Requires Fairchild FC-2W2.zip be installed for remainder of gauges.
Posted Dec 11, 2008 00:29 by James Hefner