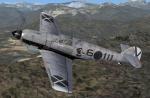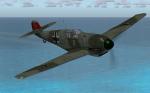 7.24Mb (3485 downloads)
FSX/FS2004 Messerschmitt Bf109B/D The Bf109B Berta and Bf109D Dora were early variants of the BF109. Both were used in the Spanish civil war. The Dora was the standard version of the Bf 109 in service with the Luftwaffe during the period just before World War Two. Despite this, the type saw only limited service during the war, as all of the 235 Doras still in service at the beginning of the Polish campaign were rapidly taken out of service and replaced by the Bf 109E, except in some Nachtjäger (night fighter) units, where some examples were used into early 1940. You get both variants. GMAX mdl by A.F.Scrub.
Posted Feb 27, 2012 16:43 by A.F.Scrub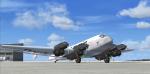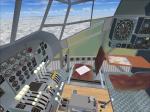 17.11Mb (4116 downloads)
I updated Hauke Keitel, Rolf-Uwe Hochmuth and Claudio Mussner's FS2004 Junkers Ju 90 Heavy Airliner. I replaced the "KEDI" gauges with FSX Compatible ones from Norcal Prop Club's JU-52, JBK's DC-4M Northstar and A.F.Scrub's JU-87B Stuka. I directly replaced German gauge for German Gauge except when I had no German replacement gauge, and there are very few non-German Gauges. There by replicating the panel as close to the original as practical. There are four textures: Junkers demonstrator with inline engines and three Lufthansa radial powered ones. Has both working VC and 2D panels.
Posted Feb 26, 2012 03:11 by Michael E. Roberts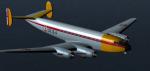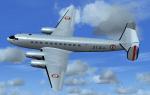 2.55Mb (978 downloads)
2 Aeronavale repaints (textures only) for Jens Kristensens excellent SE161 Languedoc. A development of the FWW 200 Condor airliner/MPA, the Languedoc was an indifferent airliner, but found extensive use with the Armee'd Air and Aeronavale as a transport/hack, SAR aircraft and navigation/crew trainer. With the gracious permission of Jens.
Posted Feb 22, 2012 19:38 by Lazarus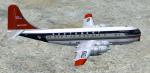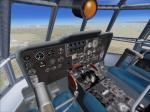 57.01Mb (4871 downloads)
I updated Greg Peppers Northwest and PanAM radar equipped 377s & United non-radar 377. I replaced all of the incompatible gauges in both the 2D & VC panels and added texture thumbnails. These are stand alone aircraft. I also included in this package, three MATS textures with thumbnails and updated aircraft CFG file for Greg Peppers C-97. You will need the Boeing C-97 KC-97 377 Stratocruiser Updated Package for these textures and cfg to properly work. Includes both 2d & VC panels
Posted Feb 15, 2012 02:06 by Michael E. Roberts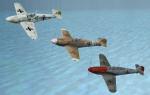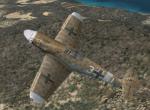 12.37Mb (2736 downloads)
FSX-FS2004 Bf 109F 'Friedrich' Early in 1940, Messerschmitt designed a major improvement to the Bf 109. The 'F' model was planned to include structural and aerodynamic changes and a higher performance powerplant, the 1350 horsepower DB 601E. By tucking the radiators more tightly into the wings, the designers reduced drag and improved lift. The cowling was streamlined, the spinner enlarged, the propeller blades widened and shortened, the wingtips rounded, and the tail plane bracing struts removed. About 2,200 Friedrichs were built. GMAX mdl by A.F.Scrub
Posted Feb 14, 2012 06:18 by A.F.Scrub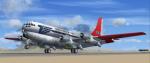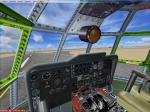 174.87Mb (11971 downloads)
I updated Greg Peppers C-97, KC-97E, KC-97G, KC-97L & 377 Stratocruiser for FSX. I replaced all incompatible gauges in the VC & 2d panels, added jet assist sounds for the KC-97L & added texture thumbnails. Includes both 2D & VC Panels.
Posted Feb 13, 2012 02:45 by Michael E. Roberts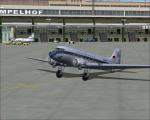 1.70Mb (1214 downloads)
Lufthansa texture for the default FSX Douglas DC-3. Made by ricardo_tv
Posted Feb 12, 2012 13:49 by ricardo_tv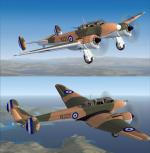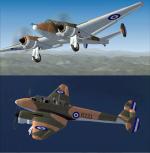 19.64Mb (2767 downloads)
FSX two liveries complete package with animated parts, 2d panel and sound. No VC. The Potez 630 was a twin engine French Fighter. This Repaint(Exact Decals) resembles the 1940 Hellenic Air Force B227 Potez 633 that was a Light Bomber version of the Potez 63 series and used the same airframe with some modifications. It served From 1938 ~ Apr/1941 Batle Order: 10 aircraft, 31Bomber Sq (MIRA), Niamata-Menidi Greece. Codes: Black B221~B230 on fuselage. There are two liveries with top wing and tail decals (B221) and one with under wing decals only(B227 after Oct/28 1940). The type saw only limited use by France, Greece and Romania. Model by: Kazunori Ito. Repaint by Hellenic Aircraft / Yiannis Katehis Tsetsas
Posted Feb 10, 2012 18:31 by YIANNIS KATEHIS TSETSAS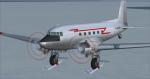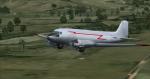 8.94Mb (674 downloads)
2 fictional repaints of the Awesome 4 some DC-3. Repainted in the colors of C-ANDY & N-190A. Includes Ski & Cargo versions. Done on request of a Forum member. By Andrew Lessells (andy190).
Posted Feb 4, 2012 04:45 by Andrew Lessells (andy190)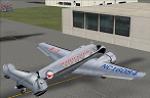 5.85Mb (1112 downloads)
Lockheed L-10A Electra repaint for FS2004/FSX. Featured is a reworked repaint of the "Wisconsin Central Airlines" Feb. 1948. It bears the NC16084 C.A.B. Registration number. I have reworked and added to the repaint ( Orig. repaint of David Reed) to make this repainted aircraft more towards being historically correct in markings. Needed will be the original aircraft found here at simviation by doing a search for " Lockheed L-10A Electra " by Arik Hohmeyer (FS-Design Berlin). If your from Wisconsin or a North Central Airlines fan, then this repaint is worth your time to download and install. By FoMoCo63 19.9MB size opened.
Posted Jan 30, 2012 23:36 by FoMoCo63