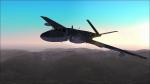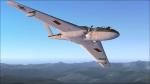 20.34Mb (3332 downloads)
Heinkel P-1079, a new twin-jet fighter project of the Heinkel Aircraft Construction Corp. was designed in five variations, all under the same designation. The first of these advanced designs, the Heinkel P-1078A was basically developed as a two-seated nightfighter. The pilot and the gunner/navigator were sitting in tandem position. The wings were swept back 35 degrees, mounted to mid-fuselage. The tail had a V-shaped rudder. The armament were three Rheinmetall-Borsig MK 108 30mm cannons in the nose and 24 R4-M 'Orkan' high explosive rockets on two racks mounted under the wings. Another feature of armament was the so-called 'schraege musik' with four upward-firing 20 mm Mauser MG 151/20 autocannons, mounted in the back of the aircraft. Therefore, the nightfighter had to approach and attack bombers from below, guided into position by commands from the navigator. The aircraft should be equipped with the new FUG 228 radar unit. This sophisticated radar would have empowered the aircraft with an almost all-weather ability. The engines were located in the wing roots. This version should be fitted with two Junkers Jumo 004D turbojet engines with two-stage fuel injector, each with 8.8 kN of power. The max. speed was about Mach 0.89 = 950kph The Range 1079.22nm = 1241.9 sm = 2000 km The max. Service Ceiling was up to 51,000 ft = 15,545m
Posted May 7, 2012 16:54 by Andreas Becker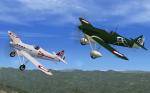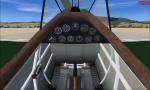 9.58Mb (1636 downloads)
FSX/FS2004 "Dewoitine 501 and 510" The Dewoitine D.501 and D.510 were the latest of the D.500 series of all-metal open cockpit fixed-undercarriage monoplane fighters used by the Armée de l'Air in the 1930's. The initial D.500, designed by Emile Dewoitine , was based on specifications issued in 1930 by the air ministry, and was to be a replacement for the Nieuport 62 . The prototype first flew on June 18, 1932. D.501 and D.510 mdls included. Upgrade to FS2004/FSX by A.F.Scrub
Posted May 2, 2012 12:16 by A.F.Scrub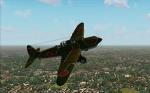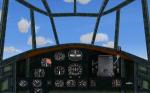 10.15Mb (1669 downloads)
Kawasaki Ki-32 Mary with acceptable working VC for FSX-Acceleration. Reuploaded to include gauges. All credits for the making of this great model are for Thicko and the others named in the origreadme. Gun effects for fun added. Enjoy!
Posted Apr 30, 2012 05:39 by Erik Hertzberger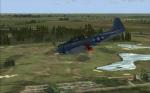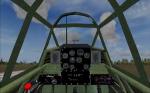 17.76Mb (4848 downloads)
Douglas SBD-5 Dauntless, another great Fightertown Design Group CFS2 aircraft, now updated for FSX. Full working VC, all necessary gauges and effects included. I updated the mdl.- and air.-files and put in some gun effects for fun. No folding wings, but working tailhook and cowlflaps. Gunner's cockpit opens when wheels are retracted. Its quite some work to get her in the air: put on the handbrake, give 2 clicks of flaps, give full throttle and wait till the engine is at full power, give hard rudder to the right, push the stick forward, loosen the brakes and let her go. Watch out when the tail comes up that she will not end on her nose, pull the stick sloooowly backwards and after a long ride she finally will fly. As in real: slowly but deadly. Trim her out and let her climb at ease, she'll bring you everywhere you want. All credits of this plane go to the FDG-boys, thank you guys for a great model. I would suggest that you would use Chris Sykes great FSX weapons pack (also downloadable from Simviation), when you follow his instructions, you can also drop bombs. More fun!
Posted Apr 28, 2012 11:16 by Erik Hertzberger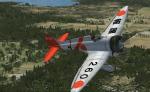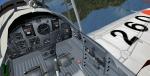 10.35Mb (3364 downloads)
Mitsubishi A5M4 Claude with great working VC for FSX-Acceleration. Fixed to include VC gauges. All credits for the making of this great model are for Kazunori Ito, I only made it fly in FSX and put in some gun-effects for fun.
Posted Apr 26, 2012 10:06 by Erik Hertzberger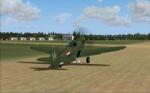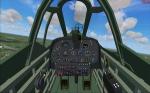 8.59Mb (902 downloads)
"Snafu", Curtiss P-40N Warhawk of the KNIL (Royal Netherlands Indonesian Army) 1944. Updated to now include gauges. Great Krzysztof Malinowski CFS2-plane, now flyable in FSX with nice VC and gun-effects. Also great Allison engine-sound by Troy Raszka, so together it is a great performance and fun to fly, so do so in honour of all the brave men of the KNIL. The aircraft is flying very well in my version of FSX-Acceleration, but is not tested by me in SP1 or SP2. This file should not harm your computer, but I accept no responsibility when it does, so try it at your own risk.
Posted Apr 26, 2012 09:41 by Erik Hertzberger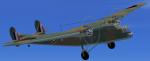 23.37Mb (1894 downloads)
The Bristol Bombay was designed to serve both as a bomber and a troop transport. It first flew in 1935. It was too obsolete to use as a bomber in Western Europe when the war broke out but served admirably in the Middle East. This is a native FSX Acceleration model. It is painted for service in the Middle East desert. The Pegasus sound file is by Gary Jones. The VC has animated flight controls, working gauges and is based on photo's of similar aircraft of the same era. By Paul Clawson
Posted Apr 25, 2012 01:26 by Paul Clawson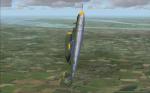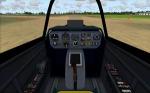 10.90Mb (3359 downloads)
(Salamander). German single-engine, jet-powered fighter aircraft fielded by the Luftwaffe in World War II. Originally a great CFS2-model by ALPHASIM, now updated for FSX with full working VC (gauges included). Gun- and smoke-effects added for fun. Updated by Erik Hertzberger. Enjoy!
Posted Apr 23, 2012 07:59 by Erik Hertzberger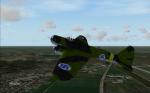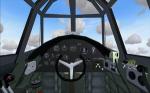 9.99Mb (940 downloads)
Ilyushin DB-3S with USSR and Finnish textures included. Another one of Thicko's great CFS2-planes, now flyable in FSX, with acceptable VC. Comes with 2 textures, one Finnish and one USSR. See original readme for control-keys.
Posted Apr 23, 2012 07:55 by Erik Hertzberger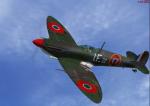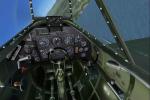 26.12Mb (25428 downloads)
Supermarine Seafire Package whole Package. Panel fixed. I leave gauges in 2d panel. Now fixed. The Supermarine Seafire was a naval version of the Supermarine Spitfire specially adapted for operation from aircraft carriers. The name Seafire was arrived at by collapsing the longer name Sea Spitfire. This is the Aeroplane Heaven Seafire released as freeware for FS9 modified and now with FSX XML gauges so it can now be used in FSX without problem. Includes VC and 5 liveries NN460 HMS Indefatigable, Ceylon 1944, NN300 HMS Hunter, Singapore 1945, NN212 HMS Indefatigable, Pacific 1944, NN510 HMS Implacable, 1947 and Aeronavale. Modified for FSX by Danny Garnier. Danny Garnier
Posted Apr 19, 2012 12:25 by GARNIER Danny