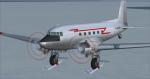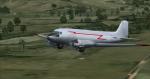 8.94Mb (684 downloads)
2 fictional repaints of the Awesome 4 some DC-3. Repainted in the colors of C-ANDY & N-190A. Includes Ski & Cargo versions. Done on request of a Forum member. By Andrew Lessells (andy190).
Posted Feb 4, 2012 04:45 by Andrew Lessells (andy190)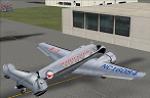 5.85Mb (1132 downloads)
Lockheed L-10A Electra repaint for FS2004/FSX. Featured is a reworked repaint of the "Wisconsin Central Airlines" Feb. 1948. It bears the NC16084 C.A.B. Registration number. I have reworked and added to the repaint ( Orig. repaint of David Reed) to make this repainted aircraft more towards being historically correct in markings. Needed will be the original aircraft found here at simviation by doing a search for " Lockheed L-10A Electra " by Arik Hohmeyer (FS-Design Berlin). If your from Wisconsin or a North Central Airlines fan, then this repaint is worth your time to download and install. By FoMoCo63 19.9MB size opened.
Posted Jan 30, 2012 23:36 by FoMoCo63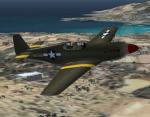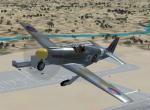 7.31Mb (3686 downloads)
FSX-FS2004 Mustang P-51a On September 9, 1940, only 102 days after the contract had been signed, the NA-73X prototype was rolled out though still waiting for its engine. The new fighter was named Mustang by the British, and the first British version was designated Mustang I. As soon as it was available, the 1,120hp Allison V-171 0-39 power plant was installed, and engine and taxi tests began. By comparison, Mustangs with the Allison engine could outperform the Merlin-powered variants below 15,000 feet. When production of the Allison-engined Mustang ended, 1580 examples had been built. GMAX mdl by A.F.Scrub
Posted Jan 30, 2012 04:36 by A.F.Scrub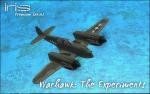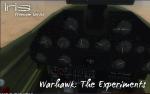 89.92Mb (4134 downloads)
After the successful release of the "Aces of the Commonwealth" package for FSX featuring the Curtiss P-40E Kittyhawk, we decided to exercise our imagination and provide a new product featuring two new variations of the P-40 Warhawk, the P-40T and P-40X. The P-40T is a twin seat, twin engine variant of the P-40 airframe. Whilst the U.S. did experiment with a twin engine concept of the P-40C during wartime, it was plagued with poor stability issues and never went into production. The P-40X is a single seat P-40E with clipped wings and a contra-rotating propeller on a Merlin engine system. The joy of flight simulation development is the fact that we can now provide these "experimental" variants of the P-40 to you to enjoy in Microsoft Flight Simulator X. Please note that the airframes shown here are in fact completely fictional. Whilst their performance figures and development data are based on what we would envisage to be relatively accurate, these are complete figments of our imaginations and should be enjoyed with that in mind.
Posted Jan 29, 2012 15:21 by David Precopia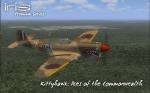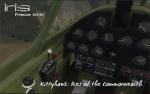 70.67Mb (6808 downloads)
This conversion is more than just a simple recompile of the previous FS2004 aircraft. We have added four brand new textures in this product representing four of Australia's WWII Aces, complete with new weathering and effects. We have also added new normal map and specular map materials to provide a stunning external experience. We have taken the time to record a brand new audio package for the P-40 Kittyhawk using authentic P-40 recordings featuring full 360 degree sound panning and new ambient sound for when you are sitting on the ground doing pre-flight. Now you can hear birds in the fields, aircraft and helicopters overhead as you ready yourself for flight! We have updated the internal cockpit providing a complete set of new gauges designed for easy reading and clarity, and even added a basic modern cockpit for those needing some navigation tools to hand. Pam Brooker, resident flight dynamics engineer has done a superb job of the flight model, giving you an aircraft which is a true joy to fly, however it is an aircraft you have to FLY, rather than many 'point and go' aircraft seen these days. All in all, IRIS are very happy at the conversion of this product and hope that you all will once again, enjoy the thrill of the P-40 Kittyhawk in Flight Simulator X. NOTE: See "FSX Root/IRIS Classics/P-40E Kittyhawk/Bonus Schemes" for additional paints.
Posted Jan 29, 2012 14:31 by David Precopia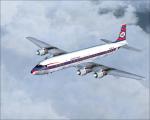 8.45Mb (685 downloads)
FS9/FSX Martinair textures for Greg Pepper/Tom Gipson DC-7C. This aircraft was originally purchased in 1957 by KLM Airlines and was sold to Martinair in 1965. Derelict at Saulsbury in 1977.
Posted Jan 26, 2012 00:52 by Gary Harper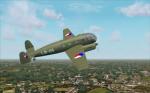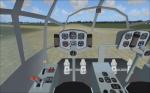 13.66Mb (1597 downloads)
Aero/Siebel C3A/204D, another CFS2 aircraft I made flyable for FSX Acceleration. Nice VC with full working gauges (all necessary gauges included). All credits for the original aircraft go to Jan Moravec. Updated by Erik Hertzberger. Enjoy!
Posted Jan 24, 2012 06:20 by Erik Hertzberger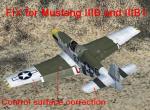 2.34Mb (2052 downloads)
FSX-FS2004 Mustang III B and B1 fix This cleans up the control surfaces of the Mustang IIIB and IIIB1 . Replace the old mdl files. Mod by A.F.Scrub
Posted Jan 23, 2012 12:36 by A.F.Scrub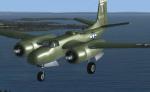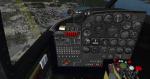 64.34Mb (13921 downloads)
This is Milton Shupe/Vladimir Gonchar AT-11 panel added to the SOH Douglas A-26 Invader with all texture fixes and A/P added for FSX. All nose textures and gun textures are fixed. Fuel flow adjusted to better meet real world specs for 2700nm empty range. Wing tip strobes added. The only credit I take is the texture and panel modifications.
Posted Jan 22, 2012 09:15 by Tony A.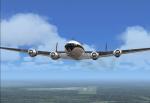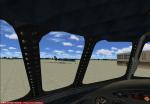 38.12Mb (2677 downloads)
I have added in flight exhaust smoke and photoreal windscreen pillars to the wonderful FS2004/FSX model created by Mr. Manfred Jahn and crew. Enjoy!
Posted Jan 20, 2012 00:26 by Kelly McKernan