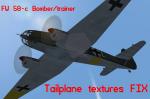 1.88Mb (766 downloads)
FSX/FS2004 FW 58C Weihe, bomber trainer FIX This fixes the tailplane textures of the FW 58C Weihe, bomber trainer. Replace the mdl file and the FW58Bwings.bmp. Fix by A.F.Scrub.
Posted Nov 16, 2011 11:11 by A.F.Scrub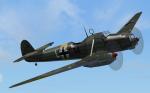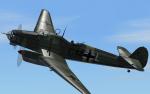 6.25Mb (1860 downloads)
FSX/FS2004 FW 58C Weihe, bomber trainer With the creation of the new Luftwaffe, a fast, light and economical multi-purpose aircraft was necessary for the satisfactory re-training of pilots for the faster combat planes and training as gunners, bombers and radio operators, blind and night flying, and in 1934, Focke Wulf supplied the first prototype. The Fw 58 "Weihe", named after the Kite, a falcon like raptor bird (Milvus), was a general purpose machine. GMAX model by A.F.Scrub.
Posted Nov 16, 2011 05:12 by A.F.Scrub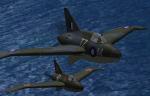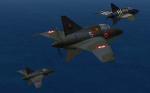 8.95Mb (838 downloads)
5 what if textures for Tim Conrads Northrop XP-56. A fascinating aircraft, but designed just before a number of breakthroughs in aerodynamics-notably the perfection of laminar-flow airfoils. Redesigned around a larger, heavier engine that delayed the program for almost a year, hamstrung by a host of 'looks good on paper' design features, the XP-56 was a dreadful aeroplane, but made several contributions to the state of the art; notably in magnesium fabrication and heliarc welding. The second prototype survives in storage with the NASM collection at Silver Hill, Maryland. What if it had of worked out? 5 what if repaints depicting USAAF and lend-lease RAF, RAAF, Armee d'Air and Soviet P-56's. Fortunately, Mr. Conrads P-56 is a joy to fly, and despite being so fugly it goes right around the scale back to cute, is a gorgeous model and a great add-on for your virtual hanger. Textures in DXT3 no mipmaps DDS, formated in shared texture format with shared texture folder and original texture, with ammended aircraft config file.
Posted Nov 14, 2011 23:30 by Lazarus Starkweather
8.55Mb (3119 downloads)
The PA-12 was produced by Piper from 1946 to 1948. It was called the J-5C until Piper changed its nomenclature scheme. It could carry three people with the pilot sitting alone in the front and side-by-side passengers behind. It was flown solo from the front. This is a FSX native project. It has a slight specular shine and reflective glass. The exterior and interior are modeled from Paul Matt's excellent drawings. The VC has working gauges and animated flight controls. There is no 2D panel. By Paul Clawson
Posted Nov 13, 2011 23:41 by Paul Clawson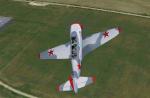 1.57Mb (612 downloads)
Yak-11 (C-11) G-BTUB Textures for the Yak 11 (C-11) by Pavel Karásek. Private Yak-11 G-BTUB is registered in the UK
Posted Nov 13, 2011 09:08 by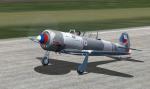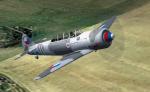 1.79Mb (675 downloads)
The Yak-11 design was based in large part on the successful Yak-3 fighter, and became the Soviet Air Force's most widely used trainer aircraft. From 1953, an additional 707 were licence-built by Let in Czechoslovakia under the name C-11 (LET C-11 in some documentation). Both Yak-11 and C-11 were used in all Warsaw Pact countries and were exported to eighteen countries. Technical Data: Wingspan 9,20 m Lenght 8,50 m Height 3,28 m Max. takeoff weight 2418 kg Max. speed 465 km/h. Repaint C-11 OK-JZE: Jozef Košík
Posted Nov 13, 2011 05:59 by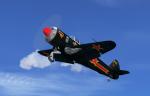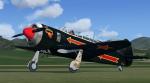 2.02Mb (695 downloads)
The Yak-11 design was based in large part on the successful Yak-3 fighter, and became the Soviet Air Force's most widely used trainer aircraft. From 1953, an additional 707 were licence-built by Let in Czechoslovakia under the name C-11 (LET C-11 in some documentation). Both Yak-11 and C-11 were used in all Warsaw Pact countries and were exported to eighteen countries. Technical Data: Wingspan 9,20 m Lenght 8,50 m Height 3,28 m Max. takeoff weight 2418 kg Max. speed 465 km/h Repaint N2124X BLYAK MOOSE: Jozef Košík
Posted Nov 13, 2011 05:24 by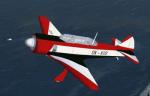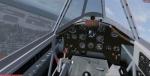 19.91Mb (1767 downloads)
Let C-11 (Yak -11) for FS2004 (also compatible with FSX) The Yak-11 design was based in large part on the successful Yak-3 fighter, and became the Soviet Air Force's most widely used trainer aircraft. From 1953, an additional 707 were licence-built by Let in Czechoslovakia under the name C-11 (LET C-11 in some documentation). Both Yak-11 and C-11 were used in all Warsaw Pact countries and were exported to eighteen countries. Technical Data: Wingspan 9,20 m Lenght 8,50 m Height 3,28 m Max. takeoff weight 2418 kg Max. speed 465 km/h The model is created using Gmax, with 2D cockpit, fully clickable virtual cockpit and all moving parts. The panel is optimized for 1366x768 resolution. Pavel Karásek
Posted Nov 13, 2011 05:15 by admin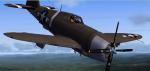 1.37Mb (434 downloads)
Semi-fictional repaint of the Alpha Sim P-47D which was purchased by the bond drive of the people of Garwood, NJ during WWII. Little documentation exists about the fate of the original aircraft
Posted Nov 12, 2011 21:53 by Jay Holman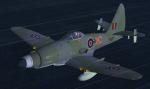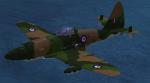 12.96Mb (2098 downloads)
27 repaints for the Nazca studios/ Flyingstations.com freeware Westland Wyvern for FSX. Delayed by no less than 3 engine changes and shifting priorities, the Wyvern was a troubled aeroplane, though it had massive potental, and was described as having "just missed being great" What if... Flashback, 1939. What if some one with more vision and less professional jealousy was in charge of gas turbine development at the Air Ministry? Flashback 1944. With the Python and Clyde heavy turbine propeller aero engines moving at a cracking pace, the troublesome Eagle sleeve valve piston engine is discarded, and turbine power specified from the outset for the N.11\44 strike fighter. An extensive flight test program with the Firebrand test bed resultes in fitting a Dowty inertia controller, eliminating the Pythons surging problems. Taking to the air in february 1946, the big Wyvern is an immediate winner. 27 what if repaints for RN, RAF, RAN, RCN, RNZAF, Aeronavale, USN, USMC, USAF, MLD, Marineflieger, Luxemborg Marineflieger and FAECuba Wyverns With the gracious permission of the FlyingStations.com Crew
Posted Oct 31, 2011 10:27 by Lazarus Starkweather