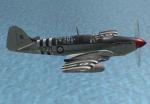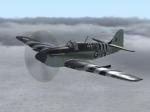 13.05Mb (4241 downloads)
FS2004/FSX Firefly FR.Mk5 warbird The Fireflies FR Mk5 variants were flown with or without the radar pods. You get nr 204 during its operational life and later as flown by the Royal Navy Historic flight without the wingpods and FR.Mk5 WB828 271'K' flown by the RAN, 817 Sqn, HMAS Sidney. All updated models are usable with the Firefly_AS mk5_6 versions repaints, and the antenna bitmap has been fixed. Repaints by Morton. GMAX models by A.F.Scrub
Posted Dec 28, 2009 18:29 by A.F.Scrub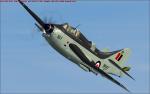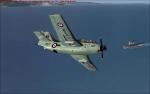 3.88Mb (1212 downloads)
A 'what if?' re-paint for Rob Richardsons new FSX Fariey Gannet 'kerosene converter' (it converts kerosene to noise!) Absolutley excellent, great VC (for the NAV, too!) lots of features, double Mamba sound, and free, too. Model is avalable at Classic British Files .com http://www.classicbritishfiles.com/index.php?option=com_cont .. The Gannet was evaluated by the RCN in the mid '50's as an Avenger replacement in the ASW search and strike role, but the Tracker was selected as Fairey would not license production in Canada. We can, however, visualize an alternate history through the magic of FlightSim. An RCN Gannet in VS-880 markings, HMCS Bonaventure, 1958.
Posted Dec 28, 2009 13:39 by 3/7charlie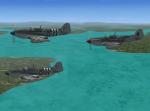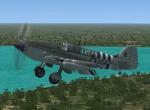 14.80Mb (2646 downloads)
FS2004/FSX Firefly AS Mk5 and AS Mk6 The Fireflies AS Mk5 and AS Mk6 variants were adapted as anti-submarine aircraft. Rockets, bombs and depht charges could be carried. Sometimes the wing guns were removed. You get both models and three textures; Canadian, Australian and British. Textures by Morton. Canopy and navigator canopy open separately, models cleaned up. GMAX mdls by A.F.Scrub
Posted Dec 26, 2009 12:27 by A.F.Scrub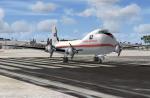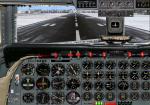 40.19Mb (6715 downloads)
I updated Jon Walton's Avation Traders ATL-98 Carvair (super-modified Douglas C-54/DC-4). There are five textures All have thumbnails): 2 British Air Ferries, 2 British United, and Channel Air Bridge. (NO-VC), but I used Cal-Classic's DC-6B 2D panel.
Posted Dec 20, 2009 03:26 by Michael Roberts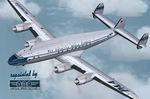 5.02Mb (3283 downloads)
FS2004/FSX Textures only Pan American Lockheed L-749 NC86520, c/n 2503, leased to Pan American World Airways on June 6, 1947 and named "Clipper America". Inaugurated Pan American L-749 services in 1947. Returned to Lockheed in 1947 and delivered to Guest Aerovias SA Mexico on January 6, 1948 with registration XA-GOQ. In November 1948 returned to Lockheed and reregistered NC86520. On January 15, 1949 sold to Air France and registered F-BAZR. In October 1960 withdrawn from use and stored at Paris-Orly (France). Bought by CGTM (Compagnie Générale des Turbo-Machines) for use as flying engine test bed from April 1963 to February 1966 registered F-ZVMV. From February 1966 to December 1974 operated by CEV (Centre d'Essais en Vol). On July 16, 1975 donated to the French Musee de L'Air. Preserved at Paris-Le Bourget (France). Engine test bed equipment removed May/June 2002, still in storage in Air France colors. Textures only. The FS2004/FSX Lockheed L-749 Constellation Base Kit (lockheed749.zip) must be installed. Original by Manfred Jahn & Co (Team 749). Repainted by Hans Hermann, Virtual Birds Factory
Posted Dec 18, 2009 07:19 by Uploader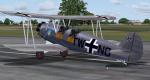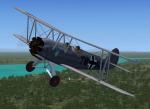 5.03Mb (7761 downloads)
FS2004/FSX Focke Wulf Fw44 WW2 trainer One of the more successful pre-war Luftwaffe trainer aircraft was the Focke-Wulf Fw 44 Stieglitz. The Fw 44 turned out to be a very successful aircraft, with fine harmony of control, great manoeuvrability and full aerobatic capabilities, which also made it famous in the contemporary aviation world. GMAX mdl by A.F.Scrub
Posted Dec 15, 2009 13:04 by A.F.Scrub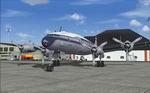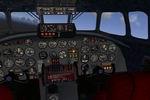 36.17Mb (39460 downloads)
FSX/FS2004 Lockheed L-749 (L-1049) Constellation Package and Base Kit Included in this sim package are seven models and five textures. Panel textures by Diego S. Barreto, model and VC by Manfred Jahn, panels, gauges, and animations by Hansjoerg Naegele, flight dynamics by Luis Pallas, wingview angles and exhaust effects by Bill Tyne and Roland Berger, documentation by Volker Boehme, handling research by Stefan Werner, textures by Jaap der Baare and Hans Herrmann.
Posted Dec 14, 2009 04:34 by Paul Atreides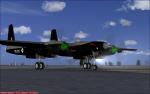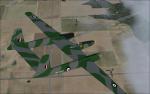 3.47Mb (1533 downloads)
2 'what if' repaints for the XF-11 Redux package. A 1946 RAF requirement for a long range, high altitude strategic recconiassance aeroplane to supplant war-weary Mosquito's, resulted in a small number of R-11A's being taken on charge, as Athena PR.Mk.I, and Mk.IA's with special electronic equipment, pending introduction of the Canberra. With a pressurized cockpit, service ceiling in excess of 49,000 ft, 4000 miles+ range, and a 400kt groundspeed at altitude,the 20 or so Athena's roamed at will across the Iron Curtain, providing targeting data,weather,ELINT and strike route information for RAF Strike Command, and remained in RAF service untill 1958. 2 aeroplanes are depicted in standard dinural and nocturnal schemes of the day. Not without precident, as a small number of RB-45C's were bailed to the RAF for clandestine overflights of the East Bloc in the early'50's. Also includes 2 revised Config.files, adding landing light,beacon,strobes and position light, one standard FS lights, and one for ShockWave payware lights.Contrails added at -29 F, airshow smoke moved to position on #2 engine exhaust, red VC lighting, exhaust flame effect (on cockpit light key- CTRL-L) and start-up effect. Tested in FSX SP1. Model: Ian Lawrence. Classicwings version: Craig Richardson Repaints: 3/7charlie. Requires XF-11 redux package.
Posted Dec 7, 2009 01:09 by Mike Barnes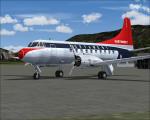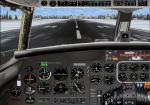 21.18Mb (4460 downloads)
I compiled Cal-Classics Martin 2-0-2 and 4-0-4. Added the Convair 240 panel (no-VC). Included are Northwest and Allegheny 202s, Southern CB-3 404, Eastern, Pacific, and Piedmont CB-16 404s. Works in FSX SP2.
Posted Dec 6, 2009 19:00 by Michael Roberts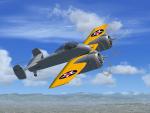 8.94Mb (4096 downloads)
FSX Grumman XF5F-1 Skyrocket The Skyrocket first flew in 1940 and was very fast and otherwise advanced for it's time. The Navy decided it wasn't interested in twin engine fighters and it was not mass produced. Grumman did use lessons learned from this prototype to later develop the very successful F7F Tigercat series. This is a native FSX Acceleration project. It has .dds textures, specular shine, reflective glass, etc.The VC has working instruments and animated flight controls. There is no 2D panel. It has the necessary entries in the aircraft .cfg file so it can catapult from and trap on an Acceleration style carrier. By Paul Clawson
Posted Dec 5, 2009 18:44 by Paul Clawson