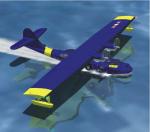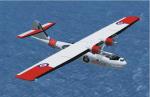 1.17Mb (2680 downloads)
This is an update for FSX of Mike Stone's Consolidated BPY5A. I only had to reposition two float points and change some gauges on the panel for my FS9 update of it to work in FSX. This update includes textures by Geoff Chambers, the Canadian textures. This is the whole aircraft. 2d panel but no virtual cockpit.
Posted Apr 29, 2011 10:35 by Bob Chicilo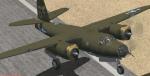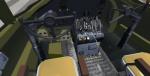 7.97Mb (8138 downloads)
Martin B-26 B-10 Marauder Medium Bomber. This aircraft was from the 12th Air Force, 319th Bomb Group (Medium), 439 Bomb Squadron based in Rufisque French West Africa, Tafaraoui, Algeria (outside of Oran), Maison Blanche, Algeria (outside of Algers), Dejedeida, Tunisia (outside of Tunis) and Decimomannu, Sardinia (outside of Cagliari) in the Mediterranean Theater of Operations. She flew over one hundred missions between June 1943 and November 1944 in North Africa, Italy and southern France. Her first crew was led by Lt. J. H. Logan but was flown by other crews. Originally created March 11, 2002, redone using FSDSv3.5.1 March 17, 2011. FSDS Model and textures created by W. E. Stephens.
Posted Apr 20, 2011 08:11 by uploader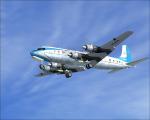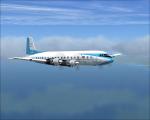 5.11Mb (583 downloads)
Namibia Commercial Airways textures for the FS2002, FS9, and FSX DC-6B aircraft by Greg Pepper and Tom Gibson available at Calclassic.com. Textures by Gary Harper.
Posted Apr 11, 2011 18:21 by Gary Harper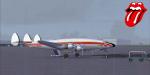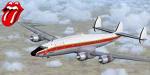 2.85Mb (773 downloads)
Texture only for the Constellation Group (Manfred Jahn) L749. Beacons repositioned and made visible (also suitable for other L749 'Jahn' Models). The Stones used this aircraft for their 1973 tour to the South Pacific. It ended up in Dublin in 1974. Today it is on display at the British Science Museum's Wroughton facility near Swindon/UK in TWA colours. Texture without rubber deicer boots on the wings, as pictured at the time.
Posted Apr 7, 2011 18:28 by Joachim Liethen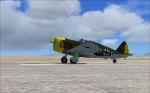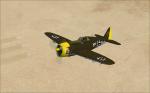 8.05Mb (412 downloads)
P-47 D-20 "Miss Mary Lou" - Mjr. H. McAfee, 19th FS, 318 FG, Saipan 1944 This fictional texture of the Republic P-47 Razorback Captured by Germany; repainted by SJ Avila from Abacus FS Repaint v2.
Posted Apr 6, 2011 19:39 by Steven J. Avila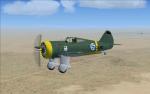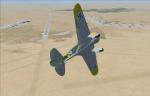 9.36Mb (274 downloads)
FS2004/FSX Curtiss Hawk 75N textures for the The Curtiss P-36 Hawk by A.F.Scrub. This fictional texture of the Hawk 75 Captured by Germany; repainted by SJ Avila
Posted Apr 6, 2011 19:28 by Steven J. Avila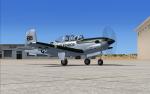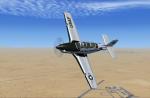 10.34Mb (1128 downloads)
T-34 Mentor Turbo USAF textures Original By Alpha Sim. Updated by Mark Rooks/Danny Garnier. This fictional texture of the T-34 Mentor Turbo repainted by SJ Avila.
Posted Apr 6, 2011 19:17 by Steven J. Avila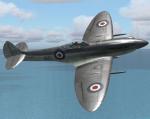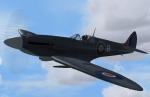 5.47Mb (2585 downloads)
FS2004/FSX Seafire Mk XV and Mk XVII Late production Mk XVs had a new form of "sting" type arrestor hook, attached to the reinforced rudder post at the rear of the fuselage and housed in a fairing below the base of the shortened rudder. A vee-shaped guard forward of the tailwheel prevented arrestor wires getting tangled up with the tailwheel. Next Seafire was the Mx XVII with cut down rear fuselage and bubble canopy. GMAX mdls by A.F.Scrub
Posted Apr 2, 2011 06:10 by A.F.Scrub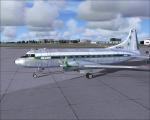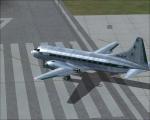 4.93Mb (686 downloads)
Ozark Airlines textures for the FSX/FS9 VBF Convair 240 by Hans Hermann and team CV-240. Textures by Gary Harper.
Posted Apr 1, 2011 12:53 by Gary Harper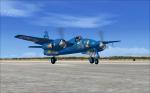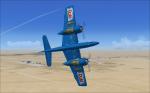 10.00Mb (1185 downloads)
Fictional Air Racing Aircraft for the Alpha Grumman F7F-3 Tigercat package. The Tigercat was Grumman's late-war effort at a carrier-based twin-engine attack aircraft. It was never awarded a production contract. Highly lethal, this aircraft packed enormous firepower and was very fast. With an initial climb rate of 4,300 fpm and a top speed of 435 mph, this aircraft would have been a devastating opponent. this is a base variation painted by SJA of a fictional Air Racer : Dole Pineapple Express. Texture by SJ Avila using Abacus FS Repaint.
Posted Apr 1, 2011 03:25 by Steven J. Avila