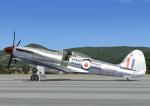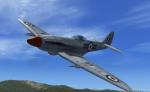 15.48Mb (3985 downloads)
FS2004/FSX Spitfire Mk 22 new model: The Mk22/24 series were the final developments of the Spitfire. They had a rear view fuselage with a redesigned hood and lost the classic Spitfire eleptical wing. Later models had Spiteful type fins and larger tailplanes. They were powered by a Rolls-Royce Griffon 61 driving a five-bladed constant-speed Rotol.Although not declared obsolete until May 1955, they was little used after 1952, by which time most surviving examples, some 80, were in storage. GMAX model by A.F.Scrub
Posted Jun 25, 2011 06:32 by A.F.Scrub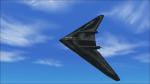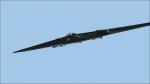 12.88Mb (4216 downloads)
Horten H-VII, experimental flying wing and trainer. Based on the experiences of the smaller H-Vc, the two-seated H-VII made its first flight in May 1943. The H-VII was powered by two Argus AS-10-SC engines driving two-bladed constant-speed propellers via extension shafts. The aircraft had a fully retractable twin nosewheel undercarriage. The aircraft could reach a max. speed of 340 km/hr. The paintings were in Luftwaffe camouflage, assigned to the RLM-no.8-226 This extraordinary aircraft probably suffered the same fate as the H-Vc and was burned after US troops occupied the Goettingen airfield in april 1945. Has 2d panel(No VC). By Andreas Becker.
Posted Jun 20, 2011 17:17 by Andreas Bcker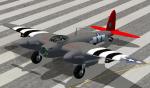 0.54Mb (1501 downloads)
Although best known for their service with the Royal Air Force, Mosquitoes were also flew in several U.S. Army Air Force units as photographic and weather reconnaissance aircraft and as a night fighter. During the war, the USAAF acquired 40 Canadian Mossies and flew them under the American F-8 (photo reconnaissance) designation. In addition, the British turned over more than 100 Mosquitoes to the USAAF under Reverse Lend-Lease. These aircraft retained their British designations. Texture by Foxtrot Flyers.
Posted Jun 19, 2011 18:55 by John Hauck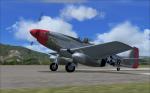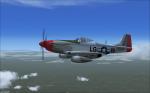 13.28Mb (1371 downloads)
P51D Mustang-Montana Miss Textures only for Warwick Carter's wonderful FSX P-51D Mustang Package. This is the best freeware P-51D.
Posted Jun 10, 2011 23:18 by Steven J. Avila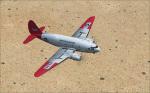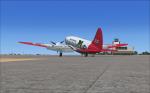 11.41Mb (915 downloads)
FS2004/FSX Curtiss C-46 Commando USAF textures only for the C-046 package from Libardo Guzman, Greg Pepper, and Tom Gibson
Posted Jun 10, 2011 01:32 by Steven J. Avila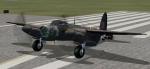 11.07Mb (8253 downloads)
DeHavilland Mosquito. Original FS2004 model created by J.R. Lucariny. 2D panel (no VC) and FSX update by Foxtrot Flyers.
Posted Jun 9, 2011 10:46 by John Hauck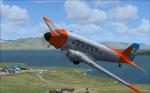 1.84Mb (557 downloads)
Douglas DC-3 Argentina Air force Textures. Represents the Armada Argentina Almacenaded In Cabo De Hornos
Posted May 30, 2011 19:28 by Gabriel marin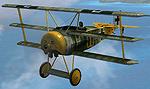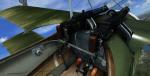 127.23Mb (9870 downloads)
FSX NeoQB Fokker Dr1. Beautiful rendition of the Fokker Dr. 1 by the neoqb development team. Includes an add-on scenery, LFTC Korney Tchukovsky Memorial AF, France
Posted May 21, 2011 12:24 by neoqb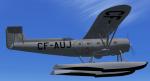 5.95Mb (1393 downloads)
The Super 71 was developed as a "Bush" transport by the Canadian arm of Fairchild Aircraft. Four were built, but only one had the "behind the wing" cockpit as modeled here. This is a native FSX Acceleration model. It has the usual animations and DXT5.dds reflective textures. The VC has working gauges, animated flight controls and backlighted gauges.
Posted May 19, 2011 23:57 by Paul Clawson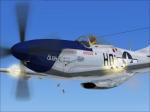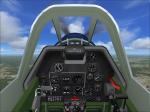 18.45Mb (11632 downloads)
AlphaSim P-51D Mustang Upgraded for FSX. I have upgraded the 2D and VC cockpits to work in FSX, added firing gun effects and 3D landing light effect. Version 1.1 includes minor updates and 5 new textures
Posted May 17, 2011 10:16 by Steve Hess