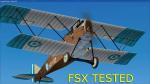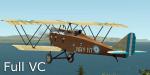 3.94Mb (437 downloads)
This is the Hellenic Naval Air Service (NAYTIKH AEROPORIKH YPHRESIA N.A.Y.)Ansaldo SVA. # 117 Based at TATOI Airfield and served the Hellenic Royal Navy (VASILIKO NAYTIKO) from 1921-1923. In Total 8 of these aircrafts were based there. You will need the Freeware of Manuele Villas Ansaldo model SVA5 V1 zip for this that can be found at Simviation 2004 Vintage page. The model has excellent air dynamics full moving parts full VC and 2D Panel. I have tested the model in FSX Acceleration and found no problems. There is also a SVA5 FIX update that corrects the wheels animation and the prop rotation and i think you should download that too. The Repaint on the Hellenic colors was done by YIANNIS KATEHIS TSETSAS
Posted Jul 19, 2011 19:37 by YIANNIS KATEHIS TSETSAS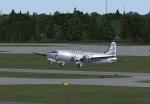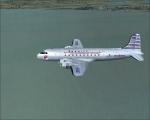 3.40Mb (336 downloads)
FSX/FS2004 Braniff "B" Liner textures for the JBK DC-4-1009 V.3 by Jens Kristensen. These textures represent NC65141 about 1946. Textures by Gary Harper.
Posted Jul 15, 2011 00:23 by Gary Harper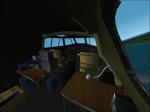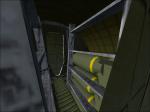 0.69Mb (841 downloads)
FS2004/FSX panel option to display virtual inside views for the Boeing XB-15 bomber from George Diemer. (Requires: xb15.zip) There are no changes to the original panel but 8 additional views of the datailed inner fuselage, which allows you to mann the turret, the bow- or the waistguns or to see the storage room for the bombs or the navigators table, just using key 5 as shiftkey at the numpad. This option is for those who are not using active camera. Configuration by Erwin Welker.
Posted Jul 13, 2011 11:07 by Erwin Welker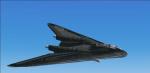 0.01Mb (1464 downloads)
This is a fix for Andreas Becker's Horten H-VII. This fix prevents the aircraft rolling on the ground while the brakes are off (not guaranteed)and changes the glass in the VC to glass and not a canvas colour.
Posted Jul 9, 2011 05:34 by fourbee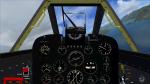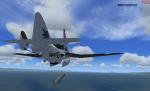 1.64Mb (994 downloads)
FSX 2D panel for Rob Richardson's marvelous Fairey Gannet, which is available at this site. Included are modified cameras and a saved flight with 2 droppable torpedos, starting at Vancouver International airport. Configuration from Erwin Welker.
Posted Jun 30, 2011 05:17 by Erwin Welker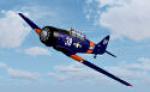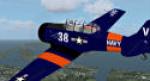 1.08Mb (1132 downloads)
This is a repaint for the North American T-6 Texan by David Eckert, Warwick Carter, & Michael Flahault in a fictional U.S. Navy livery. Repaint by L.T. Davis.
Posted Jun 29, 2011 03:52 by L. T. 'patchz' Davis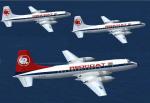 12.17Mb (301 downloads)
FSX/FS9 Redcoat Textures for the Bristol Britannia package by Jens Kristensen. Three variations: G-BHAU "Amy",G-BRAC "James", and G-AOVS "Christian". Requires JBK Britannia 312 aircraft. Textures by Gary Harper.
Posted Jun 27, 2011 21:04 by Gary Harperr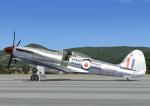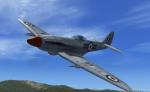 15.48Mb (3962 downloads)
FS2004/FSX Spitfire Mk 22 new model: The Mk22/24 series were the final developments of the Spitfire. They had a rear view fuselage with a redesigned hood and lost the classic Spitfire eleptical wing. Later models had Spiteful type fins and larger tailplanes. They were powered by a Rolls-Royce Griffon 61 driving a five-bladed constant-speed Rotol.Although not declared obsolete until May 1955, they was little used after 1952, by which time most surviving examples, some 80, were in storage. GMAX model by A.F.Scrub
Posted Jun 25, 2011 06:32 by A.F.Scrub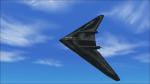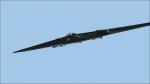 12.88Mb (4162 downloads)
Horten H-VII, experimental flying wing and trainer. Based on the experiences of the smaller H-Vc, the two-seated H-VII made its first flight in May 1943. The H-VII was powered by two Argus AS-10-SC engines driving two-bladed constant-speed propellers via extension shafts. The aircraft had a fully retractable twin nosewheel undercarriage. The aircraft could reach a max. speed of 340 km/hr. The paintings were in Luftwaffe camouflage, assigned to the RLM-no.8-226 This extraordinary aircraft probably suffered the same fate as the H-Vc and was burned after US troops occupied the Goettingen airfield in april 1945. Has 2d panel(No VC). By Andreas Becker.
Posted Jun 20, 2011 17:17 by Andreas Bcker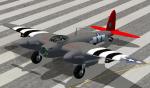 0.54Mb (1478 downloads)
Although best known for their service with the Royal Air Force, Mosquitoes were also flew in several U.S. Army Air Force units as photographic and weather reconnaissance aircraft and as a night fighter. During the war, the USAAF acquired 40 Canadian Mossies and flew them under the American F-8 (photo reconnaissance) designation. In addition, the British turned over more than 100 Mosquitoes to the USAAF under Reverse Lend-Lease. These aircraft retained their British designations. Texture by Foxtrot Flyers.
Posted Jun 19, 2011 18:55 by John Hauck