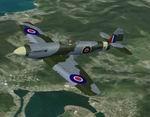 0.01Mb (495 downloads)
Revised flight model to convert A.F.Scrub's Supermarine Spiteful Mk XVI to Spiteful Mk XIV performance. Achieves 484mph at 21,000. Also removes external fuel tanks, as these were not carried.
Posted Feb 6, 2011 17:31 by M.Ward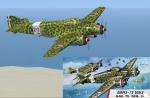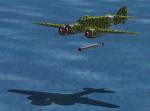 0.70Mb (586 downloads)
AIRFIX Regia Aeronautica livery for the Savoia Marchetti SM-79 by Manuele Villa. Texture by Enrique Medal, using the paintkit by Manuele Villa. This repaint is based on the Airfix plastic model and the magnificent artwork of Roy Cross (probably Airfix's most famous box-top illustrator) for this aircraft.(ONLY TEXTURES).
Posted Feb 6, 2011 15:48 by Enrique Medal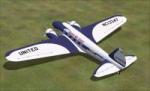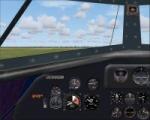 13.91Mb (4803 downloads)
FSX and FS2004 Boeing 247. The Boeing 247 was a trendsetter in the early 1930s. It was the first airliner to have an all-metal, stressed-skin, low-drag airframe and a retractable landing gear. Even when the bigger and better DC-2 and DC-3 arrived, the 247s continued to give excellent service over the next 20 years. Flight dynamics by FSAviator. Version 2.0 with more variants, including Roscoe Turners 1934 England-Australia racer. By Jens B. Kristensen.
Posted Feb 6, 2011 01:18 by Jens B. Kristensen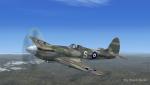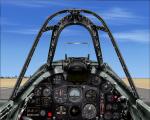 11.81Mb (4127 downloads)
This is A.F. Scrub's Submarine MK-22 Spitfire Updated For Flight Simulator X The Mk 22 and 24 models were the last is a long proud series of Submarine Spitfires. The MK 22 and 24 were developed with a teardrop canopy much like the Mustang D models. They were powered by a Rolls-Royce Griffon 61 driving a five-bladed Prop. Aircraft Pkg. includes a 2D and VC cockpit. Low Visibility Camouflage Textures and Updates by Mark Rooks of RDG Aircraft . Package Includes Pictures and History of The Submarine Spitfire.
Posted Feb 6, 2011 01:18 by Mark Fireball Rooks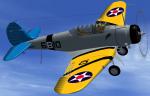 0.89Mb (1403 downloads)
The Northrop BT-1 first flew in 1936 and was assigned to both the USS Yorktown and USS Enterprise. It was not very successful but led to the development of the SBD "Dauntless" which was successful. This is a FSX Acceleration native model. It has the usual animations including cowl flaps, sliding canopies, and dive brakes. The VC has animated flight controls and working gauges. The gauges feature dark red back lighting which was common for night vision at that time. There is no 2D panel. This model is painted for the Executive Officer of Squadron VB-6 assigned to the USS Enterprise. By Paul Clawson
Posted Feb 4, 2011 23:28 by Paul Clawson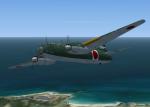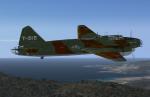 4.82Mb (2976 downloads)
FS2004/FSX Mitsubishi G4M1 "Betty" bomber Codenamed 'Betty' by the Allies, the Mitsubishi G4M long-range medium bomber remained in service with the Japanese navy from the first to the last day of the war. It was a surprisingly agile aircraft with a long range. Used to deliver a varied payload, ranging from single torpedo to multiple bombs. It's missions were many and varied. In truth it was often sent where 4 engined bombers should have flown. Three versions are included. Original mdl by Stuart Green. Upgraded to FS2004/FSX by A.F.Scrub.
Posted Jan 29, 2011 13:21 by A.F.Scrub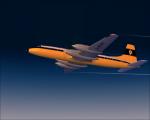 3.96Mb (351 downloads)
FSX Monarch Textures for the Bristol Britannia by Jens Kristensen. Requires Britanniax.zip for aircraft. Textures by Gary Harper.
Posted Jan 19, 2011 18:24 by Gary Harper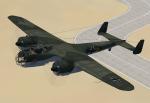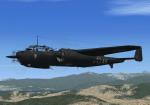 10.17Mb (4748 downloads)
FS2004/FSX Dornier 17 Z-10 nightfighter and Z-2 medium bomber The Dornier Do 17, sometimes referred to as the Fliegender Bleistift (German: "flying pencil"), was a World War II German light bomber produced by Claudius Dornier's company, Dornier Flugzeugwerke. It was designed as a Schnellbomber ("fast bomber"), a light bomber which, in theory, would be so fast that it could outrun defending fighter aircraft.The last few production Do-17z were made as Night Fighters and equiped with Telefunken radar. You get both types. Original mdl by Thicko, upgraded to FS2004/FSX by A.F.Scrub.
Posted Jan 16, 2011 12:14 by A.F.Scrub
3.87Mb (232 downloads)
FSX Donaldson Textures for the Bristol Britannia by Jens Kristensen. Requires Britanniax.zip for aircraft. Textures by Gary Harper.
Posted Jan 14, 2011 16:50 by Gary Harper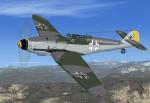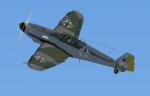 10.02Mb (6312 downloads)
FS9/FSX Me 109H. The Messerschmitt Bf 109H was designed as a high altitude interceptor. It was cancelled due to the success of the superlative Fw190D/Ta152 series. The first prototype (Bf 109 V.54) flew on 5 November 1943. Initial tests were satisfactory. A second prototype, the Bf 109 V.55, was destroyed in an air raid on 25 February 1944. Further tests on the V.54 produced less impressive results, but work continued on the project. A small number of the pre-production H-0 and H-1s were produced, and were tested by a reconnaissance unit based at Guyancourt, near Paris, but performance was not satisfactory. Original mdl by David Hanvey and Paul Barry. Modified version with gun/sound effects, instruments and new airfile for FS9/FSX by A.F. Scrub.
Posted Jan 13, 2011 13:57 by A.F.Scrub