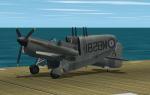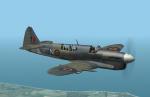 5.29Mb (2100 downloads)
FS2004/FSX Fairey Firefly Mk1a Warbird Repaints You get two versions of the Firefly Mk1. The MB581 is a Royal Navy version and PP431 was flown by the Royal Canadian Navy. The repaints are done by Morton. GMAX mdl by A.F.Scrub
Posted Sep 15, 2009 16:27 by A.F.Scrub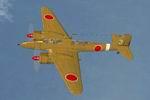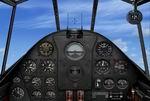 2.09Mb (3478 downloads)
FSX/FS2004 Kawasaki Ki-102. The Kawasaki Ki-102 was a Japanese warplane of World War II. It was a twin-engine, two-seat, long-range heavy fighter developed to replace the Ki-45 Toryu. Three versions were planned: the Ki-102a day fighter, Ki-102b ground-attack and Ki-102c night fighter. This aircraft's Allied reporting name was "Randy". This model features reflective metallic skin and full animations. The panel background has been taken from a default one (De Havilland Comet) due to lack of documentation about the real thing, with some modifications and all the gauges are default from the above aircraft. Included in this model there is also a simple Virtual Cockpit, with working essential flight instruments and animated flight controls. Capt. I. D'Attomo Capt. G.Quai
Posted Sep 12, 2009 04:10 by I. D'Attomo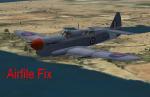 0.82Mb (1495 downloads)
Fairey Firefly Mk1 Fix If your Firefly is unstable on the ground, replace airfile and aircraft.cfg by the new ones. New mdl with corrected radiator bitmap. Fix by A.F.Scrub
Posted Sep 8, 2009 04:03 by A.F.Scrub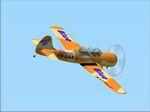 3.24Mb (4702 downloads)
FS2004/FSX Yakovlev 52 TW (Yak 52TW) The Yakovlev Yak-52TW aerobatic aircraft is a two-seat all-metal low-wing monoplane with cleaner retractable main wheels and exposed tail wheel. The Yak-52 had exceptionally fine handling characteristics enhanced by a relatively high power to weight ratio. It was used as a military trainer by several countries in many different versions. Production has been restarted in Rumania with this modernized, tailwheel version. Source included. GMAX model by A.F.Scrub
Posted Sep 7, 2009 07:18 by A.F.Scrub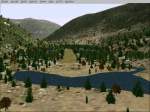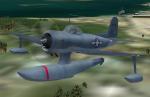 7.44Mb (2716 downloads)
FS2004/FSX Fairey Firefly Mk1 Warbird The Firefly first flew on 22 December 1941 and was produced until the mid-1950s. Although most of the earlier operational versions remained in use with the Royal Navy, Royal Australian Navy and Royal Netherlands Navy. Firefly fighters and reconnaissance fighters went into operational service in late 1943 and were mainly used in the Pacific theatre of war against Japanese forces and targets. Reconditioned Firefly Is were also supplied to the air forces of Ethiopia and Siam during this period, while Firefly target tugs served in Sweden and Denmark. GMAX mdl by A.F.Scrub
Posted Sep 5, 2009 06:01 by A.F.Scrub

4.62Mb (15865 downloads)
FSX Saunders Roe SR-45 "Princess" The SR-45 first flew in 1952 and was one of the largest flying boats ever built. It was overshadowed by the upcoming land based 707 and DC-8 so only one was finished and test flown. This is a native FSX Acceleration project. It has the usual animations, specular shine, .dds textures, reverse thrust, and turbine smoke that turns on and off as a function of throttle position. The VC is based on a photo and has animated flight and engine controls. There is no 2D panel. There are two liveries, the factory paint and the proposed BOAC livery. By Paul Clawson
Posted Sep 4, 2009 16:24 by Paul Clawson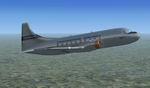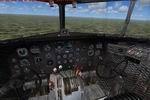 25.79Mb (17014 downloads)
FSX Convair 240 The FSX SP2 ONLY model of the Convair 240. 100% FSX compliant. Hi-resolution textures, fully functional VC adapted from the default DC-3. Realistic flight-dynamics and operations. . Full animation includes the self-storing stairway. I tried to capture the spirit of the glorious, old radials. Three liveries including vintage Continental Airlines, U.S.A.F (C-131), and fictional modern cargo contractor. Model, texturing and flight-dynamics by Brett Henderson. Pilots, Alejandro Rojas Lucena. And as always.. thanks to the Simv / FFDS crew.
Posted Aug 27, 2009 16:39 by Brett Henderson
0.09Mb (2088 downloads)
FS2004/FSX Focke-Wulf FW58-float Airfile Fix Just copy the FW-58C.air into your FW58float aircraft folder. Sorry for the trouble. Fix by A.F.Scrub
Posted Aug 24, 2009 03:48 by A.F.Scrub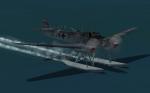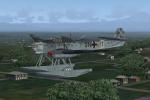 10.74Mb (3357 downloads)
FS2004/FSX Focke-Wulf FW58-BW "Weihe" Floatplane With the creation of the new Luftwaffe, a fast, light and economical multi-purpose aircraft was necessary for the satisfactory re-training of pilots for the faster combat planes and training as gunners, bombers and radio operators, and in 1934, Focke Wulf supplied the first prototype. This model depicts a twin-engined Focke-Wulf FW58-C "Weihe" rescue floatplane, powered by 2x240 Argus 10C inverted V-8 engines. GMAX model by A.F.Scrub.
Posted Aug 22, 2009 15:17 by A.F.Scrub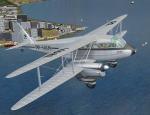 1.46Mb (1463 downloads)
This is a repaint of VARIG PP-VAN for the nice new Dragon Rapide created by Dave Garwood for FSX. Textures only. Needs the original plane model file "dh89fsx.zip". This repaint by Luiz Foernges
Posted Aug 21, 2009 22:18 by Luiz Foernges