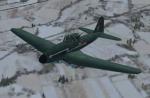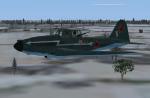 4.71Mb (3408 downloads)
FS2004/FSX Ilyushin Il-10 Tankbuster The Ilyushin Il-10 Bark 2 seat Ground Attack aircraft. This is the production version that came out in mid 1944, a complete re-design of the Il-2 Stormovik. It saw service late in WW2 and again in Korea. CFS2 mdl by Thicko, upgraded to FS2004/FSX by A.F. Scrub
Posted Apr 30, 2010 16:47 by A.F.Scrub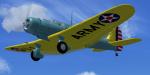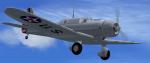 2.98Mb (2946 downloads)
The A-17 was developed from the very successful and high performance Northrop Gamma series of aircraft. It served as the USAAC attack aircraft until it was decided to fill that role with twin engine aircraft. This is a FSX Acceleration native project. It includes both the early Blue - Yellow livery and a reflective silver paint job. It has .dds textures, reflective glass and either a specular shine or reflective surfaces. The VC is based on a photo and has working gauges and animated flight controls. There is no 2D panel. By Paul Clawson
Posted Apr 29, 2010 22:32 by Paul Clawson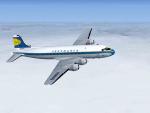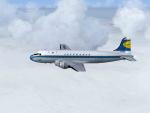 3.67Mb (1121 downloads)
Repaint V.2 for the Jens B. Kristensen DC4/C54. Soon after re-starting in 1955, Lufthansa had the requirement for cargo aircraft. Among others, three DC4/C45 were wet-leased for transatlantic routes, two of which came from Transocean and were flown in Lufthansa colours between 1957 and 1959. Replaces V.1 and update.
Posted Apr 28, 2010 15:15 by Joachim Liethen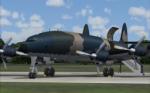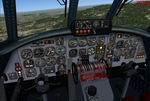 80.24Mb (11498 downloads)
I compiled all of the Team 1049 aircraft, patches, and textures I could find. And Added thumbnails for all textures. All have working VC and 2D cockpits. By Team 1049 - Roland Berger, Volker Boehme, Manfred Jahn, Luis Pallas, Bill Tyne, and Stefan Werner.
Posted Apr 26, 2010 23:18 by Michael E. Roberts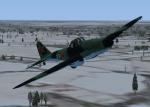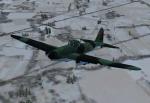 4.30Mb (3294 downloads)
FS2004/FSX Ilyushin Il 2 Tankbuster The Il-2 ground attack aircraft was produced in vast quantities, becoming the single most widely produced military aircraft in aviation history. This is the single seat first production version that came out in early 1941. The first of over 35,000 made. CFS2 mdl by Thicko, upgraded to FS2004/FSX by A.F. Scrub
Posted Apr 23, 2010 10:02 by A.F.Scrub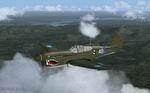 17.06Mb (4797 downloads)
This is Krzysztof Malinowski/Robert Hawk's P-40 Warhawk modified For Flight Simulator X. This is David "Tex" Hill's Aircraft he Flew with the famed AVG Flying Tigers. Tex replaced Jack Newkirk as commander of the 2nd Squadron Panda Bears in March 1942. Devoted to Chennault, he was one of only five Flying Tigers who accepted induction into the U.S. Army in July 1942. He was given the rank of major and the command of the 75th Fighter Squadron. On his second combat tour in China, he served as commander of the 23rd Fighter Group, and after the war earned general's rank in the Texas Air National Guard. During an eight-month period, a handful of swift, heavily armed P-40's destroyed 297 Japanese aircraft. Twelve of those fell from the sky under the guns of Tex Hill's P-40 Warhawk. This aircraft has a new Panel and new flight dynamics. Textures and Updates by Mark Rooks of RDG Aircraft . 2d panel only. No VC. Package Includes Personal Pictures and History of David "Tex " Hill.
Posted Apr 2, 2010 04:28 by admin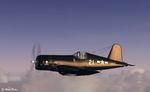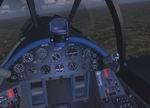 16.11Mb (8382 downloads)
This is a Repaint of Guy Hulin's Corsair Updated For Flight Simulator x .This aircraft is a Goodyear FG-1D Corsair Bu# 88368, currently displayed on the USS Yorktown CV-10 museum in Charleston, South Carolina, She was recovered from Lake Washington in Washington state. The Skull and Crossbones on the Patriots Point Corsair is tribute to VF-17 Better known as The Jolly Rogers ,the first U.S. Navy squadron to fly Corsairs. Includes 2D and 3D Panel. Textures and FSX up dates by Mark Rooks of RDG Aircraft History and pictures included in this PKG.
Posted Mar 29, 2010 11:11 by admin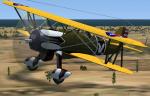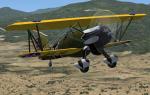 7.94Mb (6025 downloads)
FS2004/FSX Curtiss P-6E Hawk biplane fighter Curtiss-built biplanes that equipped fighter units of the Air corps and Navy during the 1920's and 30's were inspired by the air racing during the early 1930's. The P-6E had a modified fuselage, single strut landing gear with stylish wheel fairings and a 700 hp engine with Prestone cooling. The P-6 Hawk series were the final stepping stone to more advanced aircraft design and engineering, which would take a final leap with the start of World War Two. This American "between wars" design served its purpose and its role quite well. GMAX model by A.F.Scrub
Posted Mar 29, 2010 11:10 by A.F.Scrub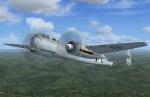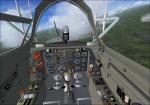 3.68Mb (4361 downloads)
I updated Kazunori Ito'S HE-219 with new gauges in the VC and 2D panels plus texture thumbnails.
Posted Mar 28, 2010 16:47 by Michael E. Roberts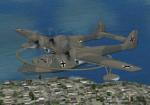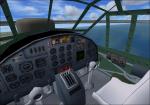 4.24Mb (5731 downloads)
I updated Kazunori Ito's Blohm & Voss BV-138 package for use in fsx. I replaced gauges in both the VC and 2D panels and added texture thumbnails.
Posted Mar 28, 2010 02:43 by Michael E Roberts