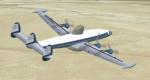 13.89Mb (1326 downloads)
FS2004/FSX Lockheed WV-2/PO2W Prototype. This is the origional L-1049 Prototype used by Lockheed as a test bed for the PO-2W / WV2. Both the initial (no tiptanks) and the later test variants, (with tip tanks) are included. Original Aircraft by Team 1049 (Manfred Jahn, Roland Berger, Volker Boehme, Luis Pallas, Bill Tyne, and Stefan Werner), requires both Team 1049 WV2-1 and WV2-2A. Repaint by Dan McManus
Posted Feb 8, 2010 22:52 by Dan McManus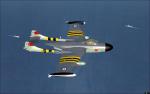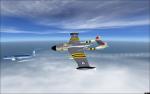 2.70Mb (885 downloads)
A repaint for Rob Richardsons excellent FSX native DH Seavenom, which is available at Classic Britsh Files.com. The model comes in 3 versions, this is for the FAW.Mk21, WW138 of 809NAS, aboard HMS Albion during the Suez crisis of 1956.An outstanding model,worth tracking down. This Aeroplane is in the FAA museum at Yeovilton. Not 100% accurate, due to limitations of my graphics tools and the texture mapping of the model, but very close.
Posted Feb 7, 2010 04:42 by 3/7charlie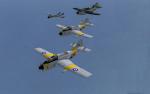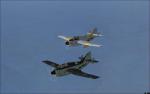 44.21Mb (835 downloads)
3 new textures only files for Rob Richardson's marvellous Fairey Gannets, which may be found at Classic British Files .Com. One Texture for the AS.Mk1, for a Marinefleiger aeroplane, UA+101; one for the sole Marinefleiger T.Mk2, UA+99; and one texture for the prototype T.Mk2, XA 508, which is on loan from the FAA museum to the Midlands Air Museum. also included,a restructured COD Mk4 folder and all of the authors repaints, using the 'shared texture' folder structure, to reduce the footprint of the COD 4 installation from 1.35GB to a lighter 635MB. You will find all the COD4 repaints and a 'shared texture' folder in the COD4 ZIP file, with a revised config. file with the appropriate changes made.
Posted Feb 4, 2010 13:47 by 3/7charlie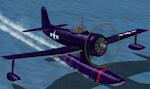 0.78Mb (6207 downloads)
FSX Curtiss SC-1 Seahawk The Seahawk was the last design specifically created for ship catapult launch and use as a scout plane. This is a native FSX Acceleration project. It has full animations, a specular shine, reflective glass and lights. The panel .cfg contains the gauges necessary for a catapult launch from a properly equipped vessel using the rcbco-30 gauges (not included). The gauges must be activated per the readme. The VC is based on a partial photo and has working gauges and animated flight controls. There is no 2D panel. By Paul Clawson
Posted Feb 2, 2010 15:04 by Paul Clawson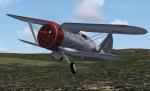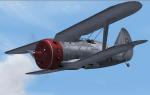 5.03Mb (2799 downloads)
FS2004/FSX Polikarpov I-153 Warbird bipe The ultimate development of the Polikarpov fighter biplane was the powerful I-153 Chaika, with retractable landing gear, either wheels or skis folding to the rear. Coming on line in 1938 some thousands served in the Far East, Finland and on the Eastern Front. The I-153 was an anachronism, entering service at the time when the biplane had long since been eclipsed by the monoplane fighter. This is a model of an I-153 as flown in the Russian-China conflict at Khalkin Gol in August 1939.GMAX model by A.F.Scrub. Source included.
Posted Jan 29, 2010 11:32 by A.F.Scrub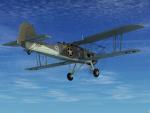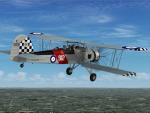 3.24Mb (1930 downloads)
This is a set of 3 textures for the Flying Stations Freeware Swordfish Wheeled version, 0f 820,822 and 833 NAS.
Posted Jan 28, 2010 10:20 by Bruce Martin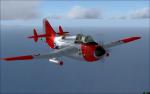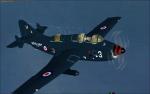 57.24Mb (1405 downloads)
6 repaints for Rob Richardsons lovely Fairey Gannet COD.4. 3 COD's, from Ark, Vic, and the original FOAC texture repainted in the proper RAF blue-grey, matched to the XTRA-Color RAF blue-grey,but lightened to look right, as the color looks too dark in FS compared to photos. one T.4 from Lossie in silver/dayglo, still on the US register as N751WT. 2 fictional skins, one COD 'what if' in a scheme usually seen on SAR Wessex's (I needed a base flight machine for RNAS Diego Garcia) and a 'what if?' Canadian 'Flag Ship' VS-880 machine. Robs COD and AS.1 Gannet models may be found at Classic British Files.com in the 'latest files' section. (EXTERNAL LINKS- PLEASE REPORT WHEN THESE LINKS ARE BROKEN)
Posted Jan 26, 2010 19:45 by 3/7charlie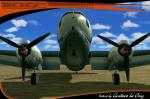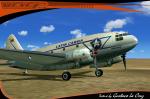 15.38Mb (3312 downloads)
This is the Curtiss C-46 Commando Latin Carga , Model for Fs2004 and FsX , Model by Libardo Guzman García, texture by Gustavo La Cruz
Posted Jan 25, 2010 17:32 by Gustavo La Cruz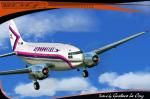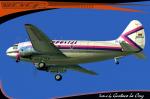 15.09Mb (2566 downloads)
This is the Curtiss C-46 Commando Aeropostal Retro , Model for Fs2004 and FsX , Model by Libardo Guzman García, texture by Gustavo La Cruz
Posted Jan 25, 2010 17:32 by Gustavo La Cruz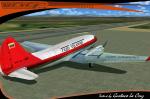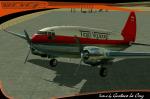 15.80Mb (2048 downloads)
This is the Curtiss C-46 Commando "Tigres Voladores" , Model for Fs2004 and FsX , Model by Libardo Guzman García, texture by Gustavo La Cruz
Posted Jan 25, 2010 17:06 by Gustavo La Cruz