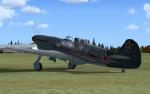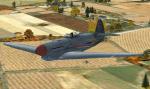 7.03Mb (903 downloads)
FS2004/FSX Yak-1M The Yakovlev Yak-1 was a World War II Soviet fighter aircraft. Production began in early 1940. It was a single-seat monoplane with a composite structure and wooden wings. The Yak-1 was extremely manoeuvrable, fast and well armed, and, just as importantly, it was easy to maintain and reliable. It formed an excellent basis for subsequent developments from the Yakovlev bureau. In fact it was the founder of a family of aircraft, with some 37,000 being built. In 1943, Yakovlev designed the Yak-1M which was a lighter version of the Yak-1.Tested in FS2004/FSX/FSXacceleration. GMAX mdl by A.F.Scrub.
Posted Oct 18, 2015 04:42 by A.F.Scrub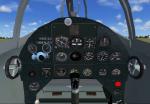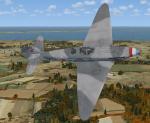 6.78Mb (833 downloads)
FS2004/FSX Yak-3 Lighter and smaller than the Yak-9 but powered by the same engine, the Yak-3 was a forgiving, easy-to-handle aircraft loved by both novice and experienced pilots and ground crew as well. It was robust, easy to maintain, and a highly successful dog-fighter. It was used mostly as a tactical fighter, flying low over battlefields and engaging in dogfights below 4 km (13,000 ft). Tested in FS2004/FSX/FSXacceleration. GMAX mdl by A.F.Scrub.
Posted Oct 13, 2015 11:06 by A.F.Scrub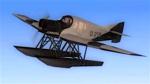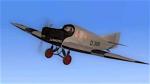 7.78Mb (1310 downloads)
The Junkers F.13 (also known as the F 13) was the world's first all-metal transport aircraft, built in Germany at the end of World War I. It was an advanced cantilever-wing monoplane, with enclosed accommodation for four passengers. Over 300 were sold. It was in production for 13 years and in commercial service almost 2. By Craig Richardson
Posted Oct 13, 2015 08:34 by Craig Richardson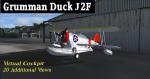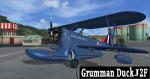 47.12Mb (3517 downloads)
Grumman Duck J2F Float Plane Bi Wing. Models original by Swingman. 3 Different Models & 6 Paints complete VIRTUAL COCKPIT with working Gauges. Land or Amphibious Aircraft. High quality aircraft! Also comes with the movie version from Murphys War starring Peter O'Toole 1971. Zip preview for more images! Assembled for FSX easier install by JetRanger
Posted Oct 10, 2015 22:26 by Jetranger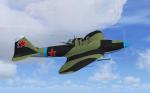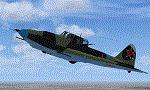 4.42Mb (282 downloads)
Texture representing the last remaining flying Ilyushin Il-2 Sturmovik at the Flying Heritage Collection. Texture is for Thicko's CFS2 Il-2 SKIS package "Pilot & Gunner version" upgraded to FSX by Erik "Hertzie" Hertzberger.
Posted Oct 5, 2015 03:56 by Mark Powell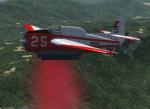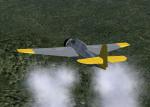 15.20Mb (1094 downloads)
FSX/FS2004 Grumman Avenger Firebomber In 1956, several Avengers were purchased by the U.S. Forest Service as tankers for fighting forest fires. Powerful, rugged, and spacious, TBMs could reach blazes in places that were not accessible to firefighters on the ground. Other operators purchased surplus TBMs and equipped them for aerial spraying, firefighting duties and contracted their services to federal and state governments. GMAX model, 3 variants, tested in FSX/FSXacceleration/Fs2004 Win7/8 by A.F.Scrub.
Posted Sep 25, 2015 02:30 by A.F.Scrub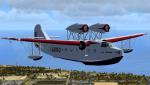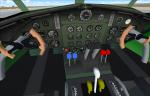 21.34Mb (1746 downloads)
This is the Macchi C-94, originally for FS9 by Francesco Giuli, updated for FSX. The package features both an amphibian and a float version. The gauges are all compatible with FSX and FSX Acceleration. The FDE has been modified to make it flyable in FSX and smoke effect has been added as well. Original model by Francesco Giuli, updated for FSX by Michael Pook.
Posted Sep 24, 2015 07:01 by Michael Pook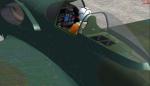 8.72Mb (1453 downloads)
FSX/FS2004 PA-48 Enforcer With new ideas of how to keep the P-51 Mustang alive in 1968 and in service, the long-standing workhorse Merlin V- 12 was replaced with a turboprop. This mod was not funded by the USAF, but by Cavalier. The new modification was called the Turbo Mustang III. Later, Cavalier sold the project to Piper. In 1971 Piper built two Enforcers by heavily modifying two existing P-51 Mustang aircraft and fitting them with Lycoming T55-L9A turboprop engines (along with numerous other significant modifications). It was flight tested in April 1971. The USAF, under pressure from Congress, did order two prototype PA-48 from Piper. No other orders were placed and the project died. The two PA- 48 Enforcers do exist today at USAF Museums. Tested in FS2004/FSX/FSX Acceleration. GMAX model by A.F.Scrub
Posted Sep 19, 2015 13:39 by A.F.Scrub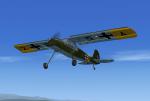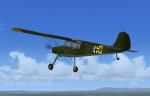 6.70Mb (814 downloads)
One of the most versatile aircraft of the Second World War was the German Fieseler Fi 156 'Storch' (stork). It was produced in five nations and used from 1937 to 1970 by over two-dozen nations. The Flying Heritage Collectoin of Everett, WA has one of the few wartime Storches still airworthy. It is flown for their "Luftwaffe Day" each summer. It was manufactured in Germany in 1943 was used by the Luftwaffe in Occupied Europe and on the Russian Front. This texture file represents this appearance. This fits Tim "Piglet" Conrad's 2002/2004 Fi 156 Storch (fi156_fs.zip) as adapted for FSX by Erik "hertzie" Hertzberger.
Posted Sep 19, 2015 00:32 by Mark Powell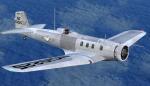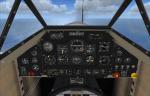 14.14Mb (1740 downloads)
The 221A Monomail was a major advance in aircraft design, being one of the first all metal, stressed skin monoplanes built. Despite it's advances the 221A'a layout harked back to the biplane era, with the cabin forward, and open cockpit aft. Lack of a constant speed propeller prevented the Monomail's true success, as better twins were introduced by the time C-S props appeared. Only one 221A saw brief service between Chicago-Cheyenne. This is an FSX update of the great FS9 model by Tim Conrad. The package features an entirely reworked VC and cockpit interior as well as a newly configured 2D panel matching the VC in every respect. New smoke effect and new camera views have been added as well. Thanks to Tim Conrad for the original model and to Dale Caruso for his repaint. New VC, cockpit design, 2D panel and smoke effect by Michael Pook.
Posted Sep 15, 2015 10:55 by Michael Pook