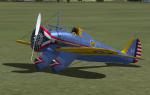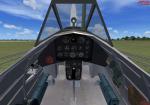 12.10Mb (802 downloads)
FSX/P3D native Boeing_Peashooter The Boeing P-26, nicknamed the "Peashooter", was the first all-metal production fighter aircraft and the first pursuit monoplane used by the United States Army Air Corps. The prototype first flew in 1932. It was used as late as 1941 in the Philippines. Two mdls by A.F.Scrub.
Posted Dec 27, 2017 12:55 by A.F.Scrub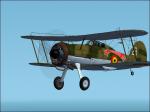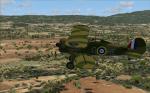 12.06Mb (556 downloads)
Extra RAF & BAF textures for Yiannis Katehis Tsetsas superb update of Thicko's Gloster Gladiator Mk.I, available here on SimV. All credits go to Rick Spork (Smashing Time) and Paul Brett (Pombee) who made them. Updated aircraft cfg. and thumbnails incuded. Enjoy!
Posted Dec 26, 2017 17:50 by Erik Hertzberger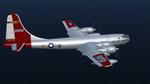 24.35Mb (1180 downloads)
FSX/P3D Boeing WB-50D Weather/Recce Superfortress model and textures WB-50D (s/n 90285) has no gun turrets and comes in MATS arctic markings. Previous installation of Team 50's Boeing_B-50V1.zip required. By Manfred Jahn.
Posted Dec 26, 2017 10:02 by m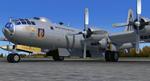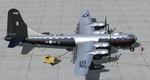 148.47Mb (6608 downloads)
FSX/P3D Boeing B-50 V.1 The Boeing B-50 Superfortress was a post-WWII derivative of the B-29 Superfortress. It had a larger tail fin and more powerful 3,500 h.p. Pratt & Whitney Wasp Major engines. In the simulator you can fly the aircraft either as an 'A' type (using a B-29 type glass cone) or as a 'D' (and later) type, both with or without long-range tanks. Created by 'Team 50' - models and textures by Manfred Jahn, sound set by Ted Wolfgang, research, testing and tweaking by Marc Roth. The flight dynamics are based on the 'generic' C-97 design by Wayne Tudor. Some small issues aside, the plane is flyable in P3D V4, too.
Posted Dec 25, 2017 09:29 by m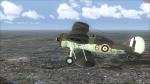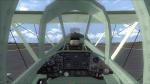 83.17Mb (1441 downloads)
Gloster Sea Gladiator, Thicko's original model now updated with Yiannis Katehis Tsetsas superb VC panel and his gun & exhaust effects. I also put in Rob Barendrechts catapult gauge for carrier starts. All credits go to Thicko for his still great model, to Yiannis who gave me permission for using his superb "stuff" and to Rob for his still wonderful gauges. Hats off to these guys who keep flightsimming alive. Safe landings!
Posted Dec 25, 2017 04:39 by Erik Hertzberger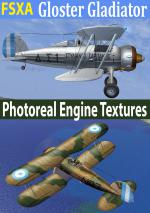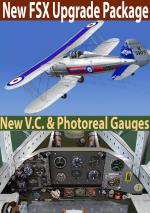 33.66Mb (1790 downloads)
FSXA Gloster Gladiator MKI complete upgrade package of Ticko's model.Two Liveries Of Royal Hellenic Air Force (Metal and Camo) and the photoreal Livery of the famous Private N 5903 restored Air show Gladiator.The VC and 2D panels are all new with photoreal custom made gauges .Exaust smoke effects and new camera views were also added.Gun effects on all Guns(wing and fuseladge mounted ).Complete package with historical photos and info included. Textures are in 2048 X 2048 DXT3 format.By Hellenic Aircraft /Yiannis Katehis Tsetsas 2017.(File size 33.6 MB)
Posted Dec 21, 2017 11:31 by YIANNIS KATEHIS TSETSAS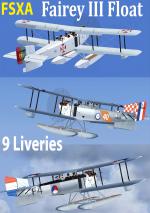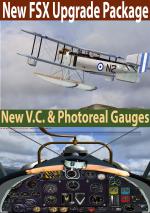 46.95Mb (822 downloads)
FSXA FAIREY IIID FLOAT complete upgrade package of Ted Cook's model.There are nine(9) liveries on this package and two float models.The standard wing and the Long Range first South Atlantic finalist in 1922 (Santa Cruz 17). Liveries of Hellenic,British,Australian, Canadian,Chilean,Argentinian,Nethellands and Poruguese Air Forces.The VC and 2D panels are all new with photoreal custom made gauges including my new upside down mirrored Gyro Compass and a new water rudder lever and position gauge.Exaust smoke effects and new camera views were also added.This is a complete package with historical photos and info included. By Hellenic Aircraft /Yiannis Katehis Tsetsas 2017.(File size 46.9 MB)
Posted Dec 19, 2017 13:51 by YIANNIS KATEHIS TSETSAS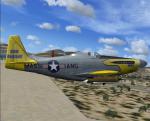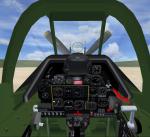 20.37Mb (2126 downloads)
FS2004-FSX-St Ed Mustang P51H version3 The ultimate version of the Mustang was the P-51H, which was the fastest Mustang variant to see service and one of the fastest (if not the fastest) piston-engined fighters to enter production during the Second World War. However, it was destined never to see any combat, having entered service too late to participate in the final action against Japan. Working landing light, new textures, modified effects. GMAX mdl with new VC by A.F.Scrub
Posted Dec 16, 2017 09:12 by A.F.Scrub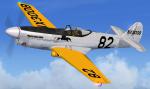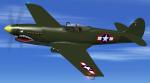 28.92Mb (977 downloads)
This is an updated and improved version of Tim 'Piglet' Conrad's 'fsx_curtissP40Q.zip' package that also includes an improved panel by Mr. Pook and subsequent mods by Mr. Scrub whom have included an extra texture to stand in for the lower tail-plane surfaces (something that was missing in the original offering as only 1 texture was mapped to both the upper and lower surfaces of the tail-planes, thus making it possible to do an extra texture of the semi-camouflaged Evaluation Prototype version. One Texture from Tim's original offering as well as my previous set and my latest set is included.
Posted Dec 10, 2017 13:29 by Andre Ludick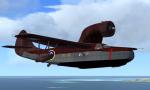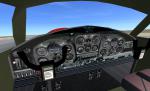 13.16Mb (1013 downloads)
The Fairchild 91 was a single-engine eight-passenger flying boat airliner developed in the United States in the mid-1930s. Fairchild designed the aircraft in response to a Pan American Airways request for a small flying boat to operate on their river routes along the Amazon and Yangtze. The result was a conventional high-wing cantilever monoplane with its radial engine mounted above the wing in a streamlined nacelle. The red "Kono" belonged to explorer Richard Archbold. This an FSX update of the fs2004 F-91 by Chris Herring. The package features entirely revised panels and includes the three default and three new liveries by other authors. Smoke and additional camera views (cabin and co-pilot) added. FDE optimized for FSX. All credits go to Chris Herring for the original model, new panels and other updates by Michael Pook.
Posted Dec 8, 2017 07:14 by Michael Pook