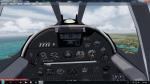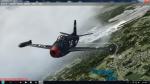 114.37Mb (985 downloads)
FSX-P3D updated FJ-1 Fury. VC, sound and details. Original model by Kazunori Ito.
Posted Nov 18, 2016 11:05 by Rodolfo Valery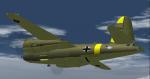 6.71Mb (799 downloads)
FSX/FSX acceleration Martin B-26 Marauder Luftwaffe. The Martin B-26 Marauder was a World War II twin-engine medium bomber built by the Glenn L. Martin Company. First used in the Pacific Theater in early 1942, it was also used in the Mediterranean Theater and in Western Europe. After entering service with the U.S. Army, the aircraft received the reputation of a "Widowmaker" due to the early models' high rate of accidents during takeoff and landings. This is an upgrade of David Eckerts Marauder. Tested and flown in FSX/FSXacceleration and Windows7. Converted by A.F.Scrub. Textures by Liao Yitong
Posted Nov 12, 2016 08:31 by Liao Yitong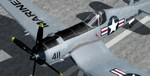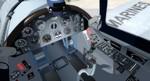 42.37Mb (6364 downloads)
FSX/P3D Chance Vought F4U-6/AU-1/F4U-7 Corsair package for FSX Acceleration (should work ok in basic FSX). Original Alpha Bleu Ciel Corsair updated to FSX native format. Liveries include US Marines, US Navy, Marine National. 2016 update, FSX native, MDL X animations and materials. Updated the pilot. Un mirrored tail, clean and stores pylon models for F4U-6/AU-1 and F4U-7 models. Tested in FSX Acceleration and P3D.
Posted Oct 29, 2016 05:20 by LLS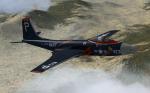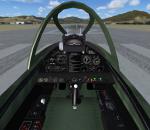 20.97Mb (1280 downloads)
FS2004/FSX Banshee The McDonnell F2H Banshee was a single-seat carrier-based jet fighter aircraft deployed by the United States Navy and United States Marine Corps from 1948 to 1961. It was one of the primary American fighters used during the Korean War and was the only jet-powered fighter ever deployed by the Royal Canadian Navy, serving the RCN from 1955 until 1962. GMAX mdl by A.F.Scrub
Posted Oct 27, 2016 10:30 by A.F.Scrub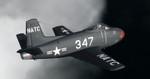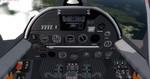 12.78Mb (1509 downloads)
The North American FJ-1 Fury by sensi Kazunori Ito. The chubby Fury was a development of the P-51,and was the direct ancestor of the subsequent F-86, FJ-2, FJ-3, FJ-4, T-2J and Sabreliner aircraft. 2016 update, FSX native, MDL X materials and animations. Bump and spec maps enabled, though these are placeholders that require the attention of a talented painter-graphics guru. Canopy; Shift E Boarding steps: Shift E2 Repaints by Mike Wilson- they're great! YT re-worked the default skin. Works in FSX and P3D
Posted Oct 22, 2016 02:51 by LLS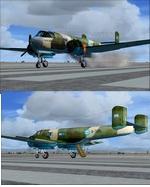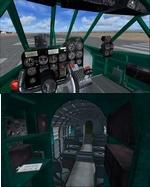 41.71Mb (1780 downloads)
The IA-35 Huanquero made its maiden flight in 1953, and served the Fuerza Aerea Argentina until 1974. The type operated in training, air ambulance, transport, liason and light attack roles. Model by Victor M. Astiz, Paints by Damian Radice, sounds by Gary Jones, effects by Milton Shupe. Updated to FSX native, MDL X materials and animations, 3D prop discs, bump maps assigned. This is a real gem of a model, a great flier. Eight pax, airstairs, 2 50 cals and bombracks. Full interior model. Relections. Whats not to love?
Posted Oct 19, 2016 06:30 by LLS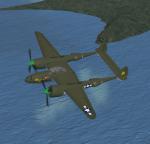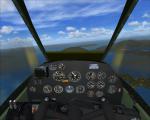 4.24Mb (540 downloads)
This is a Lockheed P-38L-15-LH Lightning 'Jeronimo II' 80th FS, 459th FG, India 1944. Requires the original DHC P-38
Posted Oct 19, 2016 00:30 by Andre Ludick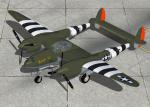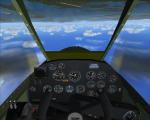 3.79Mb (699 downloads)
This is the Lockheed P-38J-10-LO Lightning 'Scat II' 434th FS of Capt. Robin Olds. Wattisham, UK, June 1944. Textures only for the DHC P-38 Lightning
Posted Oct 19, 2016 00:25 by Andre Ludick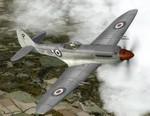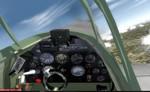 10.81Mb (1869 downloads)
The ultimate Spitfire development, the Seafire 47 was twice as heavy as the Spitfire I and nearly doubled every other operational parameter of the original, too. A delight in the air, the machine was a bit of a handful coming aboard and not as robust as it's contemporaries. Still, it was every inch a warplane and shouldered the load in the early part of the Korean war. AF Scrub's very sweet FR.47 has a long MSFS lineage, now in FSX native mdlX format, with Scrubby's permission. B-Z, dude! Works in FSX and P3D.
Posted Oct 13, 2016 05:43 by LLS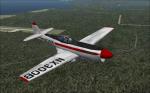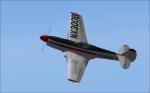 5.47Mb (969 downloads)
Ever heard of the P-40Q? The ultimate development of the Curtiss Hawks incorporated all the combat lessons of four years of combat. Though reaching 422mph and quite nimble, the Q wasn't any advance over the fighters in production by that time. A couple of Q's found their way into civilian hands as air racers at the '47 Cleveland Air Races, subject of this model, a rather elderly Piglet plane, one of his earliest FS2002 models, I had no idea this aircraft had been modeled. 2016 Update to FSX native materials and animations, an extra USAAF skin and an unmarked re-painter enclosed. Model: Tom 'Piglet' Conrad, conversion and incidental bits by LLS
Posted Oct 13, 2016 05:36 by LLS