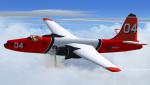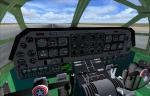 28.39Mb (2068 downloads)
First flown in 1946, the P4M lost the competition to be the Navy's next maritime patrol and anti-submarine aircraft to the smaller and less expensive Lockheed P2V Neptune. Unlike the Neptune, which had its auxiliary jet engines tacked on as an afterthought on later models, the Mercator was designed as a four engined aircraft and it's jets were integrated into the engine nacelles. Procured in small numbers, the Mercator had a distinguished career in the electronic reconnaissance or "ferret" role, in which it made close approaches to, or actual penetrations of, potentially hostile territory in order to provoke defensive systems reactions that it could measure and record. One patrol squadron (VP-21) operated the P4M-1 for a brief period, and the P4M-1Q was frequently marked in imitation of the Neptune's or other VP squadrons to disguise its ferret role. At least two Mercator's were shot down in the performance of the ferret mission. The last Mercator's were withdrawn from service in 1960. The package includes four models and seven textures. It features an entirely re-worked enhanced VC and 2D panel. The original FS2004 model displayed problems with transparent fuselage parts, which has been remedied as well. The aircraft may also work in FS 2004. Original model by David Wooster, FSX update and new panels by Michael Pook.
Posted Jan 26, 2015 06:56 by Michael Pook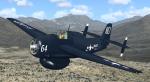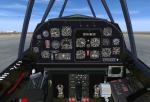 13.29Mb (1096 downloads)
This is A. F. Scrub's Avenger TBM3W with a new VC and modified 2D panel to match the VC. The package features more gauges added, i.e. radios in the center console as well as a radar screen. It also features smoke effect added. This is the whole aircraft. Original model by A.F. Scrub, updated VC. 2D panel and smoke effect by Michael Pook.
Posted Jan 26, 2015 04:24 by Michael Pook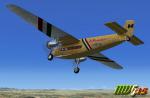 3.63Mb (249 downloads)
Nicknamed the "Tin Goose",the Ford 4-AT Tri-Motor pioneered early airline and air transport routes.In 1925, the Ford Motor Company bought the Stout Metal Plane Company to gain rights to the Tri-Motor design.In all,198 Ford Tri-Motors were built.During its years of regular service in the late 1920s and early 1930s,the Ford Tri-Motor helped popularize commercial flight and promote the safety of flying to travelers.This textures set in "Il Messaggero/Addis-Abeba" livery (FICTIONAL) requires a working copy of an FSX conversion of the Default Microsoft Ford Tri-Motor. Installation instructions are included. Repaint by Manuele Villa, January 2015.
Posted Jan 25, 2015 11:23 by Manuele Villa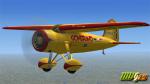 2.47Mb (330 downloads)
In the hands of pilots such as Amelia Earhart and Wiley Post, the Vega set many flying records during the 1930s.Wiley Post flew his Vega "Winnie Mae" around the world in 1931.In 1932 Amelia Earhart,piloting a Vega,became the first woman to fly solo across the Atlantic Ocean.The Vega's power and speed also made it a top choice for early commercial airline operations.This textures set in "Gondrand/Milano" livery (FICTIONAL) requires a working copy of an FSX conversion of the Default Microsoft Lockheed Vega.Installation instructions are included.Repaint by Manuele Villa,January 2015.
Posted Jan 25, 2015 11:21 by Manuele Villa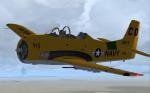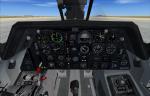 16.72Mb (1936 downloads)
The package features the two models recently posted by Mark Rooks with an enhanced VC and a different 2D panel, which matches the VC for the most part. New smoke effect has also been added. Original model by Tim Conrad, new textures by Mark Rooks and original VC design by Alphasim. The designer of the 2D panel is unknown. New VC design and smoke effect by Michael Pook
Posted Jan 25, 2015 04:42 by Michael Pook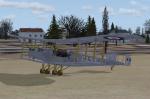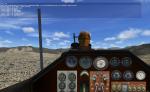 14.12Mb (1202 downloads)
FSX Aceleration/FSX Handley Page HP400 WW1 Bomber Formation of the first 'Handley Page Squadron', as it was then known, began in August 1916 and this unit became operational in France in late October or early November; its first recorded bombing attack was made on the night of 16-17 March 1917. Operational experience with the O/100 showed that certain changes were desirable. The HP 400 was an improved version. SimTech freeware Upgraded to FSX/ FSX Acceleration by A.F.Scrub.
Posted Jan 24, 2015 09:59 by A.F.Scrub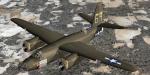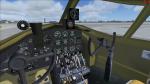 9.83Mb (3230 downloads)
The Martin B26 Marauder was a twin engines light bomber of the WW2. It was nicknamed the "widowmaker" because there were a lot of accidents when it came into service. Don't be afraid, no risks for simmers! Original aircraft design by W. E. Stephens. VC modification, panels and gauges by Philippe Wallaert. See instructions in the readme.txt file for installation and configuration. Credit W. E. Stephens for the original model.
Posted Jan 22, 2015 03:32 by Philippe Wallaert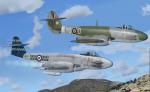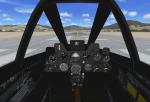 11.49Mb (2219 downloads)
FSX Gloster Meteor F3 and F8 The Gloster Meteor was the first British jet fighter and the Allies' first operational jet aircraft during the Second World War. The Meteor first flew in 1943 and commenced operations on 27 July 1944 with No. 616 Squadron RAF. Nicknamed the "Meatbox", the Meteor was not a sophisticated aircraft in terms of its aerodynamics, but proved to be a successful combat fighter. Alphasim freeware upgraded to FSX/FSX acceleration. Tested in FSX/FSX Acceleration Win7/8. By A.F.Scrub.
Posted Jan 22, 2015 03:30 by A.F.Scrub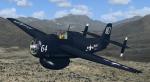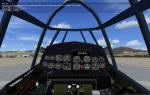 8.95Mb (766 downloads)
FSX Grumman Avenger TBM-3W The Eastern TBM-3W Avenger was an airborne early warning radar aircraft developed during the Second World War but that only entered service in May 1946. The TBM-3W joined the fleet in May 1946, and was soon paired with the TBM-3S in hunter-killer anti-submarine teams. The powerful radar in the -3W would be used to find a potential Soviet submarine, guiding the -3S onto its target. The -3W remained in service with the US fleet until the mid 1950. GMAX model, tested in FSX/FSXacceleration/Fs2004 Win7/8 by A.F.Scrub.
Posted Jan 21, 2015 07:59 by A.F.Scrub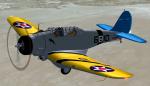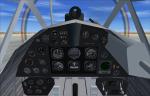 24.72Mb (999 downloads)
The Northrop BT-1 first flew in 1936 and was assigned to both the USS Yorktown and the USS Enterprise. This model is painted for the Executive Officer of Squadron VB-6 assigned to the USS Enterprise. This package by Paul Clawson features a re-worked VC with more gauges added as well as a new 2D panel. It also includes new smoke effect. Original model by Paul Clawson, new VC configuration and design, new 2D panel and smoke configuration by Michael Pook. This is the whole aircraft.
Posted Jan 20, 2015 05:30 by Michael Pook