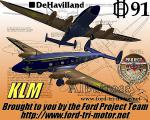 1.30Mb (160 downloads)
deHavilland DH91 Albatross - KLM Royal Dutch Airline Livery Texture set for the Jens B. Kristensen DH91 Albatross - represents KONINKLIJKE LUCHTVAART MAATSCHAPPIL - ROYAL DUTCH AIRLINE - historical but fictional repaint of a livery that could have been used for the DH91 if it had continued production and achieve a deserved global usage. Textures by Garry J. Smith-Ford of the Tri-Motor Project. The aircraft.cfg entry is also included in this download - this repaint is suitable for both the FS2004 and FSX version of the aircraft. Both FS2004 and FSX Aircraft models are available from http://www.ford-tri-motor.net/Misc-Aircraft.htm Page.
Posted Jul 5, 2014 09:53 by Garry J. Smith and Edward C. Moore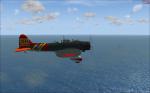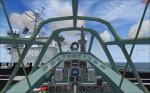 16.64Mb (1489 downloads)
This is an update for Hago's great Mitsubishi D3A1 Kanbaku (Val), which I reworked for FSX in an earlier state. I put in 13 new liveries, a mini-panel with Japanese instruments, a lot of camera views, a realistic soundfile and gun-effects (front & rear) for fun.
Posted Jul 3, 2014 14:57 by erik hertzberger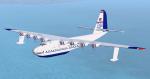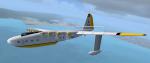 1.05Mb (1242 downloads)
FSX Textures for Hughes "Spruce Goose" flying boat in two fictional "what if" paintschemes and with reworked textures for the white prototype, which made only one test flight at low level. One paint scheme is in fictional PAA-colours, showing the giant as intercontinental passenger airliner. The other paint showes a proposed troop transporter in colours like some Flying Fortresses or Catalinas. The repaints are for my FSX-upgrade (fsx_sprucegoose.zip). The original FS2004 model was made by Dennis Simanaitis. Repaints by Erwin Welker.
Posted Jul 2, 2014 13:22 by Erwin Welker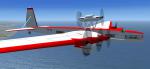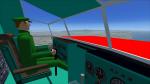 2.92Mb (299 downloads)
FSX Added views for the Tupolev Ant-20 "Maxim Gorky" from Dennis Simanaitis with the FSX-upgrade from Michael E. Roberts (tupolev_ant-20_maxim_gorky.zip). The cameras shows six interior views and four external views. Configuration by Erwin Welker.
Posted Jun 30, 2014 05:49 by Erwin Welker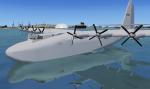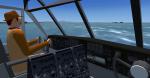 7.67Mb (4146 downloads)
FSX Flying boat Hughes H4 "Spruce Goose". In fact, this was a flying ship with a wingspan of almost 98 m; until now the biggest wingspan ever built. The maximum weigth was designed for 181.5 tons. The famous flight pioneer Howard Hughes proposed that giant to be used as WWII troop transporter for 750 soldiers and a crew of 18 men; save vom U-boat attacks. The complete aircraft was made of birch and spruce wood. The construction was finished too late and so this huge airplane made only one testflight in low level. The FS-model is now reworked for FSX and provides FSX-compatible gauges, props and airfiles and shows internal and external camera views. A saved flight, starting near the Queen Mary and the Spruce Goose museum at Long Beach is included. The original FS2004 model is made by Dennis Simanaitis. Also the powerful sounds are from him and comes from his Tupolev Ant-20 Maxim Gorky, a Russian vintage airplane, powered also with eight engines. Reworked for FSX by Erwin Welker.
Posted Jun 30, 2014 05:44 by Erwin Welker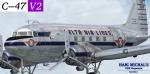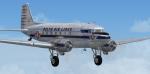 29.53Mb (716 downloads)
FSX texture paint of Delta Air Lines DC-3/C-47 , registration NC28341. Textures only for the FSX Douglas C-47 Skytrain V2. Repaint by Hani Michal.
Posted Jun 29, 2014 20:07 by Hani Michal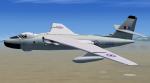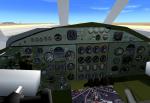 0.96Mb (795 downloads)
This is an update for the panel of my recently posted Vickers Valiant (FSX_Vickers_Valiant-1.zip below). I re-modelled the VC and added more gauges. Be sure to replace my old panel with this one, because it looks a lot more realistic and much more enhanced. VC configuration by Michael Pook.
Posted Jun 23, 2014 10:13 by Michael Pook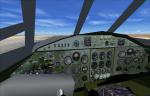 11.36Mb (1238 downloads)
The package features an updated VC and 2D panel, both with working FSX compatible gauges for both the VC and the 2D panel. Original FS2002/ 2004 model by Alphasim, updated for FSX and new VC by Michael Pook.
Posted Jun 22, 2014 08:46 by Michael Pook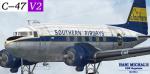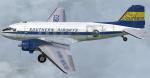 33.84Mb (506 downloads)
FSX texture paint of Southern Airways DC-3/C-47 , registration N18573. Southern Airways was a regional airline operating from a base in Atlanta, United States from their founding by Frank Hulse in 1949 until 1979 when they merged with North Central Airlines to become Republic Airlines - which then bacame Northwest Airlines. Textures only for the FSX Douglas C-47 Skytrain V2. Repaint by Hani Michal.
Posted Jun 19, 2014 09:13 by Hani Michal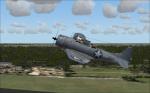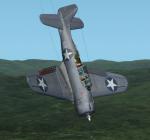 10.62Mb (1179 downloads)
This is an update for my FSX-conversion of the FDG's (Fightertown Design Group) CFS2 Douglas SBD-5 Dauntless update for FSX. It has 3 more skins (Crdit: Uncle Tgt), extra aircraft views (Credit Marc Renaud) and gun-effects (front and aft; Credits to Erwin Welker & Michael Pook). Original CFS2 model required
Posted Jun 18, 2014 15:11 by erik hertzberger