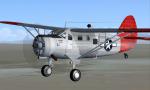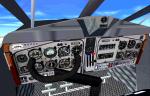 37.78Mb (3152 downloads)
The Noorduyn Norseman was built from 1935 until 1959. It has been used all over the world in both civil and military roles. After WW2, most Norseman were used primarily as bush planes on both wheels and floats, most of them being used in Canada. This is primarily a cockpit and interior update of this great model developed by Brian Gladden for FS2002 and updated for FSX by A.F.Scrub. The package features five beautiful liveries, an entirely new VC, based upon the default DeHavilland Beaver panels and a modified interior. It also now includes smoke effect and co-pilot as well as cabin views, which let you enjoy the entire cabin. In addition, it features the recently posted great authentic sound by John Sylvester. Thanks to Brian Gladden for the original model, to A.F.Scrub for the FSX adaptation and to John Sylvester for the sound and one of the repaints. New VC and modified Beaver 2D panel as well as smoke, camera configuration and interior enhancement by Michael Pook.
Posted Aug 25, 2016 05:28 by Michael Pook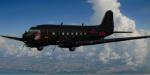 12.26Mb (422 downloads)
A repaint of the Basler BT-67 base pack by Manfred Jahn in "Want to Play?" livery. The Basler would be the ideal aircraft for Black Ops or those deep night runs with its STOL capabilities and its large payload capacity.
Posted Aug 22, 2016 09:32 by David Robles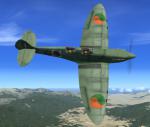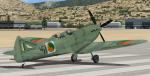 7.29Mb (1417 downloads)
FS2004/FSX Spitfire IX Trainer: Although there were wartime conversions of the Spitfire into a two-seat trainer , the two-seat Spitfire trainer was primarily a postwar program. In 1946, six TR 9 trainers were converted from the standard Mk IX to train pilots for the Irish Air Corps (IAC) Seafire fleet. The Spitfires provided transition training that included gunnery practice since the type was equipped with two .303 Browning machine guns, one in each outer wing bay. Most of the TR 9 aircraft passed to the ground technical training school at Baldonnel where they were used as instructional airframes for the training of aircraft engineers for the Air Corps. Four of the IAC aircraft survived and two went on to join the warbird fleet in the 1970s and later. Complete model,airfile,effects and textures by A.F.Scrub.
Posted Aug 21, 2016 05:02 by A.F.Scrub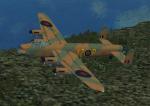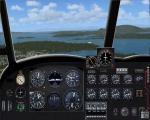 23.26Mb (1733 downloads)
It was great to locate a Lancaster with the 'Grand Slam'. Thanks to David Garwood, the creator of this early offering for FS2002, surprisingly I could actually get it to work in FSX with some adjustments here & there. Unfortunately the bomb is NOT droppable though. I thought the colour-palette of the original texture set for PD131 was a bit too dull and therefore decided to create my own texture set as an add-on to David's package, but with improved colour depth. I also added some much needed stencilling in order to complete the picture. Package compiled (and produced in part) by Andre Ludick. 2d panel by Ross Mclelland (no VC)
Posted Aug 16, 2016 04:44 by Andre Ludick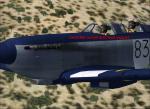 2.15Mb (284 downloads)
FS2004/FSX Spitfire 8T Correction: This mod corrects the canopy frames and head support. Just replace the items in the model and texture map by the new ones. A.F.Scrub
Posted Aug 15, 2016 04:43 by A.F.Scrub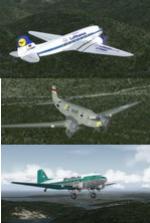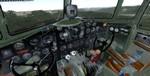 174.71Mb (3389 downloads)
Douglas C-47 Buffalo, Lufthansa and Luftwaffe Package. Buffalo textures by Hani Michael, Lufthansa textures by Thomas Dussel. Payware quality C-47 V3 model and internal model by Manfred Jahn, Jan Visser and team (see docs for credits)
Posted Aug 14, 2016 09:03 by Thomas Dussel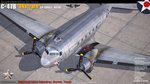 15.89Mb (816 downloads)
FSX/P3D C-47 (DC-3) "Bluebonnet Belle" Textures. The real repaint (textures only) for Manfred Jahn's (+ the Team) model of Douglas C-47/DC-3 (Skytrain/Dakota). You need to have this great model of Douglas_C-47_V3 (V3 Beta). Textures tested in P3Dv3. The repaint of C-47B 43-49942 - N47HL, Commemorative Air Force. This C-47 was built in 1944 and was flown to Canada where it was transferred to the UK under the lend-lease program. In Britain it was assigned to the 435th Transport Squadron, a Canadian unit. It served in the China/Burma/India theater until the end of WW2. After the war the aircraft returned to Canada and in the mid-1990s the aircraft returned to the USA. The CAF acquired the aircraft in 2002 and spent 2 years on the restoration of the aircraft. Rafal "YoYo" Stankiewicz
Posted Aug 10, 2016 16:50 by uploader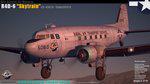 5.29Mb (559 downloads)
C-47 (DC-3/R4D-6) "MAAM" Textures. The real repaint (textures only) for Manfred Jahn's (+ the Team) model of Douglas C-47/DC-3 (Skytrain/Dakota). You need to have this great model of Douglas_C-47_V3 (V3 Beta). Textures tested in P3Dv3. The repaint of former USN BuN 50819 at the Mid Atlantic Air Museum. Reading - Regional / Carl A Spaatz Field (RDG / KRDG), Pennsylvania. Reg. N229GB. This repaint responds for the famous model and skin of R4D-6 from MAAM (yes, FS2004 times!). Btw. model has a some of limitation so it isn't in 100% with the real one, something like 95%. Rafal "YoYo" Stankiewicz
Posted Aug 10, 2016 16:43 by uploader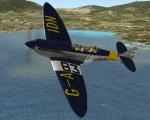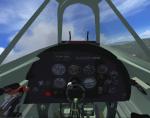 6.61Mb (2074 downloads)
Spitfire MkVIII 2 seater Trainer. Although there were wartime conversions of the Spitfire into a two-seat trainer including the one-off modification of a Mk VC by RAF no. 261 Squadron and a Mk IX converted for use as a trainer by the Soviets, the two-seat Spitfire trainer was primarily a postwar program. In 1946, a MK VIII (MT818) was the first Vickers-built trainer built as a demonstrator. A.F. Scrub
Posted Aug 6, 2016 09:03 by A.F.Scrub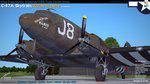 3.73Mb (1262 downloads)
FSX/P3D C-47 (DC-3) "Kilroy" Textures. The real repaint (textures only) for Manfred Jahn's (+ the Team) model of Douglas C-47/DC-3 (Skytrain/Dakota). You need to have this great model of Douglas_C-47_V3 (V3 Beta). Textures tested in P3Dv3. The repaint of C-47A-65-DL Skytrain. 41-2100521 "Kilroy is Here". 92nd Troop Carrier Squadron/439th Troop Carrier Group, Operation "Overlord", Upotter, Devon, England, 6th June 1944. Rafal "YoYo" Stankiewicz
Posted Aug 6, 2016 03:29 by uploader