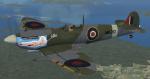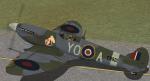 2.87Mb (438 downloads)
FSX Supermarine Spitfire MkIX - Extra textures. Textures only for the Alphasim Spitfire Mk IX. These are textures that I've created in order to expand the arsenal of available ones in my FSX, but would like to share them with you all. 2 of these textures depict Spitfires of only a hand full that had female nose-arts applied to them during WW2.
Posted May 30, 2016 03:02 by Andre Ludick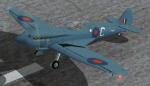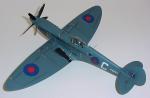 2.45Mb (333 downloads)
FSX/FS2004 Supermarine Spitfire PR MkXIX (RAF) textures only for the AF Scrub X1X. Andre Ludick
Posted May 23, 2016 06:05 by Andre Ludick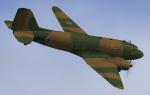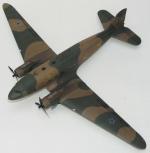 5.68Mb (443 downloads)
Douglas C-47 Dakota - SAAF (South African Airforce) - Textures. I discovered that there are no camouflaged SAAF Dakotas available as freeware for FSX, and that was what compelled me to create this one. I believe others will definitely find it useful too. This is according to me, possibly my best work to date. The exact model with the appropriate antennas and aerials is not available, so I had to do what I can with what there was to work with as is the case with many of my other attempts. Please excuse whatever inaccuracies there may be?
Posted May 23, 2016 05:55 by Andre Ludick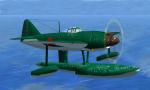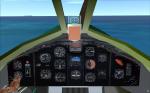 11.72Mb (447 downloads)
This is an FSX/Acceleration update for the CFS2 Kawanishi Kyofu, converted to FSX by LLS. The package features a new VC and new gauge configuration with all Japanese gauges for both the VC and the 2D panel. Thanks to LLS for the FSX conversion, new VC design and gauge configuration by Michael Pook.
Posted May 22, 2016 12:48 by Michael Pook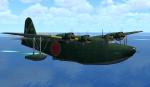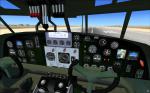 16.57Mb (1551 downloads)
The Kawanishi H8K2 was built by the Japanese in 1941. Allied code name was 'Emily. She also had the longest range of any flying boat. Sporting five 20mm cannons in locations around the hull, four hand-held 7.7mm machine guns, protected fuel tanks and crew armor, she was an aircraft treated with high respect by allied fighter pilots ... and allied submariners. The H8 could carry eight 550 lb bombs or two 1764 lb torpedoes along with her 10 man crew. This is a major update of the Emily, converted to FSX by LLS. It now includes a 2D panel and a VC with all Japanese gauges. It also features new camera views and weapons and corrected smoke effect. Thanks to Erwin Welker for the camera views and weapons and to LLS for the FSX conversion. New 2D panel and VC configuration and smoke by Michael Pook.
Posted May 20, 2016 07:58 by Michael Pook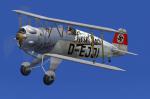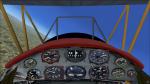 2.28Mb (1373 downloads)
FSX Buecker BU-133 Jungmeister in the paint scheme of Elisabeth Bach. The Jungmeister with its radial engine was a more powerful aerobatic biplane than the BU-131 Jungmann. Liesel Bach, the best German female aerobatic pilot between 1930 and 1970 flew that Buecker BU-133 1937 in Zurich. The original FS2004 model is from Capt. I. D'Attomo and Capt. G.Quai. This addon provides a model converted to FSX with an highly improved and enlarged VC. Panel by Michael Pook. FSX converted and repaint by Erwin Welker
Posted May 20, 2016 04:05 by Erwin Welker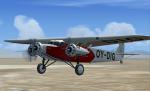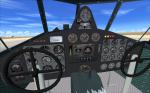 34.42Mb (2042 downloads)
The Fokker FVII was, in its various versions, the most successful European airliner of the decade between 1925 and 1935, and had also considerable success in the USA. The three-engined Fokker FVIIa/3m appeared soon after the first Fokker trimotor was, in fact, the second FVIIa built. The FVIIa/3m was mainly sold in America after winning the Ford Reliability Tour of 1925. The Fokker F.XII trimotor was much larger than the well-known FVIIb/3m. KLM had 8, and the associated company KNILM 2, two F.XII's. This mega pack features three different Fokker models and six very detailed liveries deigned by Jens B, Kristensen. However, all the panels have been remodeled and enhanced and the FDE has been modified to function properly in FSX Acceleration. Thanks to Jens B. Kristensen for his original models, to Mauele Villa and Maarten Brouwer for some of the repaints and to Erwin Welker for the added camera views. New panel, FDE modifications as well as smoke effect by Michael Pook.
Posted May 17, 2016 11:08 by Michael Pook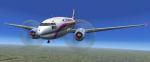 0.08Mb (507 downloads)
FSX Added views for the Curtiss C-46 Commando from Tom Gibson, Greg Pepper and Libardo Guzman. For this FSX-compatible version are many texture repaints available. My added views provides four external and five internal reworked views, including a cabin view showing the three animated exit and cargo doors. Just copy and paste the camera definitions somewhere into the aircraft.cfg. Camera rework by Erwin Welker.
Posted May 17, 2016 03:23 by Erwin Welker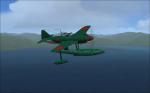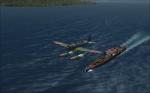 17.30Mb (761 downloads)
IJN Seaplane seapower. Aichi E13A1/B 'Jake by Akemi, Kawanishi N1K Kyofu by David Copley, IJN Chitose class Seaplane Tender by Stuart277. FSX native conversions of these classic aircraft and Stuart's wonderful Chitose and Chiyoda. See readme file, happy landings!
Posted May 16, 2016 14:09 by LLS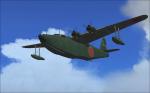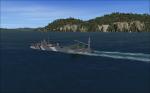 16.39Mb (721 downloads)
2016 FSX update, native materials and animations, beaching gear added. A long-lost classic, little known in the FS community. Despite its FS2000-2002-CFS2, it's a great model. A big thank you to Aidan for an excellent model-fs2000 no less! and Shessi for rescuing the old girl and updating her. Note-the VC is FS2004 OOB- didn't do anything with it, as the panel guys out there are better at that than I, and I can use the runtime to tinker with models. ;)} IJN Akitsushima seaplane tender by Stuart277, the pre-eminent CFS2 ship constructor, conversion and FSX features-decks and what not, by Y.T.
Posted May 16, 2016 13:25 by LLS