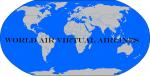 3.45Mb (1900 downloads)
Textures only for the default FSX 737-800. Acceleration and SP2 tested. Painted by Tory Hollins
Posted Sep 1, 2008 01:03 by Tory Hollins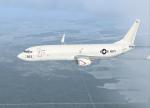 1.35Mb (10000 downloads)
This Qantas 747-438, reg. VH-OJK, was introduced in May 1991. On July 25th, 2008, QFA Flight 30 was scheduled to fly from Hong Kong to Melbourne, Australia, when without warning at 29,000 feet, a loud bang was heard by the crew and the cabin starts to depressurize because a hole was formed in the fuselage. But miraculously, all 346 passengers and 19 crew on board survive. This incident was caused by corrosion by the front cargo area of the aircraft. Special Note: The repaint may not look like the one on the actual aircraft. By Victor Vu
Posted Aug 31, 2008 21:47 by Victor Vu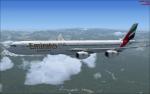 1.60Mb (3846 downloads)
Repaint of the default Boeing 737-800 in Qantas V-Jet livery. Repaint by Jon Murchison.
Posted Aug 31, 2008 06:53 by Richard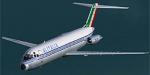 0.59Mb (10541 downloads)
Repaint of the default 747-400 in British Airways "Landor" livery. Repaint by Jon Murchison.
Posted Aug 31, 2008 06:40 by Richard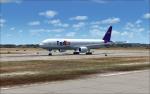 8.03Mb (2066 downloads)
This is a repaint of the default FSX 737-800 in John McCain's Straight Talk Express paint scheme. Repaint by Earl Triplett
Posted Aug 30, 2008 17:30 by Earl Triplett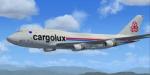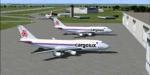 1.51Mb (7341 downloads)
FSX Boeing 747-400 Cargolux Textures. Registration: LX-NCV. Textures only for the default FSX B747-400. Bonus: Cargolux Boeing 747-400 Traffic Package included. Created by Gabor Kovacs
Posted Aug 30, 2008 08:14 by Gábor Kovács
0.01Mb (32617 downloads)
While flying the excellent business jet by Alejandro Rojas at 37,000 feet, the jet did not reach Mach 0.90-0.93 as delineated in specifications. Modified the aircraft.cfg file so that it will reach this speed at that altitude. Also, thrust modified to approximate specifications, gave the jet better trim and lift for easier flying and landing at reference speed without stalling. The excellent
Posted Aug 28, 2008 22:14 by Dana Eng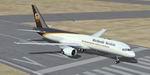 15.33Mb (24580 downloads)
Boeing 757-200 UPS Cargo. This aircraft is made by Project OpenSky Model Designers : Lee Rosario, Albert Bouwman, C. Vincent Cho, Hiroshi Igami Flight Dynamics Designer : Warren C. Daniel FDE Advisor's : Nick Peterson, Simon Ng Hin Tat Tested : Project-Opensky Members Master textures : Jaco du Preez & Ben Hewitt Painted : Timothy Wong
Posted Aug 26, 2008 08:59 by Timothy Wong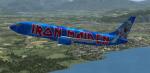 2.19Mb (5775 downloads)
Fan made 'Iron Maiden' (Heavy Metal Band) Textures only for the default B737-800 in FSX.
Posted Aug 25, 2008 10:03 by R. v. Kempen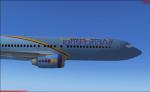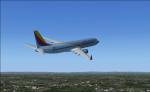 0.18Mb (1179 downloads)
Textures only for the default Boeing 737-800. This is TransPondAir's brand new livery! Read the readme for simple installation instructions. Join TransPondAir for free at www.transpondair.com
Posted Aug 25, 2008 05:26 by James Rodgers