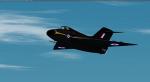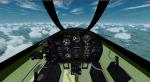 23.37Mb (75 downloads)
Boulton Paul P.120 for P3D 4.4+ "Boulton Paul P.120 'the Black Widow Maker' British experimental highspeed delta-wing research and test aircraft. An advanced version of the previous P.111. The P.120 first flight was on 6th August 1952 and the last flight was on 29th August 1952 which resulted in the loss of the aircraft. The redesigned tail added extra weight to the P.120 and made it slightly sluggish compared to the lighter P.111. As test pilot A.E. 'Ben' Gunn found on his first flight, positive trimming of the delta tailplane is required to reduce the take-off run! Tyler Gladman
Posted Dec 3, 2020 02:20 by Tyler Gladman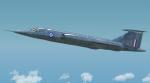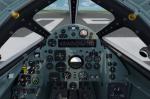 82.17Mb (241 downloads)
Bristol Type 188, the 'Flaming Pencil' was a British highspeed research aircraft. Designed to meet operational requirement ER.134T for a testbed capable of speeds greater than Mach 2. Due to the anticipated effects of kinetic heating at high Mach numbers, the fuselage was constructed of stainless steel. Two aircraft were built, XF923 and XF926. First flight of XF923 was on 14th April 1962 and then XF926 with upgraded Gyron Junior engines on 29th April 1963. Ironically, the Maximum speed achieved was Mach 1.88 at 36,000 ft. Although the top speed of the Type 188 was disappointing, the airframe advanced understanding and knowledge of structures, oils, electrics, hydraulic fluid, bearings, tires, windows and cabin environment at high temperatures as well as telemetry which was used during the development of Concorde. Last flight was 11th January 1964. One Bristol Type 188 remains at the RAF Museum, Cosford. P3Dv4.4 native design with custom 3D gauges and cockpit. For P3D 4.4+. By Tyler Gladman.
Posted Dec 2, 2020 11:44 by Tyler Gladman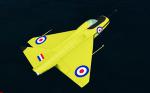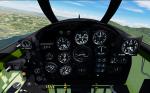 26.56Mb (69 downloads)
Boulton Paul P.111A for P3D 4.4+. Boulton Paul P.111A 'Yellow Peril' British experiimental high speed tailless delta-wing research and test aircraft. Modified from the P.111 after an earlier landing accident, the P.111A first flight was on 2nd July 1953 and the last flight was on 20th june 1958. It reached Mach 0.93 at 35,000 ft and Mach 0.96 in a shallow dive. Boulton Paul Chief Test Pilot A.E. 'Ben' Gunn described the P.111 as 'touchy' and 'like flying a razor's edge'. Also, when the undercarriage was raised or lowered there was a large trim change of 4 degrees or more and the landing speeds were high. Tyler Gladman
Posted Dec 2, 2020 05:46 by uploader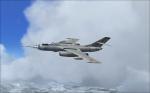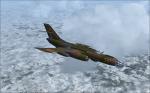 25.70Mb (933 downloads)
The Yakovlev Yak-28 is a swept wing, turbojet-powered combat aircraft used by the Soviet Union. Produced initially as a tactical bomber, it was also manufactured in reconnaissance, electronic warfare, interceptor, and trainer versions. BREWER A and BREWER B used a TACAN-type ground controlled bombing system. Model represents the Yak-28I BREWER C, fitted with the internal 'Initsiativa-2' Bomb-nav system, distinguishable by the ventral mapping radar. FSX materials and animations,decent VC mostly clickable, see readme for details. By Jan Moravec
Posted Nov 29, 2020 03:57 by Xenu R6 Thetan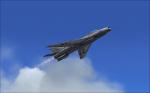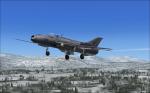 24.22Mb (731 downloads)
Ye-2 modified for RD-11 turbojet. Six built. Identical to Ye-5 except for wings: Ye-2A had swept wings. Fitted with RSIU-4V radio, ARK-5 ADF with RUP module, MRP-48P marker beacon receiver, Bariy-M IFF transponder, Sirena-2 RWR, SRD-1M Radal'-M radar rangefinder with ASP-5N-V3 computing gunsight. By Josef Čepek
Posted Nov 26, 2020 00:47 by Diogenes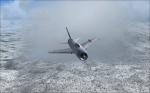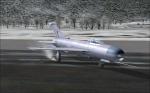 18.57Mb (666 downloads)
MiG-I3U by Josef Cepek for FSX, should go in P3D all versions. The I-3U was modified from the unfinished I-3; the fuselage was stretched, the nose redesigned to accommodate the Uragan-1 fire control system above the inlet and an Almaz search radar with a search/track range of 17 km was fitted in the cone centered in the inlet. Armament consisted of two 30 mm Nudelman-Richter NR-30 cannon with symmetrical auto ranging connected to the radar. In addition to the fire control system, Mikoyan-Gurevich also used, for the first time, titanium alloys in the rear fuselage where high temperatures were expected. The conversion from I-3 to I-3U was completed in 1956. Flight testing took place on an irregular basis in 1956–1958 due to engine flaws and frequent modifications. A total of 34 test flights were carried out, with design bureau test pilot Georgiy Mossolov reaching a speed of 1960 km/h at attitude on one flight. The program was cancelled on June 17, 1958.
Posted Nov 26, 2020 00:41 by Diogenes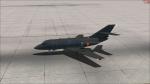 4.62Mb (342 downloads)
This is th only Dassault Falcon 20 that is operative in the Spanish Air force (Ejercito el Aire) on the 47th ECM/AAR squadron. This plane is used for elecronic warfare and elite missions. This aircraft is based in Torrejon AFB, Madrid. Original model by Rotorcraft. Textures by Alex.
Posted Nov 21, 2020 10:11 by Alex M. D.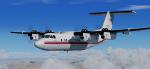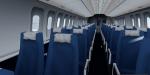 86.30Mb (1145 downloads)
FSX/P3D de Havilland Canada DHC-7 United States Army pack. The United States Army uses the DHC-7 as a surveillance aircraft. Model by Milton Shupe, Mike Kelly, George Arana and Sim-Outhouse. FSX native conversion by Eagle Rotorcraft Simulations. Thanks to Matt Ervin for the great textures. Textured and tested in P3Dv5 by Chris Evans. Should work in FSX and all previous P3D versions.
Posted Nov 11, 2020 11:26 by chris evans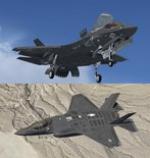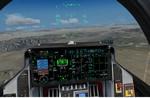 183.75Mb (65545 downloads)
FSX Acceleration/P3D (incl.v5) Lockheed Martin F-35 Lightning II, version 2.30. The F35 Lightning II is a fifth-generation, single-seat, single-engine stealth multirole fighter that can perform close air support, tactical bombing, and air defense missions. The F-35 has three different models: the F-35A is a conventional takeoff and landing variant, the F-35B is a short take off and vertical-landing variant, and the F-35C is a carrier-based variant. Includes custom HUD by Jivko Rusev and Scott Printz, sound package by Serge Luzin, and conventional flight dynamics by Roberto Leonardo and full STOVL functionality by Rob Baredregt and Mario Motta. Package also contains detailed documentation. Designed by Dino Cattaneo (Previous version downloaded 16132 times)
Posted Oct 14, 2020 04:24 by dino cattaneo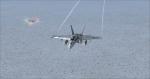 14.16Mb (326 downloads)
US Navy VFA-146 Blue Diamonds repaint for the FSXBA F/A-18C Hornet. This file contains two textures. Strike Fighter Squadron 146 (VFA-146) also known as the "Blue Diamonds" is a United States Navy an operational fleet strike fighter squadron based at Naval Air Station Lemoore California.
Posted Oct 1, 2020 14:58 by Dustin Kosman