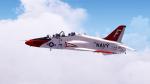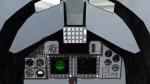 40.34Mb (1549 downloads)
FSX / P3Dv3 (not v4): Update and repack IRIS T-45 Goshawk. This is a two-seater training reactor, being a variant of the BAE Hawk training aircraft. The T-45 was jointly manufactured by the US companies McDonnell Douglas (later integrated into Boeing) and the British British Aerospace. It is a training aircraft specially designed to operate from the deck of an aircraft carrier. Various skins, effects and revised Vc, reconfigured gauges. Two textures of my authorship added and other details. All thanks to IRIS for its magnificent model and those who made previous details. Enjoy....
Posted Aug 24, 2018 18:57 by Rodolfo Valery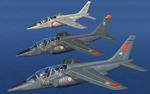 22.05Mb (501 downloads)
3 Textures for FSX Alphajet from AlphaBleuCiel, reworked native FSX/P3D by Bluebear : - Prototype 01 Dassault-Breguet-Dornier - E25 314-UK Armée de l'air - E115 705-MR Armée de l'air with all news files ".bump" and ".specular" Texture only. See READ-ME for required plane files. Repaint by Darmon
Posted Aug 21, 2018 06:21 by DeclanMac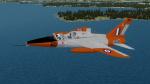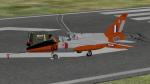 1.09Mb (435 downloads)
FSX / P3Dv3 Additional texture for Folland Gnat XS105 4 FTS, Royal Air Force 1968. All the merits for Shimshed its creator ... Enjoy
Posted Aug 16, 2018 07:01 by Rodolfo Valery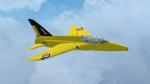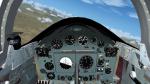 44.84Mb (1456 downloads)
FSX / P3Dv3 Folland Gnat. This a British compact swept-wing subsonic fighter aircraft that was developed and produced by Folland Aircraft. Envisioned as an affordable light fighter in contrast to the rising cost and size of typical combat aircraft, it was procured as a trainer aircraft for the Royal Air Force (RAF) as well as by export customers, who used the Gnat in both combat and training capacities. Revision of the Shimshed model. Sound, gauges and multiple skins. All the merits to those who have made previous improvements and to Shimshed its creator .... Enjoy. Not compatible with P3D4
Posted Aug 15, 2018 14:02 by Rodolfo Valery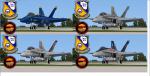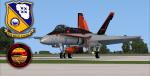 698.00Mb (1724 downloads)
Auto installer, package includes 56 Navy vatiations. The Microsoft FSX: Acceleration/Dovetail FSX: Steam Boeing F/A - 18 Hornet must be installed prior for this aircraft to function properly. VRS TACPACK is required for deployment of weapons. Handling Justin "Jimi" Hendrix Flight Control system Orion Lyau Justin "Jimi" Hendrix 3D Modeling Jamal "SpIns" Ingram Corrado La Posta HUD/Avionics/Gauges: Jivko Rusev Scott Printz Dino Cattaneo Orion Lyau Justin "Jimi" Hendrix VRS TACPACK Integration Corrado La Posta Simon "Kea" Ed Akridge Justin "Jimi" Hendrix Textures: Groom Lake Simulations Scotty "Shylock" Berge Jamal "SpIns" Ingram Jonathan Butler Hanimichal P-Woogey Sound: D Dawson Ben "Razor" Dudley Effects: Christian "Sludge" Snow Justin "Jimi" Hendrix
Posted Jul 28, 2018 03:57 by T.Marson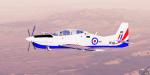 7.81Mb (918 downloads)
Update of Embraer Tucano for FSX / P3Dv3. Fix for Vc copckit, missing gauge aggregate (RMI) Model Simshed, for them all the merits. Enjoy
Posted Jul 27, 2018 08:44 by Rodolfo Valery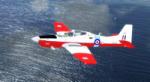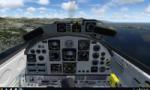 51.50Mb (1952 downloads)
Embraer Tucano update for FSX / P3Dv3 (not v4). Tucano is one of the most successful turboprop trainers in the world. Originally from Brazil, the Tucano was manufactured under license by Shorts of Belfast for the Britsh Royal Air Force. The basic two-seater trainer was equipped with improved turbocharged engine and stronger fuselage. Fixed props, sound, Vc copckit adjusted to real, on the Simshed model, with skins from several authors. To them all the merits.
Posted Jul 24, 2018 18:15 by Rodolfo Valery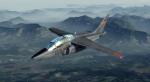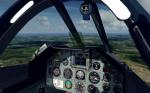 76.53Mb (4877 downloads)
Dassault/Dornier Alphajet-E FSX native for FSX / P3Dv 1-4+ Dassault/Dornier Alphajet-E By AlphaBleuCiel converted to FSX native format with kindly permission by JP Bourgeois (Bee Gee) The package includes the native FSX model converted by Bluebear, with 34 liveries (incl Patrouille de France Flyboys set), Panel textures by Ed Wells. 2D panel and a working 3D virtual cockpit with XML gauges by Philippe Wallaert and Bluebear. Airshow smoke system and HUD.FPDA Boeing Callouts sound by Jimmy Foong, Sound gauge by Doug Dawson. have fun July 2018 Bluebear
Posted Jul 16, 2018 05:28 by Bluebear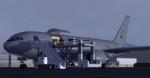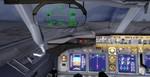 65.86Mb (4431 downloads)
FSX/P3D>v4 Boeing KC767 (KC46) USAF package. The Boeing KC-767 is a military aerial refueling and strategic transport aircraft developed from the Boeing 767-200ER. Package includes Boeing 767 2d panel as well as the advanced 737-800 VC added. Includes utility for ground services, cargo, stairs, etc (FSX find it under - Views/P3D Vehicle - Instrument panel - - Posky Utility) The great native FSX Boeing KC767 from Project Opensky/Skyspirit will be enjoyed by many more people who do not know how to install a VC, views, exits, Utilities etc into a FSX native model. The layout fof the 767 cockpit is not a million miles away from the advanced 737-800. Added the Philippe Wallaert Boeing 767 2d panel plus Alejandro Rojas Lucena/FSND fantastic revised Boeing 737-800 VC model. Added HUD. This VC model includes Working wipers (right mouse click on switch) with rain effect. Switches for LCD Screens, EICAS, PFD, MFT. Autobrake switch. Opening pilots window. Cabin Lights switch. Realistic FMC. Ground Proximity Warning System (GPWS), More Realistic night VC textures. There are custom Boeing sounds included for that extra realism. Jetways also edited (Ctrl j). Exits, wheel levels and views corrected for FSX/P3d. I have added the high quality textures by Stephen Groom and added 767 sounds for more realism. Fixed viewpoints and jetways. See VC docs to get the best out of the VC and FMC. Packaged for P3D/FSX by Chris Evans.
Posted Jun 21, 2018 11:03 by chris evans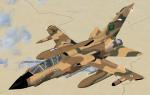 5.55Mb (694 downloads)
Textures only for the IRIS Tornado GR4 package. Something similar is available from another offering but it just didn't do justice to the depicted plane as that model had glaring imperfections that made it look 'unfinished'. I have however spent much time to ensure that I give you the best possible texture set for the aircraft in question, I had to improvise much here and there to make things work as far as the camouflage pattern is concerned, and I trust that you'll enjoy it as much as I do. Also compatible with P3d up to V3 (Not v4)
Posted Jun 17, 2018 00:02 by Andre Ludick