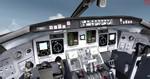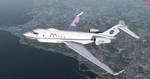 74.50Mb (2337 downloads)
P3D>v4 /FSX Bombardier NR-11a (E-11a) NASA Package. The Bombardier E-11a is a modified variant of the Bombardier Global Express. The BD-700 has carried the High-Altitude Lidar Operational Experiment (HALOE) in order to survey large areas rapidly. FSX Native model by Iris with added enhanced new upgraded VC by David Hoeffgen , includes built in FMC, working wipers and more (see VC docs in folder). Added the high quality textures by S Peterson. Includes Honeywell FMC (Find it in Instrument panel - Views) and revised MFD and custom sounds. High quality model with opening doors and stairs. Updates by Chris Evans.
Posted Apr 13, 2018 09:12 by chris evans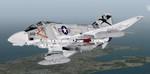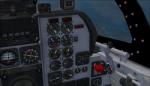 104.36Mb (7404 downloads)
The Alpha Simulation McDonnell Douglas F-4 Phantom II completely rebuilt for FSX and P3D up to v4. Items reworked for FSX/P3D: 1. True FSX Native modeling, converted to FSX using ARNO's MDLX program. 2. All new paints. 3. Working Combat Radar. 4. All paints are in DDS format. 5. Multiple Liveries. 6. New air configuration file. 7. New HD VC textures. 8. FSX Air File installed. 9. Camera views added. 10. Default and custom GPS. 11. FSX coded gauges and sub panels A collaboration created by the following flight simulation artist Antonio Diaz, Cirrus N210MS, Tim Conrad and David Robles. Sounds tied to Dino Cattaneo's F14 Tomcat
Posted Apr 6, 2018 17:56 by David Robles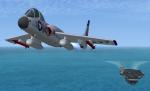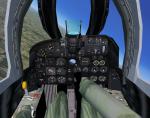 22.01Mb (939 downloads)
FSX/Acceleration/FS2004/P3d3.5 Chance Vought Cutlass F7-U. This was an USN carrier-based jet fighter and fighter-bomber of the early Cold War era with a highly unusual, semi-tailless design. That sophisticated design, based an German Arado concept aircraft caused numerous technical and handling problems with some dramatical accidents and the insufficient thrust and unreliable engines led to a short career. The original FS2004 model comes from RanchoJEN team/ J.E.Narcizo. Michael Pook's upgrade with static VC gave me the motivation to build a dynamic VC which is close to the real cockpit. He did also the panel configuration and the FDE tuning which gives that rare bird an excellent handling for carrier landings. Reconverted model with 2D panel and VC (Shift E 2 for missiles shots (VC only)) by Erwin Welker.
Posted Apr 6, 2018 02:55 by Erwin Welker
29.66Mb (2135 downloads)
FSX/P3D>v4 Boeing P-8 Poseidon RAAF Package. The Boeing P-8 Poseidon is derived from the Boeing 737-800ERX and is used in anti submarine ops, early warning self protection and anti surface warfare. The P8 is armed with customised weapons such as torpedos, anti ship, whatever may be required. The Australian RAAF took delivery of the 1st P8 in 2016. The high detail FSX Native Boeing P-8 Poseidon from TDS will be enjoyed by many more people who do not know how to install a VC into a FSX native model. The VC is the Alejandro Rojas Lucena/FSND fantastic Boeing 737-800 VC cockpit blended with Ken Wiggington's revisions for the default B737 VC to make it more resemble military ops aircraft. This VC model includes Working wipers (right mouse click on switch) with rain effect. Switches for LCD Screens, EICAS, PFD, MFT. Autobrake switch. Opening pilots window. Cabin Lights switch. Realistic FMC. Ground Proximity Warning System (GPWS), More Realistic night VC textures. There are custom Boeing sounds included for that extra realism. I added the great textures by the S Peterson. See VC docs to get the best out of the VC and FMC. Prepared and assembled for P3D & FSX by Chris Evans.
Posted Apr 3, 2018 12:47 by chris evans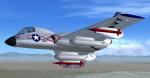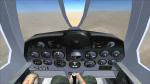 18.84Mb (998 downloads)
The Vought F7U Cutlass was a United States Navy carrier-based jet fighter and fighter-bomber of the early Cold War era. It was a highly unusual, semi-tailless design, allegedly based on aerodynamic data and plans captured from the German Arado company at the end of World War II. Regarded as a radical departure from traditional aircraft design, the Cutlass suffered from numerous technical and handling problems throughout its short service career. The type was responsible for the deaths of four test pilots and 21 other U.S. Navy pilots. This is an FSX update of the FS2002/2004 model deigned by RanchoJen models and features a modified 2D panel and a highly detailed static VC (non-functional gauges). Automatic smoke and afterburner effects added. Credits go to the designers mentioned above, whom I've tried to ask their permission for this update but their E-Mail as well as the link mentioned in their readme is invalid anymore. Modified 2D panel, new static VC as well as effect configuration by Michael Pook.
Posted Apr 1, 2018 08:32 by Michael Pook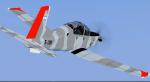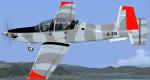 8.78Mb (445 downloads)
Raytheon/Beechcraft T-6A Texan II of Argentine Military Flying School (Escuela de Aviacion Militar) textures only.You will need to download the IRIS Simulations T-6A Texan II freeware irisclassicst6.zip for this(X payware) from Simviation's FSX Military pages for thos.Both pilot figures are animated.Smoke effects wing contrail detailed VC and 2D panels.Main textures are in 2048 px DDS 5 mode for higher resolution.By Yiannis Katehis Tsetsas 2018.File size (8.78 MB)
Posted Mar 29, 2018 16:26 by Yiannis Katehis Tsetsas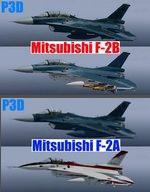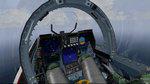 149.58Mb (3094 downloads)
Mitsubishi F-2A/B for FSX and P3Dv4 The Mitsubishi F-2 is a multirole fighter derived from the General Dynamics F-16 Fighting Falcon. Thank you for downloading. About the model This model has been created to conform to FSX and P3Dv4. For P3D we have not tested with V1 V2 V3. As for P3D use, there are also sides that we have not yet managed to grasp P3D, Please note that it may not be the best model. Current VC is F-2A and F-2B are both single-seat VC. In short, F-2A's VC is used for F-2B. Also, we can not do engine start operation at VC. Please use Ctrl + E to start the engine. By Team KBT
Posted Mar 29, 2018 07:10 by uploader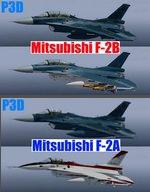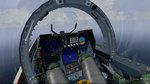 149.06Mb (893 downloads)
Mitsubishi F-2A/B for FSX and P3Dv4 V1.2. The Mitsubishi F-2 is a multirole fighter derived from the General Dynamics F-16 Fighting Falcon. Thank you for downloading. About the model This model has been created to conform to FSX and P3Dv4. For P3D we have not tested with V1 V2 V3. As for P3D use, there are also sides that we have not yet managed to grasp P3D, Please note that it may not be the best model. Current VC is F-2A and F-2B are both single-seat VC. In short, F-2A's VC is used for F-2B. Also, we can not do engine start operation at VC. Please use Ctrl + E to start the engine. By Team KBT
Posted Mar 29, 2018 05:51 by uploader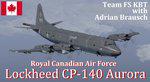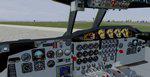 33.37Mb (1358 downloads)
Royal Canadian Air Force Lockheed CP-140 Aurora for FSX and P3Dv4. Adrian Brausch precisely repainted CP-140 Aurora with high resolution, and Team FS KBT created a special model. This model of Block 1 specification created wingtip Radomes and antennas in detail. 5 types of painting including special painting can be enjoyed. Although models are included, many textures, gauges and sounds read the P-3C Orion FSX. Therefore, P-3C Orion FSX is required. ("P-3C ORION FSX" created by us can be displayed on P3Dv4.) Team FS KBT with Adrian Brausch
Posted Mar 29, 2018 04:36 by uploader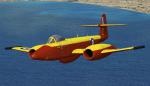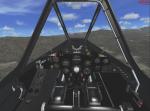 13.51Mb (863 downloads)
FSX/P3D Gloster Meteor U Mk.16 The Gloster Meteor U Mk.16 was an unmanned target drone based on the F Mk.8. This was the second drone to be based on the Meteor, after the U Mk.15, which had been based on the F Mk.4. The first prototype U Mk.16 flew on 22 October 1956, the last U.16 conversion was made as late as 1972. This model represents Gloster Meteor U.16 WK800 ,belonging to the RAE at RAF Llanbedr. Native FSX/P3D (works in v4) model by A.F.Scrub
Posted Mar 16, 2018 05:33 by A.F.Scrub