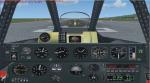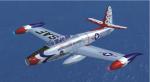 23.24Mb (656 downloads)
This is an update for FSX of the F-84G by J. Kristensen, textures by different authors, and originally upgraded to FSX by A. F. Scrub. I have simplified the 2D panel background and changed and/or added gauges. I did not try to upgrade the VC gauges, as I only fly 2D and have no access to the VC background. I changed the smoke and burner effects, corrected the contact points, and updated the flight dynamics.
Posted Oct 20, 2016 10:58 by Bob Chicilo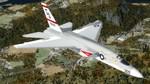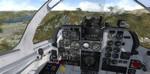 58.48Mb (4202 downloads)
North American A-5 Vigilante updated now with reflective glass, HUD and new VC. It's old, but so pretty...FSX native conversion, full original Alphasim Vigilante with VC. All functions and animations correct in sense and direction, per original FS2004 release.Version 2 updates materials and restores the coded lights. Conversion facilitated by a terrific set of freeware tools; Arno's MDLX with a breakthrough set of new XML definitions by Henk-BRAVO ZULU! Textures in DDS DXT3 format with Martin Wright's DXTBMP, file structure in FSX format. Skullsweat and conversion by LLS. While the model comes in a bit heavier, the frames are buttery, the glass is c'est bon. Note: The VC was pretty badly out of date, so I aliased Piglet's T-2 virtual cockpit. Base package for effects is Bob Chilco's A-5 updates. The repaints by Antonio Diaz for this model are highly recommended. Made possible with the kind support and encouragement of Phil at Virtavia. http://www.virtavia.com. Works in FSX and P3D.
Posted Oct 19, 2016 02:28 by LLS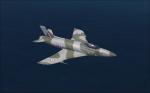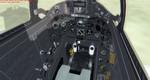 34.86Mb (974 downloads)
Alphasim's Swift in FSX native format. Version 2 updates materials and glass, puts the long range tank on payload visibility condition. With Phil at Virtavia's support and encouragement(www.Virtavia.com)
Posted Oct 18, 2016 05:06 by LLS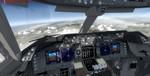 31.02Mb (4271 downloads)
FSX/P3D Boeing 747SCA Shuttle Carrier Package. The Boeing 747 SCA was one of 2 heavily modified Boeing 747 aircraft used by NASA to carry Space Shuttles from landing sites back to Kennedy Space Center as well as lift them for test flights and landings. Default FSX AI Boeing 747 Shuttle Carrier made flyable and added the much improved Boeing 747 VC (virtual 3d cockpit) from Alejandro Rojas Lucenda (Manual included). Included CF engine sounds with realistic jet whine to make your flight sound great. Also includes the Boeing 747 VC textures upgrade. This give a much clearer 747 interior virtual cockpit look. Fixed wheel sinking. Adjusted flight handling (Thanks to Bob Chicilo for tutorial). Zip preview for larger pictures. Assembled, edited and tested in Prepar3D and FSX Acceleration by Chris Evans
Posted Oct 15, 2016 13:13 by chris evans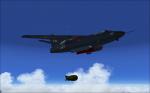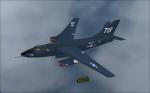 12.34Mb (2861 downloads)
Alphasim's classic rendition of this essential naval bomber, updated to FSX mdlX format, animations and materials. The largest aircraft ever designed for regular ship-board use, the A3D (A-3B, post 1962 tri-service) was designed by the brilliant Ed Heinemann at Douglas Aircraft. The navy 1949 specification was a demanding document, calling for a ship-board aircraft with medium bomber speed, warload and range. Most manufacturers responded with 120,000 lb behemoths, sea-going B-47's intended to operate from the then un-built super carrier United States. Heinemann thought BuAir had their heads up their auspufrhor's, and designed his bomber to fly off the Essex class ships at 70,000lbs. The rest is history. Huge Bravo_Zulu for Henk, Essex, Arno; and the crew at SOH and FSDevloper With the kind permission and encouragement of Phil at Virtavia.com A large thanks for Bob Chilco for the various flight dynamics and effects updates. Without help and support from these folks, none of this would happen. Works in FSX and P3D.
Posted Oct 13, 2016 06:10 by LLS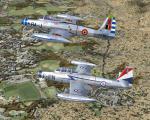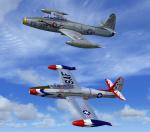 25.75Mb (1643 downloads)
FSX F-84 Thunderjet The F-84 Thunderjet was one of the most important western fighters of the 1950's. It was produced in very large numbers, had a distinguished carreer with the USAF in Korea as a fighter-bomber, and was for a number of years the main equipment of many NATO air forces. Pilots nicknamed the Thunderjet "The Lead Sled". It was also called "The Iron Crowbar", "a hole sucking air", "The Hog" ("The Groundhog"), and "The World's Fastest Tricycle", as a testament to its long takeoff rolls. Model by J Kristensen, textures by different authors, upgrade to FSX by A.F.Scrub.
Posted Oct 11, 2016 11:26 by A.F.Scrub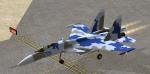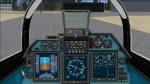 5.60Mb (3299 downloads)
The Sukhoi SU 35 is an evolution of the SU 27 launched in 2012 with multi role performances. Original design by Yahia al Wajid, flight dynamics by Bob Chicilo. Adaptation to FSX, panel for wide and standard screen (no VC), gauges including GPWS callout by Philippe Wallaert. See instructions in the readme.txt file. Nice flights!
Posted Oct 10, 2016 05:18 by Philippe Wallaert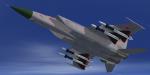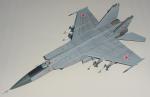 4.79Mb (609 downloads)
Deep down in my heart I've always had great admiration for Russian fighter planes, in particular the MiGs; maybe because the mere mentioning of the name was enough to send a cold shiver down any fighter pilot's back. It was this and the Viktor Belenko (Виктор Беленко) incident that led me to customise the existing texture set to replicate the one as was flown by Viktor Belenko when he defected to Japan in 1976. This texture was also inspired due to the fact that I've built a 48th scale model of his plane. Please refer to all other 'Read Me' files (excluding 'My Read Me', which is my own) for appropriate credits given. Requires an install from an external link to work.
Posted Oct 10, 2016 00:11 by Andre Ludick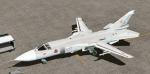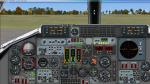 6.66Mb (2175 downloads)
The Sukhoi 24 is an all-weather interdiction and attack aircraft with folding wings launched in the 1970s by USSR. Original aircraft design by Kazunori Ito. Adapatation to FSX, panels, VC and gauges including GPWS callout by Philippe Wallaert. See instructions in the readme.txt file. Enjoy!
Posted Sep 28, 2016 05:16 by Philippe Wallaert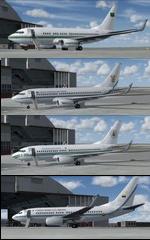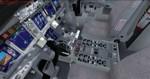 77.17Mb (1618 downloads)
FSX/P3d Boeing 737-700 SAAF/NAF/FAC/RSAF Package with Enhanced VC 4 military/state versions of the Boeing 737-700 - FAC Colombian Air Force, South African Air Force (SAAF), Royal Saudi Air Force and Nigerian Airforce. Native FSX model by Project Opensky with advanced 737-800 VC added. The VC is the Alejandro Rojas Lucena/FSND fantastic revised Boeing 737-800 VC model. This VC model includes Working wipers (right mouse click on switch) with rain effect. Switches for LCD Screens, EICAS, PFD, MFT. Autobrake switch. Opening pilots window. Cabin Lights switch. Realistic FMC. Ground Proximity Warning System (GPWS), More Realistic night VC textures. There are custom Boeing sounds included for that extra realism. I have used the high quality textures by Tony Cannon. Model is not modified in any way. VC added and aircraft.cfg edited to allow correct VC views and exits (jetways). Also corrected contact points so wheels do not sink into the ground. TDS wonderful native FSX Boeing 737-700 model. See VC docs to get the best out of the VC and FMC. Zip preview for bigger images. Assembled and prepared for P3D/FSX by Chris Evans.
Posted Sep 20, 2016 11:54 by chris evans