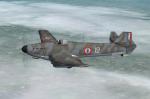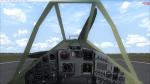 31.69Mb (1084 downloads)
FSX Loire Nieuport LN401 (French answer on the German Ju-87 Stuka), another great CFS2-plane from Baldy and UncleTGT converted for FSX Acceleration. Hood slides, wings fold, tailhook goes up&down, flaps work, extra 2D-panels and acceptable VC with French gauges. Rob Barendregts Spitfire cannons and Lazarus Starkweathers "poor man's Tack-pack" give a lot of fun. Enjoy!
Posted Jan 16, 2018 17:30 by Erik Hertzberger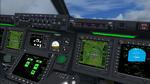 119.86Mb (10395 downloads)
MV-22B for FSX and P3D. Created to fill the gap unavailability good model on FSX and P3D model, gauge, sound, animation and flight dynamic build as close as possible. this not perfect work but can be compare to payware available till this aircraft build. It difficult and too complex to build and fly, just enjoy flying and having fun with this freeware/Donation MV22B. Maryadi
Posted Jan 11, 2018 12:11 by admin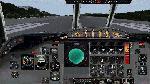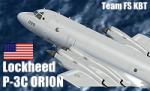 69.76Mb (1264 downloads)
Fully reworked 16/9 - 2D panel (FSX/P3Dv3 or FS2004) with a mix of instruments and bits of bitmaps from everywhere, some from photographers in Airliners.net. A dubble choice because the FSX VC is not so beautiful than the FS2004 model (working in P3Dv3 but … ) and I was unable to merge that last one to the FSX model. THIS folder is composed exactly with the former panel FPv2 and with the lacking radios added ! (Not compatible with P3Dv4)
Posted Jan 4, 2018 13:36 by Pierre Fasseaux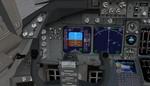 0.25Mb (894 downloads)
VC Views fix for FSX AND P3D of the P3D V3 & 4 / FSX Lockheed C141B Starlifter McChord AFB package. It came to light that some users could not view the VC in the C141. The VC was way off to the front. I tested the file in P3Dv4 without problem but some users differ. Anyone who has this problem - this should fix it:
Posted Jan 1, 2018 11:29 by chris evans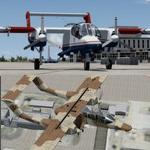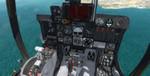 21.19Mb (2954 downloads)
P3D V3 & 4 / FSX Rockwell OV-10D USMC and Civil Air Patrol twin package. Tim Conrad original OV10D converted to FSX native format by LLS. Added USMC and CAP textures by Tim Conrad and Ken Glazer. North American Rockwell OV-10 Bronco is a twin-turboprop light attack and observation aircraft made in the US between 1965 and 1986. The aircraft is still in use today. Included engine sounds. Adjusted wheel levels and eyepoint. Assembled and edited by Chris Evans. Tested only in P3Dv4 but should be ok in FSX and earlier P3D versions.
Posted Dec 31, 2017 09:01 by chris evans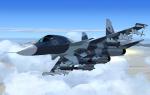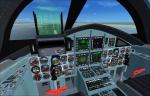 25.14Mb (5616 downloads)
The Sukhoi Su-34 is a Russian twin-engine, twin-seat, all-weather supersonic medium-range fighter-bomber/strike aircraft. It first flew in 1990 and entered service in 2014 with the Russian Air Force. This is an update of the FS2004 Su-34 for FSX/P3D,V.3. It features all authentic FSX compatible Russian gauges. Automatic smoke, afterburner effects as well as various camera views included. The package includes seven beautiful crisp repaints by different authors. Thanks to Bowe Tyson and Unkomura Humoto for the original model and to Sean Doran for the additional repaints. FSX updates by Michael Pook.
Posted Dec 28, 2017 12:27 by Michael Pook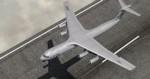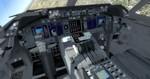 36.88Mb (3448 downloads)
P3D V3 & 4 / FSX Lockheed C-141B Starlifter 446th Air Mobility Wing, McChord AFB package. Native C-141 Starlifter from Alphasim/Virtavia converted to FSX native by LLS. Added the Mccord AFB textures by Mike Pearson. The VC that came with the c141 was old and not good so I added the developed B747 VC (virtual 3d cockpit) from Alejandro Rojas Lucenda (Manual included). Edited and tested with P3D v4 but should be ok in FSX and previous versions of P3D. Included engine sounds. Also includes the Boeing 747 VC textures upgrade. This give a more military 4 engine interior virtual cockpit. Assembled and edited for FSX and P3d v3 & 4 by Chris Evans.
Posted Dec 28, 2017 05:19 by chris evans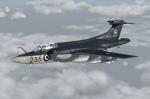 7.04Mb (1115 downloads)
This is a repaint for the FSX native updated freeware UKMIL Blackburn Buccaneer for FSX and P3D v4. This repaint depicts the Royal Navy Blackburn Buccaneer S.Mk.2 XN982, '235/V', 801 NAS, HMS Victorious, 1966. The original aircraft is not included. Textures were tested in Lockheed Martin Prepar3D v4.1. Original aircraft by UKMIL. Repaint by Cecil Johnson (kiltinsa61).
Posted Dec 20, 2017 11:54 by Cecil Johnson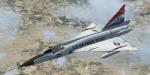 5.53Mb (1055 downloads)
FSX/P3D (up to v3 only) The F-102 was the first supersonic interceptor with delta wing concept used by USAF. Original design by Kazunori Ito. Adaptation to FSX, panels (no VC) and gauges including GPWS callout by Philippe Wallaert. See instructions in the readme.txt file. Enjoy!
Posted Dec 19, 2017 05:16 by Philippe Wallaert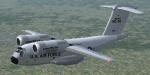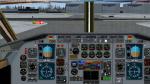 6.32Mb (1078 downloads)
FSX/P3D (up to v3 only) The YC-14 was a transport aircraft with STOL capacities designed during the seventies. Only 2 prototypes were built and the project was canceled. Original aircraft design by JR Lucariny. Adaptation, panels (no VC), gauges including GPWS callout by Philippe Wallaert. See instructions in the readme.txt file.
Posted Dec 15, 2017 01:50 by Philippe Wallaert