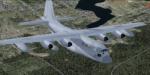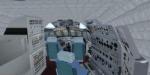 56.12Mb (2688 downloads)
FSX/P3D Lockheed KC130 (C130) Hercules Package. FSX Native original AI C130 with the added Nimrod interior model by Brian Franklin with gauges updated to be compatible with P3D versions up to V4.*. This gives the previously aircraft a VC and useable 2d panel. This AI aircraft comes from FS2002, it was converted to FSX native format with MDLX Converter and it is a very basic, but flyable AI model with automatically activated tank hoses. Other updates by Chris Evans. Tested in P3D4 but should be fine in FSX and earlier P3D versions.
Posted Apr 29, 2019 12:14 by chris evans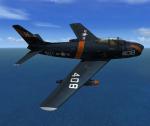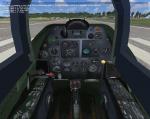 22.33Mb (1187 downloads)
FSX/P3Dv3,v4 Fury FJ-3. North American began work on an uprated version of the Fury with a Wright J65-W-2 Sapphire engine, with the company designation of "NA-194" and Navy designation of "FJ-3". A contract for 389 FJ-3s was awarded to NAA in April 1952. The first production FJ-3 was completed in December 1953. The type was enthusiastically accepted by the Navy. Service deliveries of the FJ-3 began in 1954. An additional contract was placed that year, bringing the total of FJH-3s delivered to 538 before the end of 1956. The type equipped 12 Navy squadrons. FSX/P3Dv3,v4 mdl by A.F.Scrub
Posted Apr 28, 2019 12:06 by A.F.Scrub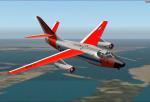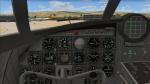 63.37Mb (1051 downloads)
The Douglas A-3 Skywarrior was a carrier based US strategic bomber of the cold war. Original design by Alpha Simulation, textures by David R. Stewart, P Lheureux and Russel R. Smith. New panels with VC for wide and standard screen, gauges including GPWS callout by Philippe Wallaert. See the readme.txt file for instructions. Enjoy!
Posted Apr 28, 2019 11:47 by philippe Wallaert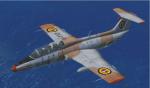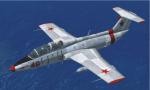 13.41Mb (993 downloads)
This is an update for FSX of the L-29 Delfin by Tim Conrad. I have updated the flight dynamics; it is not so sluggish now. I replaced some gauges and removed some holes in the 2D panel. I added an autopilot and toggle Icon to the 2D panel. I added pictures so the 5 paints would show on the choose the aircraft screen. This is the whole aircraft. There is a working VC.
Posted Apr 22, 2019 09:15 by Bob Chicilo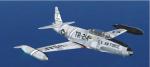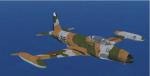 18.00Mb (2032 downloads)
This is an update for FSX/FS9 of the T-33A by Tim Conrad. This was one of the first aircraft I updated and I don't know why I have not yet updated it for FSX. I have added an autopilot gauge; changed the size of the GPS; added an autopilot icon and moved the GPS icon; the contact points have all been redone as well as the flight dynamics. I changed 3 gauges that did not work in FSX for ones that are default in both FSX and FS9. I fixed the holes that were in the 2D panel by the bottom of the rivets. The holes showed in FSX, I don't think they showed in FS9. This is the whole aircraft. There is a working VC.
Posted Apr 20, 2019 16:03 by Bob Chicilo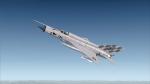 4.95Mb (404 downloads)
Croatian Air Force textures for the Ivan Jurcaga MiG 21 MF. The v1 stands for the first version of the livery as there are imperfections in it. For example, the "coat of arms" (in croatian we say "grb") on the right side of the tail is incorrectly placed, the acronymes scattered around the frame aren't in croatian but instead they are in czech, the ones that already come with the paintkit and much more stuff that hasn't been improved/finished. All of that will be fixed in the next version once it comes out. Until then, hope you enjoy this livery as much as I did while making and testing it out!
Posted Apr 19, 2019 15:40 by Filipe Perhat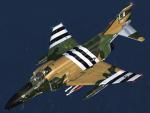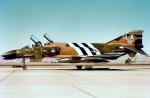 9.72Mb (980 downloads)
As with some of my earlier creations, this one too was inspired by the fact that I've built such a model many years back that was produced by a company called ESCI, which is sadly not in existence any more. This project kept me busy for some time as about 95% of the stencilling that can be seen on this model was applied by me after having obtained very trustful information. The paint scheme itself also lends itself well to the Phantom as it looks quite the part in the air. Once again I trust that you'll enjoy flying it as much as I do. All Credit to the creators of the original package.
Posted Apr 14, 2019 10:49 by Andre Ludick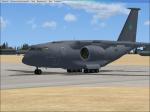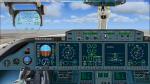 33.02Mb (3049 downloads)
FS2004/FSX Antonov An-112KC based on An-70 model. Project aerial refueling tanker with two engines GE-90s.FMC by Garett Smith, panel and gauges for wide screen only (no VC) by Philippe Wallaert including GPWS callout. Original design model by Tsyntsar Victor, Kyiv, Ukraine, 2019.
Posted Apr 14, 2019 09:35 by Tsyntsar Victor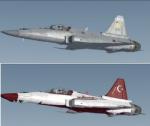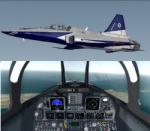 85.95Mb (2252 downloads)
FSX/P3D Northrop F-20 Tigershark RNAF, Turkish Stars (Aerobatic team) and 'Iris' triple package. First flown in 1982, The Northrop F20 Tigershark was a highly capable light flighter with a range of 2750km/1700m . The ex payware Iris F-20 with 3 liveries - RNAF (Royal Netherlands Airforce), Turkish Stars (Aerobatic demonstration team of the Turkish Air Force) and Iris Demo. Added the fine liveries by Rene Spaan, Thomas Schedl. Fixed wheel sink, co-ordinated VC's. Manual included. Assembled and tested in P3Dv4 by Chris Evans. Should also work in FSX and previous P3D versions.
Posted Apr 14, 2019 07:32 by chris evans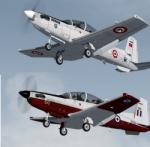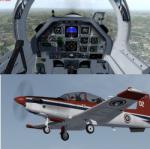 64.96Mb (3539 downloads)
FSX/P3D Raytheon/Beechcraft T-6 Texan II Military Trainer Pack 4. This is the ex-payware T-6 II Texan from Iris in 3 military liveries. PC-9 Royal Thai Air Force, RAF red and white and Thai AF Hurkus Demonstration. The Beechcraft T-6 Texan II is a single-engine turboprop aircraft built by the Raytheon Aircraft Company. A trainer aircraft based on the Pilatus PC-9, the T-6 has replaced the Air Force's Cessna T-37B Tweet and the Navy's T-34C Turbo Mentor. Special thanks to Iris Simulations/Dave Brice for allowing this to be distributed free. Thanks to Andy Nott, Kittisak Rukkaew, Ahmet Memetbeyoglu for the great textures. Put together and tested in P3Dv4 by Chris Evans. Should work in FSX and all previous P3D versions.
Posted Apr 12, 2019 08:57 by chris evans