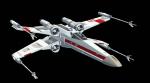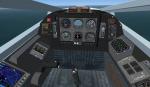 11.52Mb (44932 downloads)
The StarWars Classic X-Wing. This model Features: A reasonable Mach 1.8 Vmax - Good High Altitude performance - exceptional manueverability and G tolerance - Hover flaps (see readme) - animated R2D2 - animated S-Foils that are tied to spoilers (which have zero drag and are visible in multiplayer) - Dynamic VC - Detailed external model - custom sound . *compiled with FS9 SDK / tested in FSX w/Acceleration winXP DX9 *for FSX by Bruce Fitzgerald
Posted Oct 10, 2008 18:07 by Bruce Fitzgerald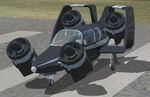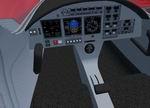 4.64Mb (37173 downloads)
FSX Moller M400 Skycar. This package contains a simulation of the Moller M400 Skycar, and was developped in close cooperation with the Moller company. Besides all the usual animations you find in an aircraft addon, it contains a wealth of features and animations specific for this M400 Skycar, like: automated nacelles, ductvanes and folding wings; true VTOL operation; full virtual cockpit, with moving sidesticks, throttle lever and all needed instruments/switches to drive/fly this Skycar; accurate lighting; seat-dependant "camera" views. By Rob Barendregt and Stephen Vernava.
Posted Sep 12, 2008 03:59 by Stephen Vernava.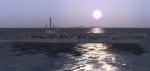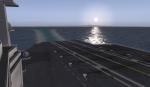 9.00Mb (20596 downloads)
this is the Acceleration AI Carrier made flyable. I got tired of all the bouncy , jumpy MP carriers out there, throwing me off the deck. so i present you this Ultra stable Carrier Op's platform Features: - Rock solid flight deck , No bouncing, tilting ... nuttin' - "pri-fly" view to watch all the action on deck - ATC equiped bridge - 34kts top speed - cables work in MP - CVN-76 details and crisp DXT textures made flyable for FSX Only by Bruce Fitzgerald
Posted Sep 1, 2008 06:53 by Bruce Fitzgerald
4.33Mb (15543 downloads)
Honda NSX Convertible - 3 new paints. Original by Mitsuya Hamaguchi
Posted Aug 13, 2008 17:17 by daniel rodriguez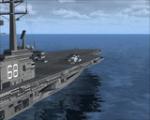 0.00Mb (12277 downloads)
Missing Effects for USS Nimitz Class. Copy in your FSX Effects folder.
Posted Aug 11, 2008 12:02 by Mric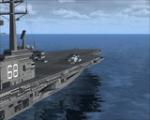 6.00Mb (25871 downloads)
There are five AI carriers made flyable for FSX with stock FSX textures(CVN 68, 71, 72,73 & 76). With cockpit 2D and radar. Cables and catapults works in multiplayer. Install in your ...SimObjects/Airplanes... repertory. (Vista & Dx10 tested)
Posted Aug 11, 2008 09:43 by Mric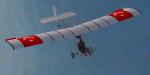 2.09Mb (8798 downloads)
USE THIS ONE IT WORKS!!!
Posted Jul 27, 2008 16:38 by archive
0.40Mb (2762 downloads)
Panther Firetruck Repaint for KORD Fire Dept.
Posted Jul 26, 2008 19:58 by archive
1.06Mb (15835 downloads)
gun effects to go on any plane the use the strobe key to fire on all my files i upload i use real pictures becuase an error that some people have is i cant use a picture i take from flight sim so alot of if not all the files on simviation with real pics are mine they dont have my name on them becuase i usually forget to put it there by.andrew bowlby
Posted Jul 23, 2008 16:15 by archive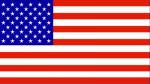 0.00Mb (6512 downloads)
Change your call name from "World Travel" to "United Airlines" or other USA operated airlines.
Posted Jul 19, 2008 22:58 by archive