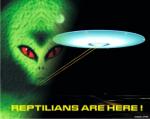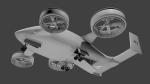 64.61Mb (17985 downloads)
Reptilian FS9 / FSX Flyable UFO. This file provides a fictitious UFO, reminding typical sightings. Shoots Phaser, tractor ray, many animated parts. Also amphibian, more than mach 4. Includes VC/ Interior. Uses default MS B737-400 reworked sound files. It,s part of a future big project which will include AI models and UFO traffic around the world. Every help will be welcome, specially for smoke and ray effects. By Libardo Guzman (GUZMAN-ARTES)
Posted Sep 5, 2009 16:56 by LIBARDO GUZMAN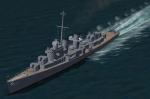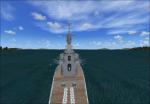 0.64Mb (1343 downloads)
This is a repaint for Bruce Fitzgerald's DD-445 USS Fletcher in USEC's PTG Texture. This is an acctual unit in USEC. I am with USEC (Unity Security Force) which is the most accurate Virtual Military there is. This is the PTG's (Pacific Task Group) texture for it which I made.It is named DD-993 USS Lawrence. This is NOT a ship that we use, but is just a personal project of mine and for the fun of others.
Posted Sep 2, 2009 13:13 by Jonathan Lawrence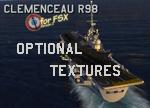 19.52Mb (2534 downloads)
This package contents optional sets of textures for Clemenceau V2 moving Carrier. It allow to reduce the size of the main textures or to fix flickering trouble. by Sylvain Parouty
Posted Aug 31, 2009 16:46 by Sylvain Parouty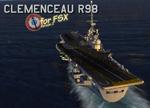 10.29Mb (10058 downloads)
This Clemenceau is modeled as she was circa 1990's. Her flight deck is mostly a recovery configuration which allows the use of both catapults. It's built for FSX Acceleration featuring working catapults, jet blast deflectors and arrestor wires for naval ops. This release is much more detailed than the previous r1.1, a lot of 3D objects were added. Last, this model hasn't been tested for other version of FSX (RTM or SP1)... By Sylvain Parouty
Posted Aug 30, 2009 17:37 by Sylvain Parouty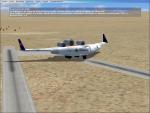 5.90Mb (12830 downloads)
A fictional concept airplane by Boeing that could carry a max. of 1000 passengers. The advantage is that the fuselage produces lift and the and the passengers will be in the interior of the wings.
Posted Aug 28, 2009 14:49 by nv vx

1.73Mb (2982 downloads)
UKMIL AI Puma Helicopter. This is the FS9 [will work in FSX too but will have rotor issues] AI westland Puma. It is low poly, multi Lod and is fully animated, with opening doors when on the ground. This pack is the AIRCRAFT only and comes with NO flightplans. You will be able to find some on UKMIL . to install, simly copy to your FS9 aircraft folder, or your FSX SIMOBJECTs/AIRPLANES folder. Then create or install some flightplans in order to use this AI aircraft.
Posted Aug 28, 2009 11:16 by ukmil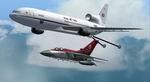 0.98Mb (5651 downloads)
UKMIL AI L1011 Tristar Ck1. This is the multi lod, low poly AI Tristar made by UKMIL. it features multilods, and a working refuel probe system. the fuel booms will deploy when the aircraft gets over 5500ft, and will remain out until the aircraft descends below this alt. Although these are visually active, they do not have any functional actions in Flightsim, they are for visual specs only. You will need flighplans for this to work. you will be able to find some in the PLANS folder
Posted Aug 27, 2009 15:41 by ukmil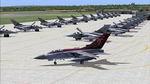 2.91Mb (4495 downloads)
UKMIL AI Tornado F3 This pack inlcudes the Tornado F3 AI model as used by the UK RAF as a long range inteceptor It comes with one texture of 56 sqn based at RAF LEUCHARS To use these as AI you need to create some flightplans using many programs such as TTOOLS
Posted Aug 27, 2009 15:02 by ukmil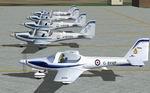 1.83Mb (3797 downloads)
UKMIL AI Grob Tutor This pack inlcudes the GROB TUTOR AI model as used by the UK TRAF as a trainer. To use these as AI you need to create some flightplans using many programs such as TTOOLS
Posted Aug 27, 2009 14:59 by ukmil
1.71Mb (2197 downloads)
UKMIL AI VC-10 This is the multi lod, low poly AI VC10 made by UKMIL. it features multilods, and a working refuel probe system. the fuel booms will deploy when the aircraft gets over 5500ft, and will remain out until the aircraft descends below this alt. Although these are VISUALLY active, they do not have any FUNCTIONAL actions in Flight sim, they are for visual specs only to install, simply copy the folder called AI UKMIL VC10, found inside the AI AIRCRFT FILE folder, to either fs2004> AIRCRAFT folder FSX> SIMOBJECTS/AIRPLANES folder. You will need flighplans for this to work. you will be able to find some in the PLANS folder, or on the UKMIL WEBSITE ukmil
Posted Aug 27, 2009 14:56 by ukmil