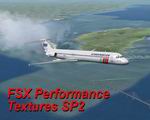 27.57Mb (4543 downloads)
Performance textures Package for FSX SP2 These are the textures I after testing, found best for performance in FSX SP2... Textures are just reduced in size, and some chanced format from 32 bit to dxt3 or dxt1. Mips are not changed rom the original, to prevent Fligtsimulator to failure or crash. The textures are VC-RAIN_textures, Autogen Trees all seasons, Water textures and Sky textures. Claus V. Holmberg. 28.2MB
Posted Jan 22, 2009 09:12 by archive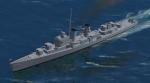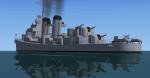 8.55Mb (5980 downloads)
FEATURES: - Pilotable and AI Versions included - Yard Arm camera view for watching deck operations - Stable water dynamics / top speed in the low 30's - custom gauge and depth charge effect (tied to trigger for brakes) - night textures . Tested in single and Multiplayer at different realism settings using Acceleration and DX9; compiled with the FSX SDK for FSX ONLY *By Bruce Fitzgerald
Posted Jan 17, 2009 15:45 by Bruce Fitzgerald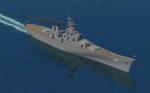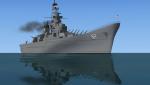 8.71Mb (11113 downloads)
FEATURES: - AI Version included for use with AICarriers2 - hardened deck - Animated main guns (flaps key) - custom gauge and 16' gun effects - Crow's nest camera view - Stable water dynamics / top speed in the low 30's - custom wake effect - night textures *Tested using Acceleration and DX9 ; compiled with the FSX SDK for FSX ONLY *By Bruce Fitzgerald
Posted Jan 9, 2009 07:01 by Bruce Fitzgerald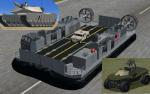 0.03Mb (6512 downloads)
Updates to Bruce Fitzgerald's cool LCAC, M1A1, and HALO Warthog FSX vehicles. Gives the tank great driving characteristics, fixes the dune buggy's brake map and eyepoint, and gives the hovercraft better maneuverability while retaining the floating feel of it.
Posted Jan 3, 2009 22:54 by Rich Hogen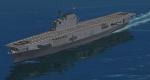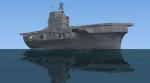 5.74Mb (12559 downloads)
FEATURES: - hardened flight deck and hangar deck - Operational arrestor cables (Acceleration users) - Air Boss camera view for watching deck operations - Stable water dynamics / top speed in the low 30's - radar and screws ambient animation - custom wake effect - night textures ** Tested in single and Multiplayer at different realism settings using Acceleration and DX9 ; compiled with the FSX SDK for FSX ONLY * By Bruce Fitzgerald
Posted Dec 31, 2008 15:18 by Bruce Fitzgerald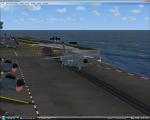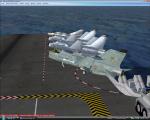 4.39Mb (9635 downloads)
This is a model of Clemenceau circa 1990's. It's built for FSX Acceleration featuring working catapult and arrestor wires for naval ops. For unknown reason, only the front catapult works: I can't manage to make more than one catapult working... Unfortunately, Acceleration landing lights system is coded for modern US carrier, with a 50 meters width deck, and so I had to built the Clemenceau FLOLS from scratch: the result is a little frustrating... This model hasn't been tested for other version of FSX(RTM or SP1) or FS9. Sylvain Parouty
Posted Dec 26, 2008 05:55 by dominikx and Sylvain

0.00Mb (1021 downloads)
Don't like seeing the white cross when using mouse look view while flying? The cross in mouse look view is your assigned precision select cursor in Windows. To change, go to control panel, mouse, pointers, find precision select and change it to a blank cursor. Includes blank cursor null.cur file and instructions.
Posted Dec 20, 2008 18:48 by damien 13n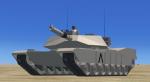 1.97Mb (12652 downloads)
FEATURES: - animated wheels, turret and main gun - animated commander pops out hatch in new ACU camo - good offroad and hill climbing dynamics - only a GPS window in the 2D cockpit * This model was created for use with my new LCAC for some amphibious assault action in Multiplayer or simply as a standalone offroad vehicle. compiled with the FSX SDK for FSX ONLY by Bruce Fitzgerald
Posted Dec 17, 2008 09:51 by Bruce Fitzgerald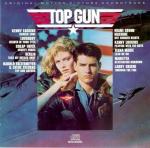 73.91Mb (21725 downloads)
Music for FSX Main Menu 2 Songs from the Major Motion Picture TOP GUN Compatible with FSX ONLY
Posted Dec 10, 2008 19:51 by Nicholas Reitz
0.00Mb (3404 downloads)
FIXES: - the center of gravity was too far aft , making it backflip when you tried to drive up the ramp - the gear were too spongy making it bounce like a rocking horse when you got off - the weight was to light , making it slippery on the deck when riding on the LCAC * by Bruce Fitzgerald
Posted Dec 9, 2008 03:49 by Bruce Fitzgerald