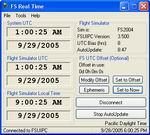 12.99Mb (1447 downloads)
FS98 - FSX FS Real Time v1.91.1 is made to keep Flight Simulator's UTC (Zulu/GMT) time and date in sync with the Real World. It can maintain either the current Real Time, or an offset (+/-) so you can fly at any variation from Real Time. This package also includes a new set of World Time Zones scenery files which eliminate many of the time zone errors that shipped with recent versions of Flight Simulator. FS Real Time by Joshua Robertson.
Posted May 9, 2010 09:24 by Joshua Robertson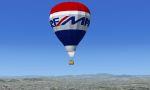 2.23Mb (10789 downloads)
Cameron Hot Air Balloon here's unique one for the Balloonist in you in a generic and Re/Max paint, a blank repaint texture - it also has a Dynamic VC ( a first for me!).. flying it is easy via a custom built gauge , throttle ascends - no throttle decends slowly - not my usual spacecraft but unique just the same - For FSX/FS9 by Bruce Fitzgerald *tested in FSX SP2
Posted Apr 20, 2010 15:05 by uploader
46.54Mb (2694 downloads)
this is a soundset for fsx B737-800. Provides an upgraded sound for the 737 (As always be sure to back up your original in case you with to revert to the default)
Posted Apr 8, 2010 23:45 by ryan verrilli
0.34Mb (4384 downloads)
There are many AI aircraft which are not available as regular flyable airplanes and there are some FSX pilots which have fps problems due to their slower or older pc's which feel FSX is to heavy for them. Flying AI planes can help those slow machines and give the pilot plane that fly really well. This tutorial will show you how to make AI planes Flyable in a few minutes.
Posted Apr 5, 2010 18:21 by Gera Godoy Canova
33.66Mb (5035 downloads)
Top Gun Music file for FSX.
Posted Mar 7, 2010 02:06 by Jimmy Lim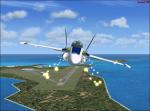 0.76Mb (12054 downloads)
The FSX flare effect is finally here. It can be intalled to any aircraft and can be activated by "i". Flares are fireballs which distracts heat-seeking missiles from the locked aircraft.
Posted Feb 12, 2010 22:24 by Fay Cheung/Karol Chlebowski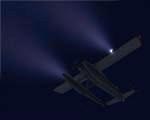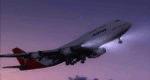 0.15Mb (11558 downloads)
A tutorial on how to add the freeware Deltasim Sirocco 3D lights to your aircraft. Includes a list of coordinates for 90 different aircraft. By Christian Silvers
Posted Feb 7, 2010 13:14 by Christian Silvers
0.02Mb (5704 downloads)
These are gun effects for any plane or vehicle in FSX. Includes an enclosed readme.
Posted Jan 30, 2010 13:25 by Collin Roach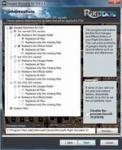 11.44Mb (2675 downloads)
Gauges Recovery, a small free utility that will restore all your gauges and effects of origin in less than 10 seconds. With Gauges Recovery, you're sure to get the display of all gauges and effects. This program does restore the original files from Microsoft FSX FSX SP1, FSX SP2 and not the files from other publishers, no changes will be made to these files. By Erik Bender
Posted Jan 25, 2010 07:53 by Uploader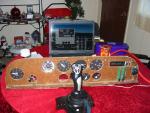 1.25Mb (885 downloads)
Sim Panel Connect (demo) has been written to connect Phidget components to FSX for flight sim cockpit builders. The demo version will connect a Phidget USB servo controller (running Hitec rc servos) as well as the Phidget Text LCD with 8/8/8 Interface. The demo will provide com1 nav1 readouts via the text lcd, throttle, mixture and flap controls through Phidget sliders, as well as airspeed and Engine RPM via HiTec servos and the Phidget servo controller. This program is software only and meant for evaluation purposes, A full single engine VFR version is available. It is the builders responsibility to obtain his/her own phidget components. See the documents in the zip file. The program requires FSX, Simconnect, and the phidget library (downloadable at www.phidgets.com) Tested in Vista (home premium) and Windows 7
Posted Jan 24, 2010 22:04 by Daryl Lowey