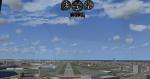 0.29Mb (1625 downloads)
This popup gauge set will help on final approaches by allowing you to monitor altitude, airspeed, vertical speed, AGL radar altimeter, and keep an eye on the glide slope without having to look in the cockpit. I made this so I wouldn't need a 50% or less cockpit view while on approach in some aircraft to keep an eye on the gauges and glide slope. The Airspeed gauge was chosen because below 10,000 ft, max speed is 250 kts, and the gauge max speed is 240 Kts. It will help you monitor your airspeed below 10,000 if the gauge is pegged pass 240 kts. I also chose it because the green band ends around 160 KTS and that would be max approach speed for MOST aircraft, and the yellow band begins at 160 kts and ends at 220 kts, and those would be max speeds for most aircraft when dropping gear and flaps. So the gauge suits my purpose well. However, we all know each aircraft is specific. The AGL radar altimeter is great for flaring over the runway and cutting power, and has 5 foot increments for flawless touchdowns. It will also warn if the gear is up when the AGL kicks in. Radar Altimeter gauge is by Pierre FASSEAUX, and his read me, and all gauge documentation are included in this zip file. Nice gauge! The other gauges are default FSX Extra 300 gauges. Freeware, enjoy!
Posted Dec 3, 2015 00:54 by Rick Herring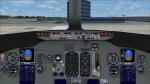 5.08Mb (1186 downloads)
FSX Boeing 737-3/4/500 widescreen 2d panel. HD image, with FSX gauges. (Also compatible with default FS2004 737-400)
Posted Nov 16, 2015 11:41 by flyitsim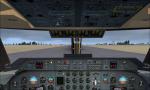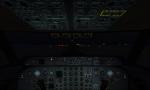 56.25Mb (1480 downloads)
I wanted to reduce some of the dummy switches mainly in the VC! So I have added a tank selector, external power, anti skid, seatbelt and no smoking (with sound), bleed valves,cabin alt, pack temperature,working fuel pumps,working starter switch, working prop deice, some new tooltips, additional annunciator messages and more. Base pack for the panel was the latest by Caltabiano Nunzio (Voyager), but i have the panel also tested with the FSX "port over" version by Milton Shupe from 2012!So it should also work with all other dash7 packs which are based on the dash7pkgx.zip upload by Milton Shupe! Please take a look in the installation file, because you must also made some changes to the aircraft.cfg to get some systems to work! Many thanks to Milton Shupe, Mike Kelly, Tom Falley, Bernt Stolle, Nigel Richards, and Scott Thomas for this great dash7 sim and Caltabiano Nunzio (Voyager) for the base pack! Only tested with FSX + Acceleration!
Posted Nov 13, 2015 22:26 by Andiroto
6.56Mb (224 downloads)
Inspired by Ismail Hakki Guezels damage mods, I have tried to get more dynamic in some An-124 systems! And I wanted some failures, which programs like FSpassenger not simulate! I have added a selfmade failure generator which is not compatible with the FSX failure system! You must refill your oil and hydraulic fluid if necessary and repair failures by your ground crew at the airports! Sometimes it can happen, that no spare part is available at station and you must fly with one generator fewer to the next airport where it can change! Or you have a higher oil consumption at one engine and the right seal is not available at station! Also,the status of some systems will be saved and later again loaded when you want to fly the next session on another day! For more info please take a look in the read me file! Tested only in FSX+Acceleration! Many thanks to Ismail Hakki Guezels and his outstanding damage mods for the inspiration and of course Thomas Ruth for this great An-124 sim!
Posted Nov 6, 2015 01:03 by Andiroto
7.52Mb (753 downloads)
Apologies for forgetting to include the Overhead Panel Night Lighting for the Boeing 767 in the original package. This package just has 2 CAB files to replace the old ones. Everything else is unchanged. There are also a couple of bug fixes related to night operations.
Posted Nov 3, 2015 00:21 by G. Munro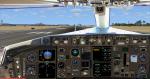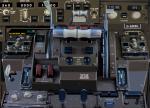 16.87Mb (3049 downloads)
(See missing gauges file above!) The Boeing 757 and 767 flight decks were almost identical. This package provides a common main panel and throttle quadrant for the two aircraft but the Overhead panel and V speeds are different. Both panels are designed for 1920X1080 hi-res monitors and will be illegible on smaller ones. There were a few bugs in the previous Boeing 757 which have been fixed in this package. They resemble as closely as possible the real flight deck.
Posted Nov 1, 2015 04:27 by G. Munro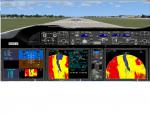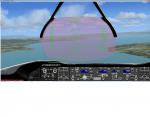 8.53Mb (4599 downloads)
This is a new panel for the Boeing 787 based on flight deck photos and the Boeing Operations Manual. It is specifically designed for FSX and 1920x1080 monitors and is unlikely to work on smaller ones. It does not work on FS2004. This panel includes a comprehensive set of Synoptic displays, a fully functioning HUD based on the Boeing specification for the 787, and all gauges are specific to the Boeing 787. V Speeds and MLWs are for the 787-8 only but the panel can be used on the 787-9 as well. It works well with the TDS model and has been tested with the FSLightman model as well.
Posted Oct 30, 2015 10:00 by G. Munro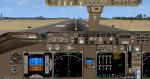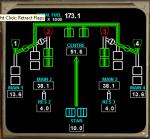 10.70Mb (3038 downloads)
This is the third version of my Boeing 747-400 2D panel but the first to have the benefit of the Boeing Operations Manual as a reference. It includes three sub-models of the Boeing 747-400: Model 109 (Passenger), Model 405 (Converted Freighter), and Model 570 (Freighter). There are upgrades to the artwork and new gauges with a new EICAS with scrolling messages. It is designed specifically for hi-res 1920X1080 screens and will not work well on smaller screens.
Posted Oct 26, 2015 22:28 by G. Munro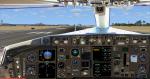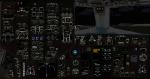 14.94Mb (1901 downloads)
This is a pretty realistic panel for the Boeing 757 which can be used for series 200 and 300 (V Speeds for series 200 only). It is designed for large hi-res screens 1920X1080 and will be illegible on smaller screens. Almost everything on all panels works and all gauges are new and specific to the Boeing 757.
Posted Oct 26, 2015 21:29 by G. Munro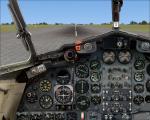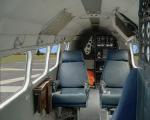 17.09Mb (1004 downloads)
Reworked version of the 2d panels for better functionality in FSX! No changes with the panels itself were made! I have added also the possibility to install fixed 2d views (No VC) and thumbnails for the texture folders! Tested only in FSX+Acceleration! Many thanks to Derek Palmer, Saverrio Maurri and Dave Booker for this great DH 104 sim, Douglas S. Dawson for his gauge, that allows additional 2D views in FSX and Danny Garnier for the sound files from his DeHavilland Comet package!
Posted Sep 11, 2015 22:18 by Andiroto