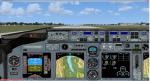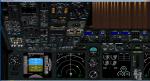 11.18Mb (5183 downloads)
A pretty fully comprehensive panel for the Boeing 737-800NG. Features include updated PFD with automatic V speeds as specified in Boeing Operations Manual, corrected radio altimeter, backlit night panels, Updated MFD with new Terrain maps and TAWS map, stunning overhead panel from a high resolution flight deck photo, and a new Throttle Quadrant similar in design to the default but updated with new graphics and new design for controls. Everything that is supposed to work does work. This panel is specifically designed for 1920X1080 screen size and should scale OK to other high-res screens. It is fully written in XML and may work on FS9 although the TAWS and terrain maps will not.
Posted Jun 18, 2015 05:01 by G. Munro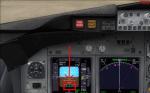 0.33Mb (2335 downloads)
This one corrects the radio altimeter reading of each aircraft, so as to display actuall radio altitude and with the correct increase - decrease sequence. With this package you are provided with an accurate Ground Proximity Warning System (GPWS) which includes Radio Altitude callouts.
Posted Jun 11, 2015 16:58 by Dimitrios Moschos
0.01Mb (962 downloads)
This is an ILS CAT II and III autoland gauge for various aircraft. Aircraft included are TDS B737NG 600, 700, 800, 900, TDS B787 (all models). Fine tuned for each one. With or without the autothrust engaged. Includes several options for ILS procedures. Published with permission from: Stefan Liebe who is the original author. Francois Dore who developed it further.
Posted Jun 11, 2015 16:30 by Dimitrios Moschos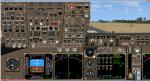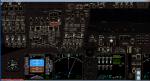 7.14Mb (2874 downloads)
Version 1 of this panel was simply an upgrade from the default panel with old gauges. This panel is a completely new panel with all new gauges including new MFD and PFD. Features include multiple CRT displays of 8 screens, almost all functions fully working, a popup ground handling panel with pushback, jetways, and individual door opening, backlight panel lighting and many more. Although this is a complex panel it is designed for the average non-pilot to get some of the flavour of large aircraft operation. It is specifically designed for 1920X1080 monitors although it should work on others but not in low resolution. It is fully written in XML so may also work on FS9 (not tested).
Posted May 17, 2015 08:29 by G. Munro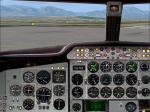 3.62Mb (1018 downloads)
Revised 2d panel for Rick Piper's HS748 updated by Stephen Browning.
Posted Apr 27, 2015 20:30 by Dave Rocholl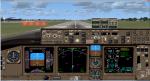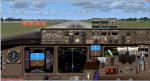 4.36Mb (3236 downloads)
This is a comprehensive Boeing 777 Panel with full functionality on almost all controls. It is designed specifically for FSX and for a 1920X1080 sized screen although it will work on other hi-res screens. Features include fully working, 13 CRT displays, detailed checklists, a neat little Ground Handling gauge giving 4 individual opening doors, Jetway, and Pushback, and detailed documentation. Although this is a fairly complex panel it can be flown quite easily and it is unnecessary to deal with all the features if not wanted. It is written entirely in XML so anyone who understands XML can see how it works and it probably should work on FS9 although this has not been tested. All of the gauges are new although the PFD and MFD are based on the default Boeing 737-800 gauges.
Posted Apr 17, 2015 21:13 by G. Munro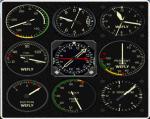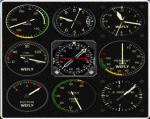 0.66Mb (1022 downloads)
The following mini-panel is great it has such a vintage sleek look and works like a charm i have listed all of the features below this is a great feature for someone who has an extra monitor to keep it up hope you like it Enjoy! Airspeed Indicator Altimeter Analog Clock Fuel Remaining Vertical Speed Indicator Torque Suction RPM RMI
Posted Mar 31, 2015 23:08 by WeFly Works Team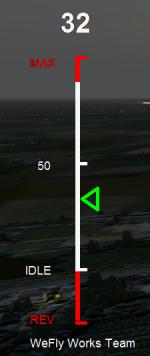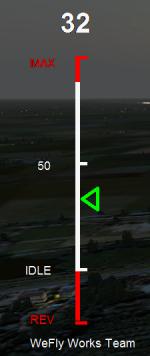 0.00Mb (1190 downloads)
The On-Screen Throttle meter will help users when there is no physical throttle quadrant available you will be able to use this module/gauge for multi-engine aircraft and work flawlessly.
Posted Mar 30, 2015 19:29 by WeFly Works Team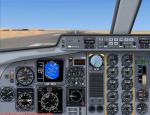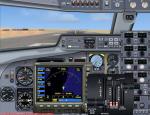 4.23Mb (1260 downloads)
Panel 2D for Fokker F-50 (or twin-engine turboprop), by Enrique Medal. Using only original fsx gauges
Posted Mar 16, 2015 16:25 by Enrique Medal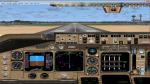 10.58Mb (1889 downloads)
This is a new panel for the Boeing 747-400 based on photos of actual flight decks and on the panel designed by Ken Mitchell in the early 2000s. Most of the more complex gauges are modified default gauges with extensive bug fixing and replacement of obsolete gauges. This panel works well with the default Boeing 747 and also with others. It is specifically designed for high resolution and will probably not work on 640X480 screens. All gauges are in XML so although it has been tested for FSX it will probably work on FS9. This panel actually works "out-of-the-box" without issues. All panel labels are also clearly readable.
Posted Feb 18, 2015 08:16 by G. Munro