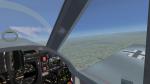 7.94Mb (843 downloads)
FSX/FS2004 VC mode for the Messerschmitt BF109E from Pierre Marchadier. (Requires Messerschmitt_BF-109EF.zip from Michael E. Roberts). This addon provides a basic VC which is matching the 2D-panel (nonfunctional gauges), weapon effects and FSX-camera views. Configuration by Erwin Welker
Posted May 28, 2014 05:17 by Erwin Welker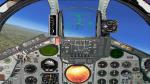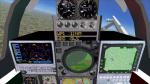 8.62Mb (1143 downloads)
FSX photorealistic Panel for MRCA Tornado. The panel provides three wingman views and comes with camera- and weapon configuration. For the DSB-Tornado there are two different load out models with VC, one for the pilot (the animation of the fuel nozzle can be watched) and one for the RSO at the rear seat. This VCs makes the DSB-Tornado fully FSX-compatibel but they don't have working gauges. Bitmaps and configuration by Erwin Welker
Posted May 23, 2014 04:26 by Erwin Welker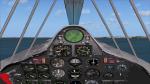 8.91Mb (431 downloads)
FSX/FS2004 semi photorealistic Panel for XF2Y-1 Sea Dart. This was the one and only supersonic seaplane in the world; only 3 pieces where buildt. Kazunori Ito's Sea Dart is fully FSX-compatibel. The VC is non functional but the texture is reworked so it is matching the 2D-panel. Bitmaps and configuration by Erwin Welker
Posted May 18, 2014 02:53 by Erwin Welker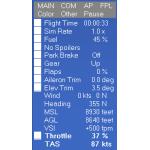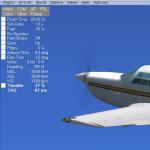 1.14Mb (1186 downloads)
On-screen text display of flight data that operates equipment and dials settings. Includes a 70-page manual loaded with info about text gauges and panels, XML examples, and tips, plus detailed info about the FSX Shift-Z feature. Ver 4.0 is a complete re-write with too many adds and fixes to list here. Now has size settings that are transferable from aircraft to aircraft. Switch between two color schemes with a single click. By Rick Federmann
Posted May 9, 2014 07:37 by Pville211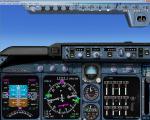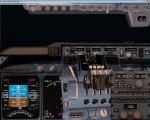 3.71Mb (1842 downloads)
Generic 2D panel (no VC) for modern four engines jet, by Enrique Medal. Use only original fsx gauges, specifically the following, which must be in the gauges folder: fs9gps.cab. All others gauges are compiled into the file jet4engX.cab (aported). This panel is an adaptation of 747-fsx's panel, and its strickly for freeware, not to be sold. (I dont know if this panel could be used in Fs2004).
Posted May 5, 2014 19:27 by Enrique Medal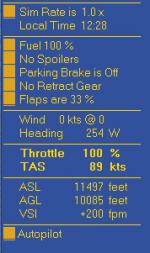 0.71Mb (900 downloads)
Display flight data as screen text. Use mouse clicks to toggle equipment and change settings within the text gauge. Single, small XML file with no framerate impact. Has manual with more than 30 pages of info about text gauges, XML examples, tips, and how to make text gauges clickable. Has full details about the FSX Shift-Z feature, including changing Shift-Z colors.
Posted Mar 30, 2014 08:45 by Pville211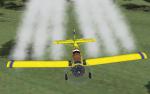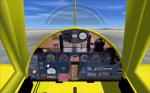 0.58Mb (568 downloads)
This fixes the VC transparancy of the Air Tractor AT-301 and the VC now matches the 2D panel. Original 2002 model by Stuart Greene, updated for FSX/FS2004 by Michael E. Roberts, new VC configuration by Michael Pook.
Posted Feb 14, 2014 12:41 by Michael Pook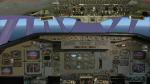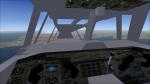 3.05Mb (4111 downloads)
FS2004/FSX Photorealistic panel for Boeing SST 2707. The 2D panel has the option to be shown with open and closed supersonic windshield. Also the VC-texture for the instrument panel of Mike Magner's version is photorealistical and enlarged for a much higher resolution as the default texture. Panel by Erwin Welker.
Posted Dec 19, 2013 13:55 by Erwin Welker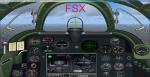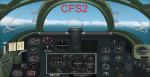 6.57Mb (2539 downloads)
This is an update to the Peter Mercy CFS2 Northrop P61B Black Widow Panel. All of the included gauges are FSX compatible, just allow all of them to run when prompted. Installation has been simplified, just copy the Effects and Modules folders into your main FSX folder, and replace the Panel and Aircraft.CFG in your Northrop P-61B Black Widow folder with these new files. As was the case before You have a 2D panel and a non-functional VC panel.
Posted Nov 11, 2013 01:18 by Michael E. Roberts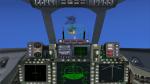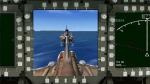 4.85Mb (1428 downloads)
FSX Panel for SHADO Sky 1 Ufo Interceptor from Kazunori Ito (1SkyDiver.zip). This fighter is based on Gerry Anderson's TV Series from the 70th "U.F.O." My addon provides a new and modernized panel for a glasscockpit with a texture for an equivalent VC. The panel provides an extra monitor view to watch the separation between the interceptor jet fighter from his transportation submarine "Skydiver". Additional thereiare nine cameras with five views especially for watching Kazunori Itos great animation for the separation. Weapon effects for four cannons and two multible rocket launchers for intercepting Ufos are configured. Configuration by Erwin Welker
Posted Oct 24, 2013 06:08 by Erwin Welker