20.07Mb (344 downloads)
FSX Kent State University Cessna 172. A repaint of the payware A2A Simulations C172 trainer in Kent State University livery.
Posted Sep 5, 2013 15:46 by Bob Jim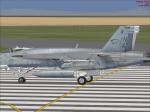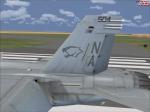 1.85Mb (167 downloads)
VAQ-139 Cougars LINE textuires only for the payware VRS Superbug. Hornet202
Posted Sep 5, 2013 14:58 by Christopher Hammons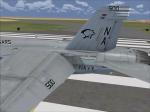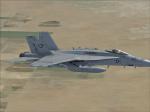 1.85Mb (205 downloads)
The current CAG for the VAQ-139 Cougars. Requires the payware VRS Superbug. hornet202
Posted Sep 4, 2013 10:16 by Christopher Hammons
16.91Mb (1827 downloads)
Aerolinea de Antioquia is a regional airline with its headquarters on the property of Olaya Herrera Airport in Medellin, Colombia. The airline operates scheduled domestic services from Medellin to over 20 destinations. Its main base is Olaya Herrera Airport. Dedicated to Juan Carlos Mejia who has more 19000 hours in twin otter . Textures in dds format for the payware Aerosoft Twin Otter Extended model. Repaint by: Manuel Jose, Contact Ground. Happy flights.
Posted Aug 31, 2013 16:26 by Manuel Jose Larrahondo Burgos
0.00Mb (414 downloads)
Payware AlphaSim/Virtavia Yak-52 fuel fix. Those of you flying this neat FSX radial trainer may have noticed two problems associated with fuel: first is that the fuel gauge in the VC does not work, and second is that the engine quits due to fuel starvation after about 40 minutes of flight at cruise power setting. Turns out that V/AS got the fuel load and location correct, but mapped the gauge to the wrong fuel tank data source. The attached "aircraft.cfg" file corrects that error, and brings the fuel gauge to life. While I was at it, also modified fuel burn rate to give approximately correct endurance. To install, first backup your current "aircraft.cfg" file in your "SimObjects/Airplanes/ALPHA Yak-52" folder just in case, then unzip this new "aircraft.cfg" file into the same location.
Posted Aug 28, 2013 17:44 by Toby Wills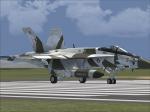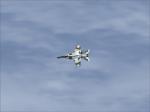 1.92Mb (609 downloads)
Textures for the payware VRS Superbug in VFC-12 Camo scheme for 2013. Enjoy Hornet202
Posted Aug 28, 2013 13:19 by Christopher Hammons
5.59Mb (325 downloads)
BAE IPA6 Warton AFB (UK) textures only for the payware Justflight Eurofighter Typhoon. This aircraft tests new computer systems enjoy.
Posted Aug 27, 2013 12:58 by John Butler
11.87Mb (965 downloads)
Real German repaint for the Carenado Cessna T182T in the livery of D-EZAB
Posted Aug 25, 2013 03:13 by Gerold Goetz
5.40Mb (322 downloads)
German Air force JG 74 Bavarian Special Livery textures fopr the payware Justflight Euro Fighter Typhoon. Using Photo real tail section The quality is amazing but the only downside guys/girls is that I could only find a quality right side so I had to paste it onto the left side and the text is back to front on the left side I was going to change it with a left side but quality was poor so I have left it Still hope you enjoy it and appreciate what I make for you guys and girls :)
Posted Aug 24, 2013 06:24 by John Butler
5.73Mb (188 downloads)
Textures only for the payware Justflight Euro Fighter Typhoon - Spanish ALA 11 C16-41 Livery.
Posted Aug 19, 2013 18:44 by John Butler