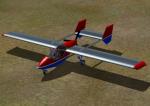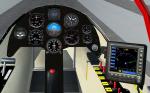 16.95Mb (2737 downloads)
This is the complete Sadler Vampire that was created by Byron Warwick, updated so that the gauges and GPS are functional in FSX. Also includes new a new red, white and blue paint scheme. Update and repaint by Rick Federmann (Pville211)
Posted Nov 17, 2012 16:48 by Pville211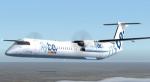 28.40Mb (8958 downloads)
Dreamwings's magnificent Dash 8-Q400 in Flybe livery in 7 variations of Flybe's Dash-8s. Textures by Billy Rutherford. Uses the default Lear 45 2d panel. No VC.
Posted Nov 11, 2012 10:43 by RyanID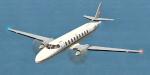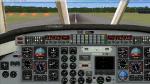 3.82Mb (2987 downloads)
The Fairchild C-26 is the military version of the SA-227. This twin turboprop has been introduced in 1972 and more than 600 units have been constructed. Original model by Mike Stone. Textures, adaptation to FSX and wide screen panel (no VC) by Philippe Wallaert. Credits: Mike Stone for the original model. See instructions for installation in the readme.txt file. Enjoy!
Posted Nov 7, 2012 03:38 by Philippe Wallaert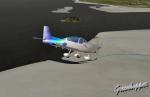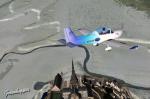 1.57Mb (294 downloads)
This is a fictional repaint for FS9/FSX freeware APM lionceau BY Eric Dantes. (Textures only). This repaint is a tribute to Mount Saint Michel Bay, its inhabitants and especially to those familiar with the Aeroclub of Val Saint Pere. It's name is a private joke about the song 'Big Jack' by ACDC between my son and me...
Posted Nov 4, 2012 12:40 by Greenhopper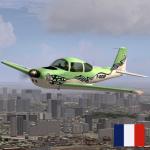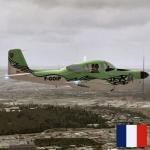 3.29Mb (1052 downloads)
Textures for the freeware FSX Aero Commander-Meyers 200D BY Tim Conrad.
Posted Nov 1, 2012 15:09 by Greenhopper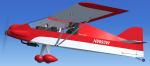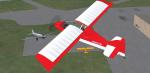 3.04Mb (332 downloads)
FSX Green Sky Adventures Zippy Sport repaint textures in red and white for the fun flying Craig Richardson freeware Zippy Sport, which you must have previously installed in FSX. Screenshots enclosed. Easy installation. By Tom Tiedman.
Posted Nov 1, 2012 08:00 by Tom Tiedman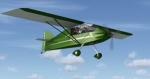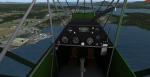 7.42Mb (1943 downloads)
The Zippy Sport is a single-seat, high-wing monoplane powered by a 50hp (37 kW) Rotax 503 piston engine. Of mixed construction (metal, wood and fabric), it has a fixed tail-dragger landing gear. The aircraft is available in the form of plans for amateur construction. The two prototypes which first flew in 1986 was used as a test bed for Rotax engines. Full animations, 3D gauges and Baked Textures. By Craig Richardson @ www.Classicwings.net
Posted Nov 1, 2012 06:38 by uploader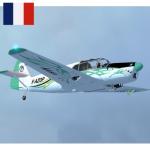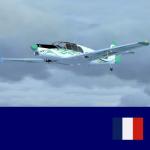 4.49Mb (682 downloads)
Fictional repaint for the FSX freeware Messerschmitt Me 108 Taifun BF1 BY Guenter Kraemer. Textures only. Adaptation of Guenter Kraemer's texture by Greenhopper
Posted Oct 31, 2012 13:00 by Greenhopper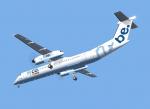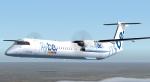 19.20Mb (1569 downloads)
A repaint of the Dreamwings Dash 8-Q400, in Flybe livery. Flybe is Europe's largest regional airline, with over 180 routes to 65 EU airports. It operates 47 Q400s. There's two liveries, the G-ECOD and G-JECV "The Pride of Mann". Aircraft included, default Learjet 45 panel. No VC. FSX only. Textures by Gabriel McManus and Billy Rutherford.
Posted Oct 31, 2012 11:26 by RyanID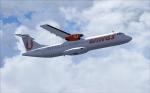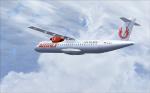 19.93Mb (12003 downloads)
iSDT ATR 72-500. Wings Air is a commuter carrier of Indonesia, a subsidiary of Lion Air. It currently operated 17 ATRs with 42 on order(mixed between -500s and -600s). Aircraft included with default Learjet 45 panel. Livery by Joe Tan. FSX ONLY
Posted Oct 30, 2012 13:11 by RyanID