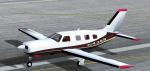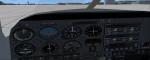 2.68Mb (4751 downloads)
This is a Piper Mirage for FSX. This 500 horsepower, turbocharged piston engine aircraft is capable of 212 knots / 243 Mph cruise at 25,000 feet. Complete night lighting in both cockpit modes. The virtual cockpit is custom made to give a 3 dimensional look to the gauges and instrumentation. All gauges are from FSX aircraft. The paint job is reflective giving the aircraft a beautiful luster. Includes a custom sound package. This aircraft just screams power. Includes a custom checklist. Update by Rick Herring. Original model by Chuck Dome.
Posted Jan 4, 2015 01:19 by Rick Herring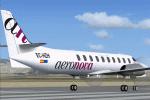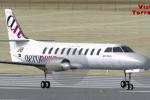 0.89Mb (323 downloads)
Aeronova, (New livery) Spanish air carrier services creation liner, air taxi, medical, cargo and pilot school. This is a repaint for Mike Stone's Metro III (metro23.zip).
Posted Jan 3, 2015 09:01 by Juan Villamor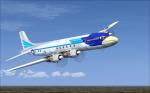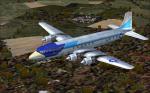 10.66Mb (561 downloads)
I adapted the textures made by Maarten Brower for the JBK DC-6-model for the use on the finer (as i think) model by Greg Pepper. It shows one of the most famous Douglas-aircraft: "The Independence", named after the hometown of President Harry S. Truman. It served from 4 July 1947 on as a presidential aircraft till 1953.
Posted Jan 3, 2015 07:47 by Hartmut Hekmann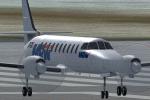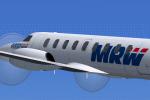 0.62Mb (269 downloads)
MRW Spain, Urgent transport for domestic and international shipments with greater implantation. The Group performs an average of 40 million annual shipments, providing specific business solutions for all types of businesses and individuals. This is a repaint for Mike Stone's Metro III (metro23.zip).
Posted Jan 3, 2015 00:32 by Juan Villamor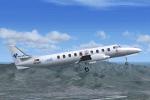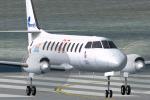 0.75Mb (276 downloads)
CanaryFly, We are a young but well experienced in the world of air transport and passenger services Canary company. All equipment CanaryFly compose professionals with extensive experience in the transport and aircraft operations. This is a repaint for Mike Stone's Metro III (metro23.zip).
Posted Jan 1, 2015 11:27 by Juan Villamor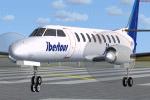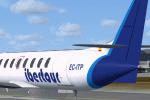 0.89Mb (358 downloads)
Ibertour textures for Mike Stone's Metro III adapted for FSX. Ibertour was founded in 2003, began operations as a Spanish company aerial work, cargo and passengers. On 10 February 2011, a Fairchild SA 227-BC Metro III registered EC-ITP, was operating a scheduled commercial air transport flight from Belfast City (EGAC) to Cork (EICK) with 2 Flight Crew members and 10 passengers on board. At 09.50 hrs during the third attempt to land at EICK in low visibility conditions, control was lost and the aircraft impacted the runway. This is a repaint for Mike Stone's Metro III (metro23.zip).
Posted Jan 1, 2015 08:55 by Juan Villamor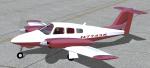 0.90Mb (1287 downloads)
This is an FSX Piper Seminole converted to fly in FSX from FS 2002. There is a virtual cockpit as well as a standard cockpit with red night lighting effects in both. The aircraft is capable of beautiful hands free autopilot takeoffs with half flaps and the default rate of climb used. I have included Icons for popups that include, throttle, radios, GPS, compass, ATC, and the Kneeboard which includes a custom checklist. The aircraft has been repainted with a brilliant sheen of deep maroon and white as well as a bureau number change. Original model by Chuck Dome. Uses all default FSX gauges within the reworked virtual cockpit. The autopilot works well with Vor and GPS. Public domain as set forth in the read me file located within the aircraft folder. Update by Rick Herring
Posted Dec 31, 2014 21:36 by Rick Herring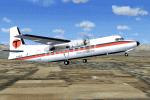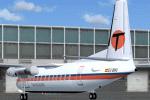 0.35Mb (871 downloads)
Trans-European Aviation Company of SA was founded in July 1965 and started operating two months later on charter flights from its base in Palma de Mallorca. Following an economic crisis in 1979 was acquired by the Spanish State, through the National Institute of Industry receiving six Fokker 27 for short-range flights Iberia and Aviaco. Repaint for his EC-BMU registration. It is for Fsx. Needed F27 Mk 600 Mike Stone
Posted Dec 29, 2014 10:56 by Juan Villamor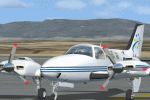 1.37Mb (632 downloads)
Adventia (Spain) taught all their courses according to the European Standard JAR-FCL and is itself an ATO School (Approved Training Organization) approved by the State Agency for Aviation Safety (E-ATO 230). Adventia not really have any B58 but the King C90, B55 and Bonanza including among others training aircraft, so this is a fictional repaint for registration EC-COA.
Posted Dec 26, 2014 04:08 by Juan Villamor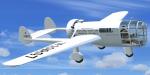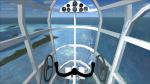 1.69Mb (1715 downloads)
Abrams P-1 Explorer by Dennis Simanaitis modified to work in FSX (Acceleration) All credits go to the original makers
Posted Dec 24, 2014 19:30 by Raoul de Miranda