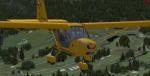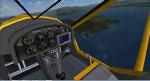 9.27Mb (1947 downloads)
Aeroprakt A-22 Foxbat. The A-22 'Foxbat' is available as a Ready-To-Fly factory built aircraft or as an advanced kit. Building time for the kit is 300 to 500hrs. Designed by former Antonov design engineer, Yuri Yakovlev , the A-22 is one of a line of many aircraft produced by Aeroprakt in the Ukraine. Construction is aluminium with some parts of the wing and control surfaces covered with Ceconite. The A-22 is powered by the reliable Rotax 912 or 912S engine, and the 3-blade composite ground adjustable propellor from KievProp is very quiet. A cabin width of 120cm (128cm at the elbows) ensures ample room for pilot and passenger. As a comparison, the cabin with of a Cessna 172 is 100cm and a Jabiru SP is 97cm (107cm at the elbows). Transparent doors with convex sides allow for excellent downward visibility. The instrument panel has room for a generous instrument layout. Dual controls are standard with options of either conventional control yokes or a centre stick. A centre stick with a "Y" grip is also available. Basic VFR flight and engine instruments are included with the ready-to-fly aircraft. A stall speed of 50kph (30mph) using the full span flapperons puts the A-22 safely into the microlight category. The all round visibility from the A-22 is spectacular. The aircraft has a baggage compartment that allows up to 20kg to be carried.
Posted Jan 2, 2013 13:57 by uploader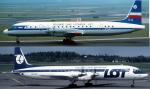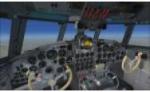 79.57Mb (5341 downloads)
Ilyushin Il-18 LOT (Polish Airlines) twin package, mid 70's and mid 80's liveries. Using Edgar Giunart's great IL-18 with VC, Tested in Windows 7 Acceleration SP1 SP2. Repaints by Stephen Browning
Posted Dec 31, 2012 10:11 by Stephen Browning

2.48Mb (1803 downloads)
FSX SP2 - A.I. Cessna 208B Grand Caravan - Regional Air Services Tanzania [ Parent company Air Kenya ] Complete Model
Posted Dec 31, 2012 10:05 by Repaint by Bashir Ismail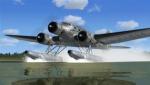 148.54Mb (4124 downloads)
The AVIA 57 Float Plane for FSX as Portover - VERSION 1.0 FSX Portover Updates Included and Installed for You. *** by Milton Shupe, Nigel Richards, John Smith, and James Banks with help from SOH members. Our gratitude goes out to several very helpful and interested Czech Republic aircraft enthusiasts who were instrumental in discovering rare information that was key to the design quality. Pkg incl one Aircraft (Passenger / Cargo) with custom flight model and features era panels and gauges, easy-to-read clickable virtual cockpits, elegant cabin interiors, and beautifully crafted thematic exterior textures. Authentic Radial Custom sounds included with thematic variants. Special thanks to Bill "Lionheart" Ortis for use of the pilot figures. This is the last in the series of Avia aircraft we have done. They are the Avia 51, 156, 56, and 57, all original Czech designs by Robert Nebesar.
Posted Dec 30, 2012 17:51 by Milton Shupe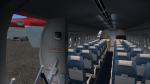 2.99Mb (1603 downloads)
FSX added views for the DHC Dash-7 from Milton Shupe. The cameras provide 4 external-, 3 cabin- and 4 cockpit-views. Configuration by Erwin Welker.
Posted Dec 27, 2012 13:04 by Erwin Welker
2.21Mb (316 downloads)
FS2004/FSX. This is a repaint in Polish Border Forces colours of Tim Conrad's wonderful AN-2V 'annushka' floatplane. These are textures only. Requires file AN-2VPPP.ZIP
Posted Dec 26, 2012 22:42 by Enrique Medal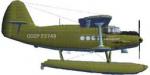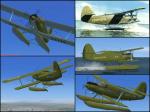 2.16Mb (317 downloads)
FS2004/FSX. This is a repaint in CCCP's Aeroflot colours of Tim Conrad's wonderful AN-2V 'annushka' floatplane. These are textures only, based in an old Aeroflot's colored postcard (I didn't find more pics of this aircraft). Requires file AN-2VPPP.ZIP
Posted Dec 26, 2012 20:01 by Enrique Medal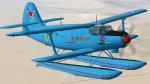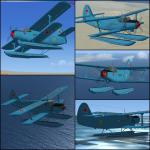 2.45Mb (337 downloads)
URSS Navy colours repaint for AN-2V Floatplane. FS2004/FSX. This is a repaint in URSS Navy colours of Tim Conrad's wonderful AN-2V 'annushka' floatplane. These are textures only.
Posted Dec 25, 2012 22:29 by Enrique Medal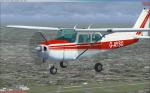 5.74Mb (645 downloads)
Default Cessna 172 Coventry Aeroplane Club Textures. As flown from Coventry Airport (UK) in the 1970's & 1980,s.
Posted Dec 24, 2012 07:24 by Peter Russell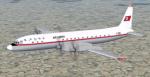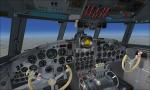 62.19Mb (5493 downloads)
Air Koryo (North Korea) Ilyushin IL-18 with clickable virtual cockpit (VC). Air Koryo is the national airline of North Korea, and is one of the few airlines still operating the classic Soviet IL-18. This package allows you to experience a realistic aircraft/airline combination that is still in use today. Entire aircraft included. Excellent model by Edgar Giunart. Air Koryo repaint by kilocharlie1.
Posted Dec 24, 2012 05:50 by kilocharlie1