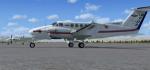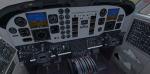 41.46Mb (10441 downloads)
ISDT Beechcraft Kingair 200 package with VC for FSX and P3D. The website isdt is no longer available and the files are now widely distributed. I had previously downloaded this file from isdt. Original docs included. I have found textures only for this aircraft in simviation but the link to the required file is dead. So here it is folks! I can find no way to contact Max .M or (ISDT team) or the website www.isdt-israel.com but all credit goes to them for the aircraft model and textures and credit for the added VC by Joao "Muas" Martins.
Posted Jan 17, 2013 01:19 by Chris Evans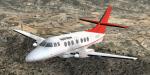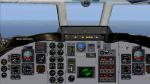 5.92Mb (4740 downloads)
The Jetstream 32 is a twin turboprop and has been developped from the Jetstream 31 with a longer overhaul and more power. It has been launched in 1982 and 386 units have been produced. Original aircraft by PAD and J-P Brisard. Textures, adaptation to FSX, wide screen panel and VC by Philippe Wallaert. See instructions for installation in the readme.txt file. Credits: Premier Aircraft Design and J-P Brisard for the original model. Enjoy!
Posted Jan 15, 2013 03:23 by Philippe Wallaert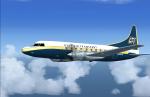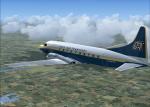 1.41Mb (454 downloads)
FS9/FSX Convair 580 Gulf Air Transport textures. Requires Convair 580 aircraft by Greg Pepper. Textures by Gary Harper
Posted Jan 15, 2013 00:17 by Gary Harper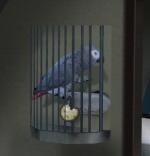 3.55Mb (829 downloads)
Avia 57 FSX Model Updates FSX Models Updates Only FSX users have transparency issues on the rear cockpit wall where the parrot cage is. This issue affected the wheeled version of the Goodman Bush model and the float version. These two replacement models can simply drop into your Avia57 and Avia 57 Float folders to replace your existing model folders. Model. Bush is for the wheeled version. Model. Cargof is for the float version, original filename = Avia57fxPkg.zip.
Posted Jan 11, 2013 19:32 by Milton Shupe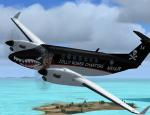 2.83Mb (1329 downloads)
Textures for the FSX default King Air 350. I've found a lot of repaints that are way too serious, so I had to do one that wasn't serious at all.
Posted Jan 11, 2013 06:47 by Brian Z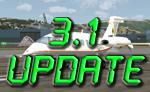 15.94Mb (5311 downloads)
This is a minor update to for the FS-X/P3D version of the P-180 V3.0. It contains optional bugfixes and improvements for: - Misbehaving clickspots: altitude selector now is only +-100ft, easily operable via mouse wheel. - Missing Recognition light effect: the file was mistakenly not included in the 3.0 release - lowered ITTs: for better hot climate behavior; now only very (very) hot days cause problems. - passenger removed form cabin - Heading indicator/gyro now automatically synchronizes periodically. - loading time reduced: CAB gauge is now packed properly - Autopilot ALT Mode misbehavior: this function now performs as intended. + High-resolution cabin & cockpit textures. FS-X/P3D ONLY edition!! (There is a FS-2004 edition as well)
Posted Jan 9, 2013 14:33 by Mario Noriega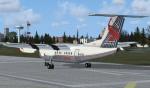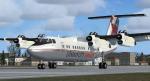 7.11Mb (1522 downloads)
de Havilland Canada DHC-7|London City Airways G-BOAX texures. Date: 01/09/2013 Author: Mike Kelley Livery Description: London City Airways was a former British airline which was founded in 1986 by British Midland to operate services from London City Airport. The company was originally known as Eurocity Express. The airline was closed in 1990 following sustained financial losses. Required base aircraft - File name: (Dash7PkgX.zip)
Posted Jan 9, 2013 12:40 by Milton Shupe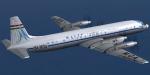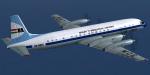 2.67Mb (595 downloads)
Fixed textures for the Il18 Malev passenger and Malev Air Cargo versions.
Posted Jan 9, 2013 06:24 by T.Feri

6.58Mb (441 downloads)
Textures only for the Milton Shupe De Havilland Canada Dash 7 package. This aircraft is used to fly Tourists on charter and schedule services domestically and to the National Parks. Requires file dash7pkgx.zip
Posted Jan 6, 2013 12:06 by Bashir Ismail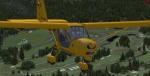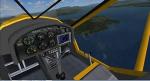 9.27Mb (5339 downloads)
Aeroprakt A-22 Foxbat. The A-22 'Foxbat' is available as a Ready-To-Fly factory built aircraft or as an advanced kit. Building time for the kit is 300 to 500hrs. Designed by former Antonov design engineer, Yuri Yakovlev , the A-22 is one of a line of many aircraft produced by Aeroprakt in the Ukraine. Construction is aluminium with some parts of the wing and control surfaces covered with Ceconite. The A-22 is powered by the reliable Rotax 912 or 912S engine, and the 3-blade composite ground adjustable propellor from KievProp is very quiet. A cabin width of 120cm (128cm at the elbows) ensures ample room for pilot and passenger. As a comparison, the cabin with of a Cessna 172 is 100cm and a Jabiru SP is 97cm (107cm at the elbows). Transparent doors with convex sides allow for excellent downward visibility. The instrument panel has room for a generous instrument layout. Dual controls are standard with options of either conventional control yokes or a centre stick. A centre stick with a "Y" grip is also available. Basic VFR flight and engine instruments are included with the ready-to-fly aircraft. A stall speed of 50kph (30mph) using the full span flapperons puts the A-22 safely into the microlight category. The all round visibility from the A-22 is spectacular. The aircraft has a baggage compartment that allows up to 20kg to be carried.
Posted Jan 2, 2013 14:41 by uploader