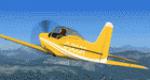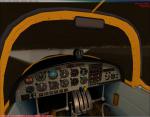 1.27Mb (429 downloads)
Two repaints (G-BVDP & G-CCOR); textures only. Two liveries for the original source file design by Chris Lampard modified and improved with an animated 3d VC By Massimo Taccoli.
Posted Jan 21, 2014 14:07 by Enrique Medal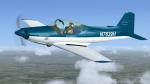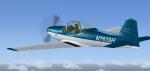 6.76Mb (454 downloads)
FSX Falco F.8L repaint textures for a blue and white Sequoia Aircraft experimental kit built F.8L registered as N7639H. For the freeware Massimo Taccoli Falco F.8L (Falco_F8L_FSX.zip) which you must have previously installed in FSX. Screenshots enclosed. Repaint by Tom Tiedman.
Posted Jan 21, 2014 05:11 by Tom Tiedman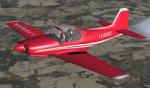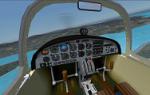 6.07Mb (3194 downloads)
Falco is an italian built low-wing light aircraft designed by the late Ing. Stelio Frati. It flew for the first time on june 15, 1955 was built by Aviamilano in two different series the I powered by a 140hp and then after ten machines built switched to series II with a 150 hp Lycoming o-320-A. The manufacturing licence was then acquired by Aeromere S.p.A who produced a version named F-8L America basically similar to the series II. Further development on the basic design and the introduction to the 160 Hp engine resulted in the current model the Super Falco which was manufactured by the Laverda S.p.A. and is made of composite materials. Full package for FSX, model, custom panel and 3D VC, Two liveries. Original source file design by Chris Lampard modified and improved with 2D panel and a working 3d VC By Massimo Taccoli, Flight Dynamics made by Dennis G. Seeley.
Posted Jan 16, 2014 10:25 by Massimo Taccoli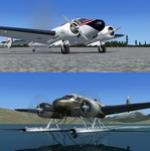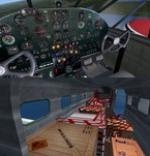 127.41Mb (8636 downloads)
Beechcraft D18 S wheeled / amphibian / amphibian passenger / float / cargo versions, in standard and BFU Bush Flying Club textures. Model by Milton Shupe, Scott Thomas and Andre Folkers. This file was uploaded by anon but had issues. Fixed by request by Danny Garnier.
Posted Jan 15, 2014 03:31 by palyarmerc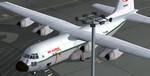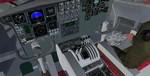 21.47Mb (8964 downloads)
C130 Hercules v2 Air Algerie Cargo package. Includes C130 sounds and VC. Original model by Alphasim
Posted Jan 14, 2014 08:40 by Rafikpilote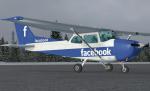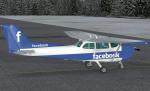 0.53Mb (1013 downloads)
Social media site 'Facebook' textures for the default FSX Cessna 172
Posted Jan 11, 2014 04:47 by Uploader

0.10Mb (1438 downloads)
Additionnal views ( defined by camera definitions in the aircraft.cfg file ) for the "FSX DeHavilland Dash 7 Ice Recon package". By Milton Shupe, Scott Thomas, Mike Kelly, Bernt Stolle, Tom Falley, and sounds by Nigel Richards. 4 virtual cockpit views and 9 external cameras pointing at the aircraft. See readme.txt for very easy installation procedures. Enjoy !
Posted Jan 2, 2014 09:36 by Marc Renaud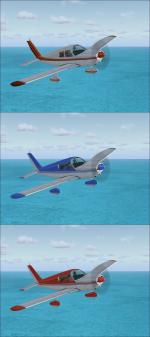 13.51Mb (1978 downloads)
As the title says, this is a flyable version of the default FSX Piper PA-28 Cherokee that I created using the default models and textures. The package uses the default Mooney Bravo 2d panel (no vc) and sounds. The aircraft comes in three liveries, horizon, blue and red.
Posted Jan 1, 2014 19:54 by Mitchell Green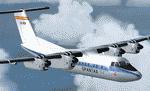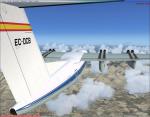 4.53Mb (935 downloads)
Textures only for De Havilland Canada Dash 7 Spantax (Spain, 1978-1981). Requires Milton Shupe's Dash 7
Posted Jan 1, 2014 13:18 by Enrique Medal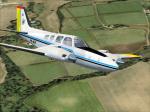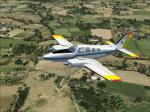 4.50Mb (1091 downloads)
Textures for the default Beech Baron 58 FSX with STPI Curug Flying School livery. Indonesia most famous civil aviation institute, STPI Curug Flying School provided by a lot of training aircrafts like Piper, Tobago, Bell Jet Ranger and Beech Baron for the studets who studied there. Enjoying the day of training to build your skill in flying and aeronautics. Texture created by Tubagus Hardika.
Posted Dec 30, 2013 18:05 by Gizz