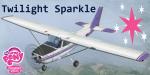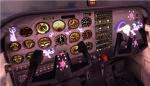 3.48Mb (704 downloads)
This is a Twilight Sparkle texture pack for the default FSX Cessna C-172SP. Textures include new decals and a custom "Twilighlicious" interior. Based off of Hasbro's My Little Pony Friendship is Magic series. Textures By: Fay "Twitchy" Cheung
Posted Oct 6, 2012 05:36 by DanielA.B.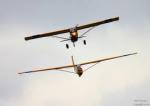 12.55Mb (2209 downloads)
Royal Canadian Air Cadet Package consisting of Wolfgang Piper's Schweizer SGS 2-33A and the LIC (Long Island Classics) Bellanca Scout, repainted by Taylor Giannelia
Posted Oct 1, 2012 20:14 by Taylor Giannelia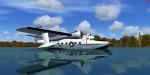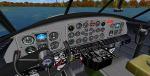 36.07Mb (6277 downloads)
Grumman HU-16 Albatross by Greg Pepper and Michael Verlin: Originally built for FS2004 has now been fully upgraded for FSX, It comes with the following liveries International Marine Science Expedition, Woods Hole Marine Research, The Expendables,US Navy Utility and US Coast Guard 1951. It is sporting a modern panel based on the Baron 58 and Grumman Goose default with FSX. There is a working 2D panel and functioning 3D panel. Along with the base panel you also have the extras, G.P.S., Radios and autopilot. Then I put in extra effects to make your flight more enjoyable, Extra smoke on engine 1 start-up, contrails on the wing tips, and flaps have vortices when in the down position, you will find engine exhaust smoke when the throttles are at 60% or greater.
Posted Sep 27, 2012 07:32 by uploader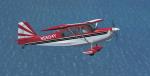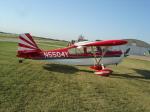 2.97Mb (617 downloads)
Textures only for Long Island Classics Decathlon in N5504Y livery. The real one is stationed at Wellington Kansas. I took pictures to paint up at the monthly fly-in in Ponca City,OK. Works in fsx and 2004 versions.
Posted Sep 23, 2012 13:13 by Lloyd Horton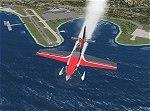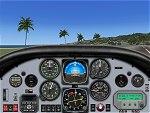 41.05Mb (4714 downloads)
The ARX-5X (Concept 5) is a single-seat unlimited category aerobatic aircraft built around the 495c.i. 600hp Trace-Orenda OE600 V-8 aircraft engine and designed specifically for freestyle airshow type aerobatics. Version 2 has a totally new airfile and flight dynamics and the plane can easily handle compulsory competition maneuvers as well as more advanced gyroscopic maneuvers such as lomcovaks and tumbles. The ARX-5X cruises around 200kts, with a never-exceed speed of 240kts. This FSX native model contains animations, reflections, environment mapping, spec mapping and a full dynamic virutal cockpit. Although it is not a real aircraft it does have several real-world components such as the Chelton Fligh Systems EAU (engine airdata unit) display, and a Hartzell "scimitar" swept blade propeller. This release is not a quick & dirty update simply "ported" into FSX, it is a full FSX rebuild by the original authors, compiled with XtoMDL and conforming the FSX SDK using dds textures and new modeling techniques for the best overall end-user performance. Includes 2 configs, 7 models, and 20 schemes with a custom smoke system and night time pyrotechnic effects. Aircraft, effects, and panel by Jason L. Terry and Mike VIvaldi. Aditional Skins by Brady Duros and Joshua B. Nyhus. This is a Version 2.1 update from the original authors, it includes cripser DDS-888 textures and a Windows 64-bit friendly envmap.
Posted Sep 21, 2012 07:53 by Jason L. Terry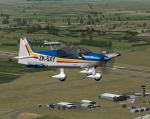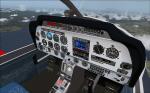 9.15Mb (6176 downloads)
The Alpha 160A is an all metal, aerobatic trainer with a 160 hp Lycoming O-320-D2A engine. The aircraft was originally designed and built by Avions Robin in France but in 2004 production moved to Alpha Aviation in New Zealand. Full package for FSX/SP2 with custom panel and VC and fully animated parts. Garmin GNS430 avionics. Full avionics documentation included, together with aircraft check and ref lists. Three real life liveries included from Great Britain and New Zealand painted by Stephanie Lawton. The package also includes upgraded panel and VC by Ed Wells. Great fun for aerobatics or general flying. By Jean-Pierre Brisard and Bob May - Premier Aircraft Design.
Posted Sep 19, 2012 18:53 by BoB May (PAD)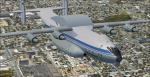 0.00Mb (2032 downloads)
I would like to apologies for my over sight in the lack of steering and braking when I uploaded the AN-8. This is a replacement Aircraft CFG. Just delete the original Aircraft CFG file and replace it with this one and the plane will handle great on the ground as well as in the air.
Posted Sep 19, 2012 18:31 by Michael E. Roberts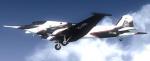 4.97Mb (1311 downloads)
FSX Basler BT-67 Spectrem The "Spectrem" Basler BT-67 is a single specially modified aircraft used world- wide for electromagnetic geophysical exploration. It is operated by Spectrem Air Ltd of Johannesburg, South Africa. The company claims that in over fifteen years of service ZS-ASN has flown in excess of 1,500,000 kilometers with a perfect safety record. FSX model by Manfred Jahn, paint by Daniel Fuernkaess.
Posted Sep 19, 2012 10:50 by uploader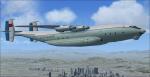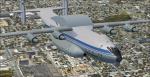 11.41Mb (4750 downloads)
I compiled Mehlin Rainer's Antonov An-22 Antheus for AI traffic set. I added V.Zhyhulskiys' An-12 2D panel and sound. And replaced the air file with Dimitri Samborski's Antonov An-22 Antheus air file and based the CFG on it as well . There are nine different aircraft: 1 Aeroflot, 2 Glass nosed types (no Livery), 2 Round nose types (no livery), 1 Antonov demonstrator, 1 Antonov International Transporter (Antonov Airlines) and 2 Antonov special lift extensively modified aircraft. No Vc panel.
Posted Sep 19, 2012 03:16 by Michael E. Roberts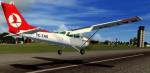 4.02Mb (1046 downloads)
Turkish Airlines textures for the default Cessna 172 Skyhawk SP. (new 2012)
Posted Sep 17, 2012 11:18 by Serdar Kalayci