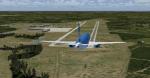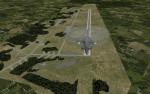 24.02Mb (340 downloads)
Russia Omsk region airports : UNOC-Chapayevo, UNOF-Omsk (Fedorovka), UNOS-Omsk (Severniy), XNOM-Omsk (Mar'yanovka), ZC20-Tyukalinsk, ZCA2-Sedel'nikovo, ZDL5-Omsk (Kobra), ZEB3-Omsk (Kamyshino), ZEJ9-Kolosovka, ZES6-Bol'shiye Uki
Posted Jan 30, 2015 14:04 by Andrey Anta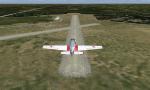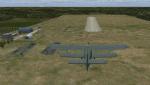 26.49Mb (307 downloads)
Russia-Novosibirsk region HB7G-Bezmenovo, HB9Z-Kochki, HBD3-Maslyanino, HC1I-Berdsk (Yuzhniy), UNCN-Krasnozerskoye, UNCX-Karasuk, UNNM-Mochische, UNNP-Pikhtovka, UNNS-Severnoye, UNRD-Dovol'noye, XNNB-Berdsk (Tsentral'ny), XNNK-Kupino, XNOR-Chistoozernoe, ZA3C-Evsino, ZC9F-Kundran, ZD79-Kochenevskiy, ZE5H-Novolokti, ZE5J-Sharchino, ZEG5-Tatarsk, ZEK2-Reshety
Posted Jan 18, 2015 16:54 by Andrey Anta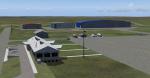 4.42Mb (390 downloads)
Lake Simcoe Regional CYLS for FS9 / FS2004. This is a self-contained package for the Lake Simcoe Regional Airport in Ontario, Canada, just north of the city of Barrie. I made it as similar to what I saw there in the summer of 2014. The airport is very antiseptic, extremely clean, no junk accumulated anywhere, so that is the way it looks in this scenery. I have changed the ICAO designation to CYLS from the FS9 original designation of CNB9. However, without editing the native files of FS9, it is impossible to make the old CNB9 disappear completely. Well, visually, the old airport is completely gone, but it still shows on the map and GPS, with CYLS right on top of it. Without changing the FS9 internal files, that is a small price to be paid. Please note that the default scenery surrounding the airport is very poor in autogen towards the East and South-East. This was not my doing - You can check the default before you install this package. This scenery is for completely free distribution only but, other than that, I don't care what you do with it: Just don't sell any of it. If you want the objects, I will be glad to send the gmax files to you. Installs like a normal add-on area. Made by Fern Marques in January 2015.
Posted Jan 10, 2015 11:59 by Fern Marques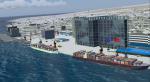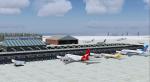 3.66Mb (494 downloads)
This is a little extension for the great Stamar Ice Base Scenery from 2005 by Stanislaw Drzewiecki. For this enhancement you need the payware program LAGO Enhancement and parts of the freeware program Runway12 Object Placer. Addition by Ingo Schwan
Posted Jan 4, 2015 01:26 by Ingo Schwan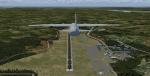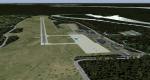 61.54Mb (542 downloads)
Russia-Tomsk region HBE4-Napas, HBO9-Prokhorkino, HBZ8-Tymsk, HC0B-Ust'-Tym, UNCK-Kedroviy, UNIZ-Kataiga, UNLA-Druzhniy, UNLB-Kievskiy Egan, UNLD-Kurolino, UNLF-Ust'-Chizhapka, UNLG-Kurzhino, UNLI-Molodezhniy, UNLK-Kargasok, UNLL-Kolpashevo, UNLM-Sredniy Vasyugan, UNLP-Parabel', UNLQ-Belyi Yar, UNLR-Negotka, UNLS-Stepanovka, UNLW-Nov.Vasyugan, UNLZ-Makzyr, UNSA-Aleksandrovskoye, UNSN-Novikovo, UNSP-Pionerny, UNSS-Strezhevoy, UNTB-Bakchar, UNTT-Tomsk Bogashevo, XNNG-Tomsk Golovino, ZD2V-Kolbinka, ZDG6-Ozernaya, ZE0Y-Beregayevo, ZE10-Teguldet, ZE11-Turuntayevo, ZE12-Tuyla, ZE1F-Baturino, ZE1H-Klyukvinka, ZE6J-Osipovo, ZE6K-Kozhevnikovo, ZE6L-Suiyga, ZE6N-Dalneye Andrey Anta
Posted Dec 27, 2014 15:41 by Andrey Anta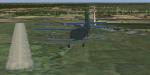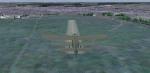 13.27Mb (302 downloads)
FS2004 Scenery Russia-Kemerovo region UNWI-Tashtagol, XNET-Tanay, XNKM-Kemerovo (Severniy), ZB2W-Mikhailovka, ZBH8-Leninsk-Kuznetsky, ZC7U-Muryuk (Novaya Pokrovka), ZCT5-Kemerovo (Borovoy), ZD0U-Mezhdurechensk, ZDR2-Novokuznetsk (Sosnovka), ZE0M-Saltymakovo, ZE0N-Kiya-Shaltyr, ZE0P-Tsentralnyy, ZE0Q-Chumaiy, ZE0V-Yaya, ZE0W-Izhmorskiy, ZE0X-Ulanovka, ZE12-Tuyla, ZE13-Taezhno-Alexandrovka, ZE14-Verkhnyaya Chebula, ZE15-Mariinsk, ZE18-Tundinka, ZE1B-Tyazhinskiy, ZE1R-Novokuznetsk (Abagur-Lesnoi)
Posted Nov 12, 2014 09:38 by Andrey Anta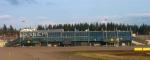 25.01Mb (941 downloads)
Rovaniemi Airport, EFRO, Finland. Rovaniemi airport is located at the arctic circle in North Finland. It is also known as The official airport of Santa Claus and has become a popular airport for charter flights during the Christmas time. This scenery adds most of the buildings to the airport. The Finnish Coast Guard and Finnish Air Force areas at the airport remain untouched except some hangars as dummy objects. Included are also many landmarks, buildings and bridges in the city, as well as the biggest hospital in Northern Finland with a helipad. The Rovaniemi 4.1 introduces an expanded photoreal city scenery with all the seasons, nightlights and autogen. This is an old scenery uploaded. Please read docs for further info.
Posted Nov 9, 2014 11:50 by Tatu Kantomaa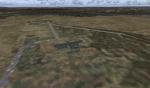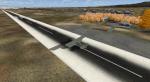 8.17Mb (231 downloads)
Russia-Republic of Khakassia - Includes airports - UNAI-Shira, UNAS-Sayanogorsk, UNAX-Ust'-Byur', UNAY-Tashtyp, ZB30-Kryl'ya Khakassiyi and ZE0K-Abaza
Posted Oct 31, 2014 16:01 by Andrey Anta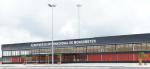 0.00Mb (371 downloads)
President Obiang Nguema International Airport FGMY Oyala / Mongomeyen Airport Ecuatorial Guinea in Africa
Posted Oct 29, 2014 16:08 by Alberto Thomas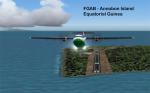 1.02Mb (317 downloads)
A new airport for FS2004. The real airport apparently does not have an ICAO code - but the code FGAB is used by AI flight plan writers. These files add the airport to your FS2004 world and setup the airport for AI traffic - specifically the World of AI packages. Location - FGAB/ Annobon Island is located about 220 nm west of the coast of Africa, and about 110 miles southwest of Sao Tome Island. The island is only about 4 miles by 2 miles. The island population is about 5,000. The airport has minimal air traffic - often only one to three flights per week.
Posted Oct 28, 2014 00:23 by Reggie Fields