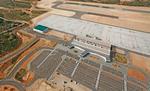 0.41Mb (739 downloads)
Castellon - Costa Azahar Airport (Spain): LECS in Flight Simulator // Only includes the AFCAD file with runway, apron and parking stands--NOT the buildings. Nicolas Neveu
Posted Apr 8, 2014 10:55 by Nicolas Neveu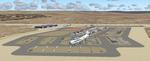 2.75Mb (644 downloads)
PLATA was conceived with the purpose of offering a solution to the necessary environmental reconversion of the aeronautical sector in Europe, creating a new area of activity aimed at general aeronautical services, specializing in maintenance and long-term parking for aircraft. The platform installations currently undergoing work which will finish in the year 2010, cover an extension of 340 hectares and will even be capable of operating Boeing 747 type airplanes.
Posted Apr 8, 2014 10:03 by Nicolas Neveu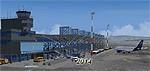 91.66Mb (2263 downloads)
FSX Scenery--GAP_LGTS X 2014 Thessaloniki Makedonia, Greece. Eight years after the first scene the group of Greek Airports Project invites you to travel in Thessaloniki which marked the route of the group in the area of Flight Simulator. The scene following the design of our philosophy which allows the simmer to enjoy a full scene without getting tired to find solutions which have to do with settings, yields etc, without unnecessary construction that nobody ever sees and which only need to create a commercial impression in some photos. Objects reconstructed with Gmax and 3dmax that make you enjoy your virtual trip to the airport, and not only because this time we have also included many points from the beautiful city of Thessaloniki as for example the known White Tower, the Aristotelous Square, the facilities of the Thessaloniki International Fair, the football stadiums of the best known groups, the opera house, the City Hall, and many others in a separate scenery (THESSALONIKI_VFR) included in this version which you are not obliged to install but in our opinion will give you a different sensation in your approach to Macedonia airport. The THESSALONIKI_VFR also combined with the very good photoreal from Antonis Gikas state of GAP "Hellenic Actual Scenery" and with any other photoreal is circulated to the region. Retained many of the features of the previous version as the transparent windows which give different feel on the inside part of the terminal, and replaced with different modern way. Of course for the FSX version corrected all non-compliant issues. Enjoy free your flight for the magnificent Thessaloniki, in Greece, in Macedonia. By Greek Airports Project.
Posted Mar 22, 2014 03:26 by uploader

0.19Mb (933 downloads)
Saint Helena Airport is an airport under construction since early 2012 in the British Overseas Territory of Saint Helena, a remote island in the South Atlantic Ocean located more than 2,000 kilometres (1,200 mi) from the nearest major landmass which can currently only be reached by ship. This takes 5 days from Cape Town, with departure once per 3 weeks, making Saint Helena one of the most remote populated places on earth, measured as travel time from major cities. The airport is scheduled to open in February 2016, which is when the ship serving the island is to be retired. FS2004
Posted Mar 10, 2014 09:54 by Alberto Thomas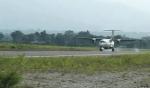 0.11Mb (407 downloads)
Gelephu Airport (IATA: GLU, ICAO: VQGP) is located in Samtenling Gewog, about three kilometres from Gelephu town in Sarpang District, Bhutan. The airport has been constructed on an area spanning over 500 acres. Bhutan.
Posted Mar 4, 2014 09:42 by Alberto Thomas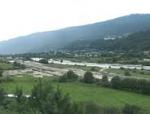 0.07Mb (585 downloads)
Bathpalathang Airport (IATA: BUT, ICAO: VQBT) is a domestic Bhutanese airport in Jakar (Bjakar), Bumthang District.[1] It began operations on 17 December 2011 with flights to Paro. Bhutan. FS2004 Scenery
Posted Mar 4, 2014 09:25 by Alberto Thomas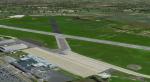 17.31Mb (446 downloads)
Durham Tees Valley Airport for FSX. The Airport has been scaled up to the correct proportions, the runway's start location has been switched to the correct end. The airport now looks and acts like the real thing. AI traffic is fully supported and performs as real airport traffic would in the actual airport.
Posted Mar 1, 2014 15:02 by Mark Piccolo - Soarfly Concepts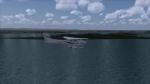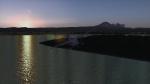 9.73Mb (4207 downloads)
I've created unique textures that produce very realistic looking water for Flight Simulator 2004! It features nice sunrise and sunset effects, realistic water ripples, and nice night water with moon reflections. You won't believe it's fs9! (remember to back up your original files)
Posted Feb 1, 2014 05:11 by Melvin Roden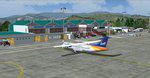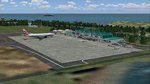 12.71Mb (1580 downloads)
Grenada Island International Airport: " Maurice Bishop Intl (TGPY)" for FS 2004. "Maurice Bishop" is the new name of Grenada airport, the old was "Point Salines" "TGPY_Maurice Bishop Intl" is the Scenery of the International Airport of Grenada Carribean Island. This scenery is only for FS 2004. Created By: Christian Delblond.
Posted Dec 11, 2013 04:45 by DELBLOND Christian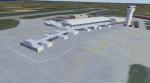 27.38Mb (625 downloads)
Jersey Airport is located on the small island of Jersey in the English channel. It has a single runway that is just shy of 2000 meters in length. This is a concept version of the airfield, consisting of a redesigned terminal and unique qualities.
Posted Dec 8, 2013 20:29 by Mark Piccolo - Soarfly Concepts