0.01Mb (613 downloads)
Updated scenery for Groningen, Holland and Seppe, Holland; has new layout and textures. Thanks to Jon Masterson for ADE. Please report any problems to author for correction.
Posted Apr 5, 2010 06:32 by Hugo van Pelt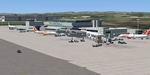 150.92Mb (4101 downloads)
Cardiff UK EGFF. This updated scenery for Cardiff has the new layout at the airport. North side new terminal. Thanks to Jon Masterson for his ADE programme. For fsx only will not work in fs9. Some flashing textures on the glass at gate 9 through 7 but will try to solve it with an update it is an FSX internal fault draw call but i am working on the problem of transparencies in FSX. Hope it does not spoil the scenery too much. Stewart Haworth
Posted Apr 2, 2010 19:02 by Brent Wilson
0.01Mb (1074 downloads)
EHRD Rotterdam, Holland Update. Only taxiway/parking and building update(VLM, feul depot, the liveliner, the Jet center(+the hangar) and the rotterdam flying clubs,) no custom buildings used Unzip/rar to the FSX map. Please report any problems to author for correction.
Posted Apr 2, 2010 06:48 by Hugo van Pelt-DMM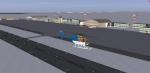 1.27Mb (1428 downloads)
S123 Fictional Antarctic base Created with FSX/SDK and Airport Design Editor by Scruffy Duck Airport designed from scratch. Airport Code is (S123)
Posted Mar 28, 2010 13:19 by Jim Abbey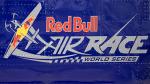 0.35Mb (715 downloads)
This is the track Red Bull Air Race Abu Dhabi 2010 Release with the scenery of the Corniche of Abu Dahbi By Carlos Santos thank you to him for this scene from the Corniche!!
Posted Mar 27, 2010 18:21 by Sy Dsg Siscot Yves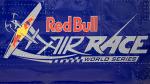 0.39Mb (784 downloads)
This is the track Red Bull Air Race Perth 2010. Works with the default FSX scenery.
Posted Mar 27, 2010 18:16 by Sy Dsg Siscot Yves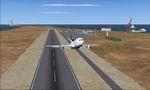 0.30Mb (466 downloads)
Fictional Heard & McDonald Islands between Australia and African and North of Antarctica. No Scenery exist there in FSX Default Scenery So Why not place some there? This is good for flights to Antarctica with included Fuel and hangers and a Port with a power station and Oil rigs! Aiport Code is YHRD
Posted Mar 27, 2010 14:26 by Jim Abbey

108.54Mb (4989 downloads)
FSX Vietnam War Project - base pack version 0.9 FSX SP1/SP2 needed - Acceleration Pack optionnal, recommended About 100 new and redone airfields from SEA (Cam Ranh, Bien Hoa, Phu Cat, Nakhon Phanom, Korat...) About 30 AI aiplanes (A-1 Skyraider, C-123 provider, EC-121...) French and english documentation (50 pages) TAD for each airfield. Additionnal sceneries. 25 flight plans to help you flying over the area. Included : Al Simms Vietnam war objects, Jim Dhaenens Radars, lights and shelters, Guy Diotte static airplanes. 2 Objects libraries needed : read the quick installation guide. Visit the project web site : http://vietnamwar.project.free.fr/ To contact us : vietnamwar.project@free.fr FSX Vietnam War project: Jacques Godfrin - Xavier Carre
Posted Mar 26, 2010 17:00 by FSX Vietnam War project - Jacq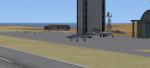 0.18Mb (340 downloads)
This is A fix to The French Southern lands scenery (YJIM Harry Airport. It lowers the level of the Airport to 27Ft instead of 408 ft in my previous upload! Fictional Southern Seas Airport, named 'Harry', situated between Africa and Australia Far west of Perth. Created for the lack of anything on this island between Africa and Australia.
Posted Mar 26, 2010 08:50 by Jim Abbey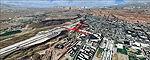 95.58Mb (2101 downloads)
FS2004/FSX St. George / Mesquite (KSGU, 67L), Utah (UT) / Nevada (NV) photo-scenery Package. This scenery covers the area between St. George, Utah and Mesquite, Nevada. To the north of St. George the Pine Valley Mountains with their foothills of scenic red sandstone loom over the city. St. George Municipal Airport (KSGU) is mostly used for general aviation but is also served by SkyWest Airlines on behalf of Delta Connection. Because of it's location on a mesa this airport can't be expanded and so a new airport is currently being built southeast of the city at the site of an abandoned airfield. The opening is expected in 2011. To the south of the city make sure, you don't miss the Virgin River Gorge where the Virgin River winds thru a long winding canyon in the transition zone between the red rocks of southern Utahs Colorado Plateau and Nevadas Mojave Desert. Shortly afterwards you reach Mesquite which is situated just west of the Arizona stateline. Like nearly all Nevada cities near the stateline Mesquite is home to several Casinos. Mesquite Airport (67L) lies just north of the city. By Gottfried Razek.
Posted Mar 26, 2010 05:36 by Gottfried Razek