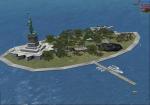 1.11Mb (1777 downloads)
This is a fictional makeover of the flat island in the sim. Credit to Instant Scenery for making it 'easy'.
Posted Sep 21, 2009 11:08 by Alan D Griswold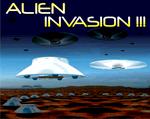 3.21Mb (3690 downloads)
Reptilian FS9 / FSX UFO AI Traffic FOR USA AND Canada. This file provides two different types of UFO (Invaders TV Series´s Saucer and my own creation Reptilians). Alien AI traffic across the United States and Canada. 18 landing places, (ground and water), flight plans for those interested on developing their own ones. Feel free to make your AI traffic using my models, but please, share every work with me. By Libardo Guzman (GUZMAN-ARTES)
Posted Sep 20, 2009 00:25 by LIBARDO GUZMAN GARCIA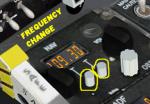 0.00Mb (1011 downloads)
The included readme is out to date concerning the NAV Frequency for the ILS. The new one is "108.30". Sorry for the inconvenince.
Posted Sep 19, 2009 17:51 by Karl Meindl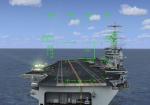 15.91Mb (7824 downloads)
Update for Pensacola NAS Carrier Trial Scenery. This is Javier's CV-69 Carrier for Multiplayer with working Meatball, Lights, ILS, GPS and Trap. You need the included ARRCAB 2.6 Software for Catapult! The Ball is slightly off center to make it visible in front of the non reflecting Radar Random! Special thanks to Timothy Marson for making a Scenery Object with Javier's Carrier. So I was able to use it instead of the Acceleration Carrier!
Posted Sep 19, 2009 15:54 by Karl Meindl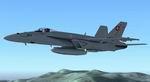 28.24Mb (5349 downloads)
This is the V2 of my file "AI-Traffic FA 18 staffel 17 Swiss Air Force". This version have more Aircrafts (and works). You will see the "Staffel 17" of the Swiss Air Force on your FSX-Sky? No problem! Download this file (and the Airport LSMP Payerne above) and follow the instructions in the readme file, and you have 11 F/A 18 of the Swiss Air Force on your sky! They fly every day at 12:30 (GMZ) on Payerne to Zürich and back! A other Staffel fly from Payerne to Emmen, and the third Staffel fly from Meiringen to Dübendorf! P.S.: You must have the Acceleration Pack! Thank you for downolad! Best regards, Nils Stampfli
Posted Sep 19, 2009 15:34 by Nils Stampfli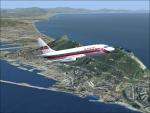 5.62Mb (4821 downloads)
Gibraltar version 2 This is a photo scenery of Gibraltar Upgade with better textures and made with SBuilderX at zoom level 18 night texture now included. install put in to addon scenery folder,or make a new one and add in FSX settings Tested in FSX only including UTX Europe I use this scenery with srt2eur.zip srt2eur2.zip built with SBuilderX build time 2 days
Posted Sep 19, 2009 12:50 by pips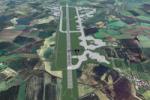 5.49Mb (3514 downloads)
RAF Fairford 2009 for FSX by Dave Morgan. Tested on FSX & Accelleration. Tested with both Horizon's VFR scenery with which it is carefully aligned and also with default scenery. The layout if Fairford's current layout and as Horizon's VFR Genx2 photo images were obtained from data rumoured to be from 1999/2000, It has a 'home-grown' grass texture over the top and should be placed above Horizon's VFR scenery in the addon scenery list otherwise an outdated layour will show through. Other than the buildings and objects given credit for in the readme, all buildings and trees are from default libraries which means frame rates are not badly affected. The parking on the base allows upto c55 aircraft on it at any one time and the packages from MAIW, UKMIL and ACG add to the atmosphere...
Posted Sep 17, 2009 16:36 by Dave Morgan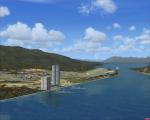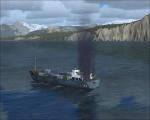 0.11Mb (3846 downloads)
Reworks of many Sea Ports with working fuel docks for sea planes around the Ketchikan Area of Alaska. Special effects and scenery. Paid special attention to frame rate compatibility.
Posted Sep 12, 2009 17:56 by David Tokar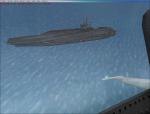 50.23Mb (6575 downloads)
Miramar, Oceana, Pensacola U.S., and Yokosuka, Japan Carrier Scenerys V5.0 Updated with (Javier Fernandez) s High Detail Carriers. Good scenery for organized multiplayer carrier circuits and traps, all players will see these. Ships spaced out to address a common frame rate complaint. Has locializer, dme, Arrestor cables. NDB on decks for ADF head wind approuches. Use Arrestor Cables V2.6 for Catapults. ALL credits due for carrier's to Javier Fernandez
Posted Sep 10, 2009 03:44 by T.Marson/Thunder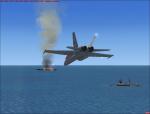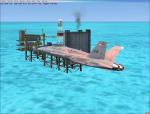 0.89Mb (1818 downloads)
Updated OLD SCENERY (3 GPS oil platforms V4.0) 3 mission Oil Platforms. Included a Oil tanker ship multiplayer mission scenery, the tanker is on fire with 2 Coast Guard cutters near itrnfor rescue. Open ended mission scenery for what ever scenario you come up with, Location is in read me. And I've marked the stock Oil platforms around the United states and Mexico with GPS tags, rnNDB, and VOR for navigation. Going to add more countrys stock oil platforms navigation locations in updates to come. All Platforms NDB"s are on helo deck.
Posted Sep 10, 2009 03:04 by T.Marsom/Thunder