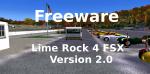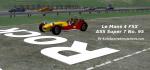 299.14Mb (170 downloads)
For fellow Simmers - For the Holidays - please enjoy Lime Rock Version 2.0 Freeware - The release comes with six nice Version 1.3 Lotus cars, that have saved flights, and also FS Recorder tracks included in order to get started. Wishing you a wonderful holiday - O.K. Daley dba AutoSportsSimulations.com"
Posted Dec 10, 2017 02:48 by O.K. Daley dba AutoSportsSimulations.com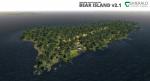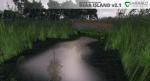 41.26Mb (374 downloads)
Bear Island v2.1 is a stand-alone update. This scenery requires the latest version of our Emerald Object Library! A download link is included in the readme. Bear Island v1.x.x must be uninstalled before installing this scenery! // Bear Island v2 is a redux of our original Bear Island scenery, released back in 2013. Although this original scenery was fairly popular, it was not very detailed and used almost all default objects. Now four years down the road, and with the original Bear Island no longer reflecting our current standards, we decided that it was time for a redux.. Bear Island has been completely recreated in incredible detail, utilizing nearly all custom objects. Animated Birds and Dolphins are now the only default objects used in this detailed scenery! Bear Island v2 includes custom hi-definition textured models depicting South Florida native vegetation, trees, and more! Many vegetation textures have been color-matched to blend well with the FTX Global matched photo real. A crisp layer of 10m mesh has also been included to give the island some slopes and elevation. SODE has been utilized in this scenery to bring many environmentally-dynamic features including rain puddles, ambient sounds, windsocks and more! Scenery by Chris Britton of Emerald Scenery Design. Compatible with FSX versions and P3D up to V4.
Posted Dec 9, 2017 02:02 by Emerald Scenery Design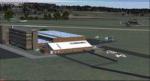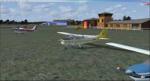 9.79Mb (387 downloads)
Redhill EGKR is a grass airport between Heathrow and Gatwick. home of Bristow Helicopters, London Helicopter Centre and several Flight Training Schools.
Posted Nov 28, 2017 11:35 by Alf Denham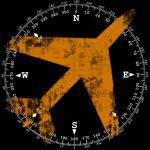 8.22Mb (223 downloads)
This photoreal addon scenery covers a small area of the Palouse River Falls located in southeast Washington. The Palouse Falls lies on the Palouse River, about 4 mi (6 km) upstream of the confluence with the Snake River in southeast Washington, United States. The falls are 198 ft (60 m) in height. They consist of an upper falls with a drop around 20 ft (6.1 m), which lies 1,000 ft (305 m) north-northwest of the main drop, and a lower falls, with a drop of 198 ft (60 m). For P3D and FSX.
Posted Nov 27, 2017 04:43 by JackRiordan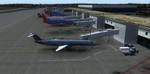 0.82Mb (541 downloads)
KPVD, Theodore Francis Green State Airport, Providence, Rhode Island, USA, for FSX. Complete new setup, done with ADE, from satellite images. T.F. Green Airport is 6 miles south of Providence. It is a public international airport, categorized by the FAA as a small hub primary commercial service facility. Tim van Ringen
Posted Nov 22, 2017 01:33 by uploader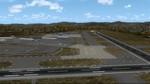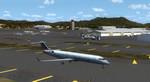 0.71Mb (491 downloads)
KROA, Roanoke-Blacksburg Regional Airport, USA VA, for FSX. Completely new setup done with ADE. Roanoke Airport is a regional airfield in the heart of the state of Virginia in the Roanoke valley. Complete with taxiway shoulders, taxisigns, terminal apron, GA parking, heliport, and cargoramp. Rwy06 has an offset ILS. Happy landings. Tim van Ringen
Posted Nov 8, 2017 10:11 by uploader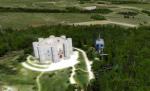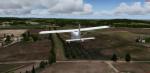 3.74Mb (561 downloads)
New version 1.1 including the airfield BA06 missing in previous version. Castel del Monte is a 13th-century citadel and castle situated on a hill in Andria in the Apulia region of southeast Italy. It was built during the 1240s by the Emperor Frederick II, who had inherited the lands from his mother Constance of Sicily. The site is protected as a World Heritage Site. The scenery includes the small airport of Castel del Monte.(BA06)
Posted Oct 31, 2017 09:24 by Dario "Vic Dabor" Bortot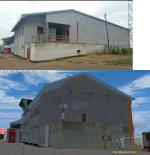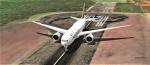 181.78Mb (504 downloads)
(*UPDATE 3.0--> 29-OCTOBER-2017) **Whats New**: - Night textures finally added - Re-modelled and re-positioned buildings. - Control Tower retextured with photoreal textures. - Terminal retextured with photoreal textures. - VIP terminal redesigned and retextured with photoreal textures. - runway changed to asphault - Fence near VIP area added - Photorealistic ground and taxiway textures - Photorealistic runway textures - Added localizer - Added grass - New runwaylights
Posted Oct 29, 2017 07:15 by Peter Mbirima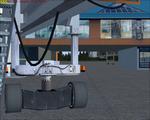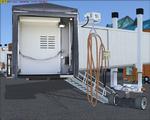 54.35Mb (922 downloads)
This software package contains the latest version of Tallinn airport with new taxiways, extended runway (3490 m), new TWR frequency (135.900 MHz) and surrounding obstacles. It is backward compatible with FSX SP2. The scenery was highly optimized to allow all-weather operations. NAV data including SIDs/STARs, waypoints and RNAV routes within Tallinn FIR are up to date (AIRAC effective date 3 AUG 2017). Real NAV charts were helpfully provided by the Estonian ANS (EANS). Weather Explorer is a stand-alone program requiring Microsoft .NET Framework 4.7 or later.
Posted Oct 28, 2017 07:38 by Uploader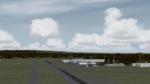 2.07Mb (305 downloads)
This is a self-contained scenery package for FSX and Prepar3D. It doesn't work in FS9. There is another version in Simviation that works in FS9. I added the paved runway 09-27. Done on 20171016. By Fern Marques
Posted Oct 16, 2017 14:08 by Fern Marques