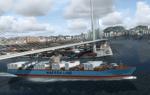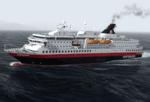 411.53Mb (9047 downloads)
This package contains more than 600 AI ships and AI ship traffic routes for the entire globe for P3D and FSX. It is a stand-alone package comprising all my AI ship packages and fixes released until April 2016 including 86 new models released in 2016. The package includes cruise ships, ferries, container ships, oil tankers, bulk carriers, tall ships, fishing boats, destroyers, frigates, patrol boats, icebreakers and more. Many of the ships have helicopter platforms. You can land on all ships with an H painted on decks or hatches. Routes cover all mayor harbor cities including e.g. New York, Boston, Miami, Los Angeles, San Francisco, Vancouver, Seattle, Tokyo, Singapore, Hong Kong, Shanghai, Taoyuan, Manila, Jakarta, Sydney, Auckland, Ushuaia, Buenos Aires, Santos, Rio de Janeiro, Salvador, Panama, Chennai, Mumbai, Dubai, Cape Town, Lagos, Dakar, Las Palmas, Rotterdam, Amsterdam, London, Copenhagen, Aarhus, Gothenburg, Gibraltar, Barcelona, Istanbul, Marseille, Athens, Napoli, Bergen, Oslo, St. Petersburg, and many more. The package contains models, textures, and effects by Henrik Nielsen, Jean-Pierre Fillion, Erwin Welker, Knud Kristoffersen, Milton Shupe, Manfred Siedler, Bernardo Barroso, Paul Donnelly, Finn Kristoffer, Didier Puentes, Andrew Thomsen, Antonio Diaz, Sebastien Viale, Alberto Garcia, and Robystar.
Posted Apr 1, 2016 03:53 by Henrik Nielsen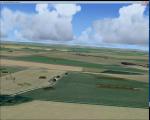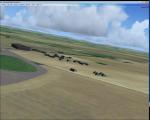 2.77Mb (238 downloads)
RAF Chilbolton (ICAO X2CB) is a former Royal Air Force station in Hampshire, England. The airfield is located in Chilbolton approximately 4 miles (6.4 km) south-southeast of Andover; about 62 miles (100 km) southwest of London Opened in 1940, it was used by both the Royal Air Force and then later by the United States Army Air Forces. During the war it was used primarily as a troop carrier airfield for parachutists. After the war it was used for jet aircraft testing before being closed in 1946. Today the remains of the airfield are located on private property being used as agricultural fields.
Posted Mar 31, 2016 04:49 by Terry Boissel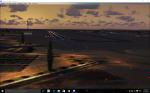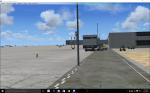 15.24Mb (1622 downloads)
The first UltiMax release for FSX. New faro airport contains several new features such as: Static Aircraft Static Ground Vehicles New Parking to reflect actual layout Static Cruise Ship out to sea New ramp lighting Excellent FPS 'Back of airport' Car park etc Nearby roads fire station and engines Ground crew
Posted Mar 25, 2016 07:59 by UltiMax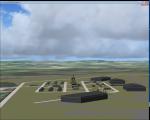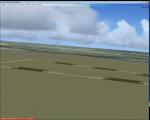 1.37Mb (276 downloads)
RAF Aldermaston (ICAO X2AM) is a former Royal Air Force station located 8 miles (13 km) east of Newbury, Berkshire and 9.8 miles (15.8 km) southwest of Reading, Berkshire, England. Originally built as an RAF Bomber Command airfield during 1941-1942, Aldermaston was transferred to the United States Army Air Forces in August 1942. Placed under the jurisdiction of Eighth Air Force, it was home to several Douglas C-47 Skytrain Troop Carrier Groups. It was transferred to Ninth Air Force in 1943 primarily as a Troop Carrier Command base. Returned to RAF Control at the end of 1945, it was used by Technical Training Command before being placed on Care and Maintenance. In 1946, it was transferred to the Ministry of Civil Aviation and used by BOAC aircraft for training. Also used by the Ministry of Aircraft Production for Supermarine Spitfire assembly and flight testing, the airfield closed in 1950 and the site became home of the Atomic Weapons Research Establishment (later the Atomic Weapons Establishment) from 1950.
Posted Mar 24, 2016 11:02 by Terry Boissel
0.07Mb (417 downloads)
This is a collection of airports in the Philippines.This also includes an update of my Baguio Scenery
Posted Mar 23, 2016 04:45 by Jonathan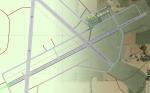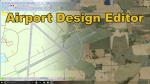 8.25Mb (467 downloads)
Vidalia Regional Airport Scenery for FSX. Completely rebuilt from the ground up with custom objects, and Lights. All instrument approaches updated to be current as of February 2016. Navaids update, Radio Frequencies updated. This scenery was done as part of a tutorial for Airport Design Editor. As such it includes an extra object library for use. Visit my youtube channel for the complete video series showing how this airport was built. Visit my Youtube channel (CountryFlyboy) to see the series.
Posted Mar 21, 2016 14:54 by CountryFlyboy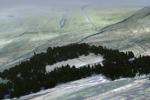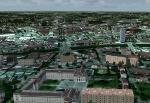 57.47Mb (1361 downloads)
This package contains autogen (agn) files for your photoscenery of the whole island of Ireland. This autogen, besides trees and houses, depicts also row houses, churches, gas stations and appropriate type of forests (subject to information available). Height of buildings is also adjusted for larger urban areas. Data as of March 2016.
Posted Mar 21, 2016 04:31 by Milan Smid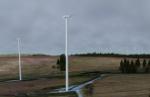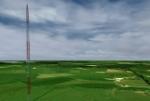 2.10Mb (903 downloads)
This package will place into your FSX / Prepar3D hazard objects (chimneys, antennas, and windmills) as listed in the ENR 5.4 section of the Irish AIP. These objects are usually depicted also on VFR 1:500 000 aeronautical chart.
Posted Mar 21, 2016 04:00 by Milan Smid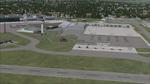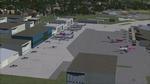 1.55Mb (2595 downloads)
EGGW - Luton Airport, nr London, UK. This scenery is a very accurate rendition of Luton Airport and made only for FSX: I have assigned the airlines to their gates (to the best of my knowledge) with extra parking, taxiways and taxi signs updated to the latest charts, the terminal and ramps completely rebuilt from scratch, the Cargo ramp also updated, extra fuel trucks and many other scenery objects included, airport views are from inside the control tower (when in tower view) please view the readme before installation. Created by Craig Scott
Posted Mar 20, 2016 18:25 by mike lietze
0.02Mb (189 downloads)
This is my interpretation of the fighter station RAF Wellingore, in Lincolnshire. I have used a little poetic licence in placing the 8 L type blister hangers and the small technical area to the north west of the airfield, I hope you enjoy my effort. Initially, Wellingore opened during the first world war in 1917. I am guessing that it was used by the Royal Naval Air Service as it was the relief landing ground for Training Establishment Cranwell. With the onset of world war 2 the unit under went improvement works gaining the concrete peritrack and 6 e type fighter pen and 8 type L blister hangers. A number of squadrons serviced at the station before it final closure 1945 I have attempted to re-produce the unit as it may of looked during its war years but as photographs are scarce some of it may not be true to life, but I am sure the simmers amongst us will enjoy having another Lincolnshire airfield to fly in to.
Posted Mar 19, 2016 05:36 by Terry Boissel