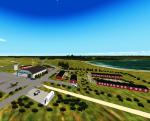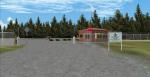 9.19Mb (395 downloads)
This is my second edition of making the former Airbase for Danish Airforce Flight School situated at the south coast of Sealand. I have now made most of the buildings myself together with other objects. Hope You will like it.
Posted Jun 14, 2016 17:37 by Otto R. Knudsen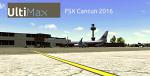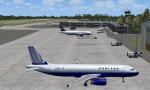 23.42Mb (2970 downloads)
FSX/P3D/FSX:SE Scenery--SE Cancun Airport (UltiMax). A brand new release, this time of Cancun international airport (MMUN) in Mexico. New features include: updated layout to include new runway; all parking; updated landclass, added city, golf courses, etc.; full AI compatibility; full ATC compatibility; animated jetways; automatic installer; full taxi signs; full runway lighting; hundreds of custom placed objects; static/animated ground vehicles; new HD static aircraft; 'back of airport' car parks, etc.; new control tower, using a generic object; new terminal layout; new lighting. Barely an impact on FPS. By UltiMax FSX Sceneries.
Posted Jun 12, 2016 14:36 by UltiMax FSX Sceneries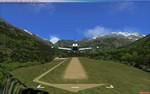 1.97Mb (660 downloads)
Scene of The aerodrome of Solliere-Sardiere, LFKD, at the top the valley of Maurienne in Savoie, France - forgotten in FSX. Corrected the location with SBuilderX, scene creeted with ADE, buildings with Sketchup. I have also added some objects. This scenery have been tested to work under FTX, Global Vector and UTX. Kozerawski
Posted Jun 11, 2016 22:30 by uploader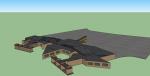 13.86Mb (235 downloads)
Dubuque Regional Airport, KDBQ, Iowa with the new terminal. ADE files, addon scenery folder and installation instructions are all in the zip file.
Posted Jun 11, 2016 11:19 by Edgar Miller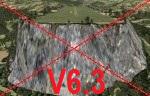 25.44Mb (3718 downloads)
This package contains 19 new airports (missing in FSX) and 20 airpots altitude correction and supplements to FSX / FSX:SE airports on exact FSGlobal2010 mesh or very exact FreeMeshX-Global10, for Argha Bhagawati(NEW), VNBG Bajhang, VNBJ Bhojpur, VNBL Baglung, VNBR Bajura, VNBT Baitadi, VNDL Darchula, VNDP Dolpa, VNDR Dhorpatan(NEW), VNDT Doti, VNJI Jiri(NEW), VNJL Jumla, VNJS Jomsom, Kalikot(NEW), Khiji Dobus (NEW), Kamal Bazar(NEW), VNKD Manamaya Khanidanda(NEW), VNKL Kangel(NEW), VNLD Lamidanda, VNLK Lukla, VNLT Langtang(NEW), Masinechaur(NEW), VNMA Manang(NEW), VNRC Ramechhap, VNRP Rolpa(NEW), VNRT Rumjatar, Sukilumba(NEW), Simichaur Resunga (NEW), VNSK Surkhet, VNSL Salley(NEW), VNSR Sanfebagar, VNST Simikot, VNT1 Talcha(NEW), VNTH Thamkharka(NEW), VNTJ Taplejung(NEW), VNTR Tumlingtar, VQ10 Yongphulla, VQBT Bathpalathang(NEW), VQPR Paro International Airport. *** NEW INCLUDED Talcha, it is one of the most dangerous airports in the world, also Kangel and Kalikot and... *** This full package includes all my prior created Nepal Airports packages. All airports are as real als possible and near as possible on correct position, especially Lukla. Most of airports are enhanced with airport tower, buildings, autogen city and trees. Preview pictures + map + sorted list inside package. This is freeware.
Posted Jun 11, 2016 04:20 by Mike Five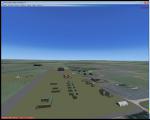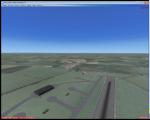 0.01Mb (304 downloads)
RAF Wickenby was a purpose built Royal Air Force station constructed late 1942 and early 1943. It lies halfway between Wickenby and Holton cum Beckering, to the south-east of Wickenby close to the B1399 in West Lindsey, 8 NM (15 km; 9.2 mi) north-east of Lincoln, England. It had two T2 type hangars and one B1 type. The B1 and one of the T2 hangars can still be seen on the airfield site. The T2 near the threshold of runway 21 was recently acquired by the airfield owners and after many years of industrial use is now, once more, an aircraft hangar. The airfield covered about 600 acres (2.4 km2), and had the usual three runway configuration with perimeter track, hard standings, a brick watchtower and numerous brick and metal buildings for the aircrews and ground staff. A number of the buildings were to the east (Communal Site, Living Quarters, WAAF Quarters) and stretched to and beyond the Lissington road - a road travelled many an evening by the airmen and women who visited their favourite watering hole, the White Hart at Lissington. The Sick Quarters were to the south of the airfield together with a Communal Site and Living Quarters.
Posted Jun 10, 2016 04:38 by Terry Boissel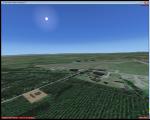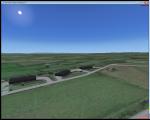 2.74Mb (270 downloads)
Construction of the airfield was completed by mid 1942, and it opened on 1 August that year, with a classic three concrete runway RAF "star" arrangement. The name 'Whitchurch Heath' being used until 1 June 1943, when RAF Tilstock was adopted. Between 1 September 1942 and 21 January 1946, the airfield was used by No. 81 Operational Training Unit and No. 1665 Heavy Conversion Unit Royal Air Force for the training of pilots and crews in the operation of Whitley, Stirling and Halifax heavy bombers. During the 1950s, Auster AOP.6 and Auster T.7 'spotter' aircraft of No. 663 (AOP) Squadron RAF used the facilities of the otherwise non-operational airfield during weekends for liaison flights with Royal Artillery units on training exercises. The airfield is still being used today at weekends for skydiving and has the icao EGCT.
Posted Jun 10, 2016 04:19 by Terry Boissel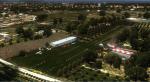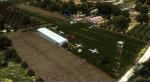 43.15Mb (2214 downloads)
The airfield Airpatria is adjacent to Lago Patria near Naples in the Campania region in Italy. The scenery of flight Campo Airpatria (NAPAT) optimized for FSX-Acceleration with UTX Europe and FTX-Orbx Global with relative Orbx-lib libraries. In the absence of additional addons above the scenic area surrounding the airport might be different in relation to screenshots included in this package: Example: The animations and various ojects to the ground etc etc They are visible with additional addons above mentioned "FTX-Orbx" and always in relation to configurations in FSX.
Posted Jun 6, 2016 00:09 by Voyager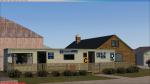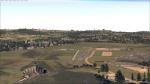 6.38Mb (529 downloads)
Crosland Moor (address Crossland Moor!) X4HD (previously EGND). An ashphalt runway with a grass extension and with three quarries around it. Situated on the outskirts of Huddersfield, the clubhouse is amusingly presented as "Huddersfield International Airport".
Posted Jun 3, 2016 05:48 by Alf Denham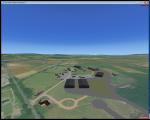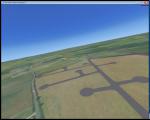 2.29Mb (265 downloads)
RAF Honeybourne was a Royal Air Force station located 0.6 miles (0.97 km) south of Honeybourne, Worcestershire, England and 4.6 miles (7.4 km) east of Evesham, Worcestershire, England. The airfield was home to No. 24 Operational Training Unit RAF (OTU) which used Vickers Wellingtons and Armstrong Whitworth Whitleys from 15 March 1942 until July 1945 flying many operational bombing and leaflet dropping operations. A number of units from Ferry Command were based here including a ferry training unit using Lockheed Hudsons and Bristol Beauforts. The airfield was also temporarily home to No. 21 OTU flying Wellingtons from RAF Enstone from August 1945 for two months because the runways at their home base were being repaired. From October 1945 until 1946 107 Sub Storage Unit from No. 8 Maintenance Unit used the airfield for storing Wellingtons and General Aircraft Hamilcar gliders. The role of the airfield after the war changed with the reduction of flying movements and with a slight change in what the units did on the airfield when No. 107 Sub Storage Unit from 1947 began to collect no longer needed Wellingtons which were then scrapped and taken to Weston Subedge goods yard (which was near to the south-western corner) where the railway would take them to the necessary destination. In July 1948 the site was closed and much has reverted to farmland with runways being removed in 1968. Since then, the airside area has evolved into the Honeybourne Airfield Trading Estate with the five hangars being used for different purposes
Posted Jun 2, 2016 10:02 by Terry Boissel