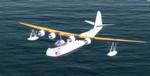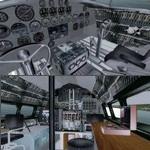 103.95Mb (1190 downloads)
FSX/P3D (all version) Sikorsky VS-44A American Export Airlines "Excambian". Includes full VC and interior cabin. Four-engined flying boat used 1942-1946 by AEA. Wartime blue-grey camouflage as contracted by Naval Air Transport Service from AEA from May 1942 thru January 1945. Silver-and-black civilian paint scheme used by AEA in scheduled passenger service. Visual model upgraded to FSDS 3.5.1 from 2005 version. Higher-resolution gauges included. Instruments and interior details based on photos taken at New England Air Museum. A flying boat, not an amphibian. Beaching gear provided. Can be taxied in and out of water. Upgraded to FSX native. Credits: George Diemer and Ed Akridge
Posted Jun 18, 2018 07:13 by admin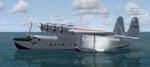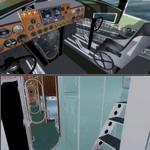 49.70Mb (1053 downloads)
FSX/P3D (all versions) Sikorsky S-42 Clipper Package. Includes full VC and interior cabin. The Sikorsky S-42 was a commercial flying boat designed and built by Sikorsky Aircraft to meet requirements for a long-range flying boat laid out by Pan American World Airways in 1931. Converted to FSX native. Credits: George Diemer and Ed Akridge
Posted Jun 18, 2018 06:39 by admin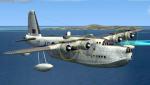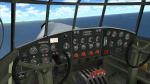 26.20Mb (1209 downloads)
This is the late Sunderland model MkIIIA (423 Sqn RCAF Sunderland at Castle Archdale, in late 1944), which was the upgraded version of the MkIII, with twin gun front turret, four fixed nose mouted machine guns and Mk3 centimetric radar. The Package is an FSX update of the original model for CFS3 by Ted Kaniuka, updated for FS2004 by Shessi of SOH. It features a new detailed VC with FSX compatible gauges and necessary adjustments for FSX. 2D panel design by Pete Mercy. Exhaust effect added. Thanks to Shessi for bringing it out for FS2004 so I was able to update it for FSX, bow gunner, tail gunner and top gunner views by Erwin Welker, new prop texture by Andre Ludick, VC adjustments, new gauge configuration and smoke by Michael Pook.
Posted Jun 18, 2018 06:11 by Michael Pook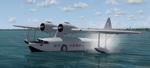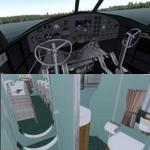 41.47Mb (958 downloads)
FSX/P3D (all versions) Sikorsky S-43 Clipper Package. Includes full VC and interior cabin. The Sikorsky S-43 was a twin-engine amphibious aircraft manufactured in United States during the 1930s by the American firm Sikorsky Aircraft. Converted to FSX native. Credits: George Diemer and Ed Akridge
Posted Jun 18, 2018 05:06 by admin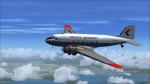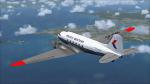 8.90Mb (228 downloads)
Textures for the Manfred Jahn DC-3 in Pacific Western Airlines colors. The freeware DC-3/C-47 v3 by is needed for this repaint. Seven DC-3s flew with Pacific Western from about 1953 till 1972. CF-PWI was with them from 1956 to 1972. This repaint was tested on FSX-SE. It should work on FSX & P3D v1-v3.
Posted Jun 15, 2018 00:46 by Ted Giana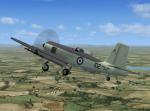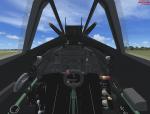 11.49Mb (639 downloads)
FSX/P3D v3,v4 Blackburn Firebrand The Blackburn Firebrand was a big, brutish, beautiful British Fighter / Torpedo bomber which suffered a long gestation period but was ultimately underpowered and unsuccessful. The prototype flew in 1942 but the type only entered limited Fleet Air Arm service after the Second World War. FSX/P3D Model by A.F.Scrub.
Posted Jun 12, 2018 11:30 by A.F.Scrub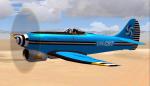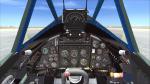 33.24Mb (987 downloads)
This is a cockpit interior and panel update for the Hawker Tempest MKVI recently posted by A.F. Scrub. The package features four liveries, among them the beautiful display bird Blue Thunder. The focus of this update lies on the enhancement of the cockpit interior, an entirely revised photoreal virtual cockpit and 2D panel with animated yoke. Almost all the original gauges have been replaced with new ones, now giving the panels a much more authentic appearance and making them almost look like the real panel. Smoke effect added. Thanks to David Hanvey and Paul Barry for the original FS2004 model, to David Rickets, Jan Rosenberg, Dave Quincey and Matt Wynn for the repaints and to Morton from SOH for the great photoreal 2D panel, which is the base for the VC. Also thanks to A.F. Scrub for his latest native FSX update, which has made it possible to implement this VC, Also thanks to Andre Ludick for his prop texture and some tweaks to the aircraft.cfg. New VC and gauge configuration for the panels as well as interior enhancements and smoke effect by Michael Pook. Flap fix by A.F.Scrub included.
Posted Jun 10, 2018 02:44 by Michael Pook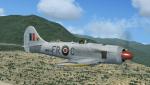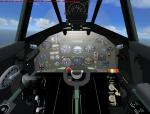 16.30Mb (1138 downloads)
FSX/P3D V3-V4 Hawker Tempest II As a result of the termination of the Tornado project, the Tempest II was designed from the outset to use the Bristol Centaurus 18 cylinder radial engine . Apart from the Centaurus engine , the Tempest II prototypes were similar to early series Tempest Vs.Tempest IIs produced during the war were intended for combat against Japan, and would have formed part of a proposed British Commonwealth long-range bomber force based on Okinawa, Tiger Force. The Pacific War ended before they could be deployed. Model by A.F.Scrub
Posted Jun 7, 2018 12:15 by A.F.Scrub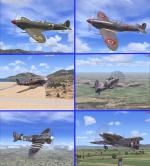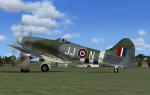 0.94Mb (727 downloads)
FSX-P3D v3-v4 flaps retraction fix. This fixes the early flaps retraction in my Seafire, Spitfire, Hurricane and Tempest models. Open aircraft.cfg in text editor and replace all [flaps.0] lines with the new text. Fix by A.F.Scrub.
Posted Jun 6, 2018 01:05 by A.F.Scrub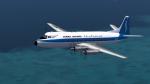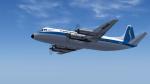 0.77Mb (70 downloads)
Textures for the Manfred Jahn Douglas DC-3 v3 in Somali Airlines colors. Somali began operations in 1964 and the DC-3s were their first aircraft. They operated a total of 4 DC-3s in the 1960s until the early 1970s. You need the freeware C-47 v3 (DC-3) by Manfred Jahn. This aircraft was tested on FSX-SE & P3D v3 & 4. A couple of people said that the Arabic lettering on the starboard side of the aircraft was back to front. This fix corrects the error. Just delete the "texture.Somali" in your Vickers Viscount 700 folder, and replace it with this one.
Posted Jun 5, 2018 22:17 by Ted Giana